Seochon is a neighborhood in Seoul that has a quiet and quaint atmosphere thanks to its numerous hanok houses (traditional Korean houses), grand front doors, and winding alleyways. The charming alleyways lined with hanok houses and the traditional markets, small galleries, and ateliers create a distinct ambience that cannot be found elsewhere. Seochon means western village in Korean and is named such as it is the neighborhood to the west of Gyeongbokgung Palace.

Compared to Bukchon, which means northern village and is clustered with sizable hanok houses, Seochon has a more simple and familiar ambiance. During the Joseon Dynasty (1392-1910), middle class citizens with specialized professions like interpreters and doctors lived in this neighborhood. Today, small galleries, cafés, and restaurants are located around Seochon's Boan Yeogwan, a former inn that has been transformed into an art space. Read on to explore some of the sights in this classic Seoul neighborhood.
Attractions in Seochon
Daeo Bookshop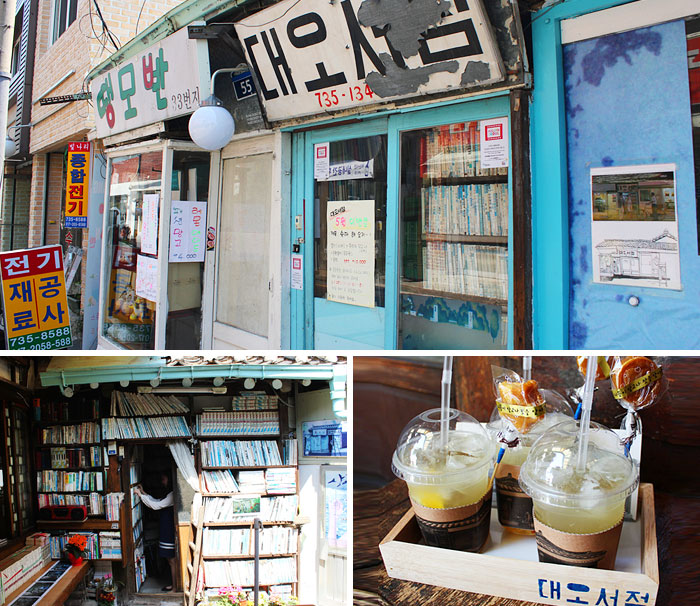 A well-known Seochon landmark, Daeo Bookstore is the oldest secondhand bookstore in Seoul. It is located inside a hanok structure built in 1934. The bookstore's interior has hardly changed in its 63 years in business, though now, instead of selling books, Daeo Bookstore is a café. Visitors can now explore the piles of old books in this hanok building while enjoying a nice cup of coffee in a cherished Seoul landmark.
Address: 55, Jahamun-ro 7-gil, Jongno-gu, Seoul
Admission: 5,000 won (includes a drink)
E-mail:33daeo@gmail.com
Inquiries: +82-2-735-1349 (Korean)
1330 Korea Travel Hotline: +82-2-1330 (Korean, English, Japanese, Chinese)
Tongin Herbal Medicine Dispensary


A little ways past Daeo Bookstore, the scent of medicinal herbs being prepared fills the air. Tongin Herbal Medicine Dispensary is inside a small hanok building where visitors can witness herbal medicines brewing in an iron pot. The dispensary is a partial reproduction of an old herbal medicine shop and an herbalist will provide guidance as visitors take a look at the medicinal ingredients, herbal medicine, and medicinal herb tea. Try a cup of iron pot brewed Sipjeondaebotang (an herbal medicine with great health benefits) while you are there!
Address: 29, Pilun-daero 6-gil, Jongno-gu, Seoul
Inquiries: +82-2-725-0111 (Korean)
1330 Korea Travel Hotline: +82-2-1330 (Korean, English, Japanese, Chinese)


If you get hungry during your excursion to Seochon, you should head to Tongin Market for a dosirak (Korean style lunchbox). Tongin Market offers a unique experience for visitors to exchange money into ancient yeopjeon (brass coins), which can then be used to fill your lunch tray with a variety of freshly prepared food found throughout the market. Enjoy an awesome array of snacks in the friendly market atmosphere and don't forget to try gireum tteokbokki (stir-fried rice cakes), a specialty of Tongin Market.
Address: 18, Jahamun-ro 15-gil, Jongno-gu, Seoul
Inquiries: +82-2-722-0911 (Korean)
Homepage: http://tonginmarket.co.kr/mall/index.php#none (Korean, English, Japanese, Simplified Chinese, Traditional Chinese)
1330 Korea Travel Hotline: +82-2-1330 (Korean, English, Japanese, Chinese)
Related Column: Traditional Markets in Seoul
Park No-soo Art Museum


From the alleyways of Seochon, you can reach the Park No-soo Art Museum. The former residence of the renowned Korean painter Park No-soo (1927-2013) was donated to Jongno District Office along with his private collection of artwork and turned into an art museum. It is the first public museum in the Jongno-gu district. The museum's garden displays stoneworks of various sizes. Inside the house, the late painter's works are on display from the main room to the attic. Just as impressive as the beautiful paintings is the house itself, which was built by architect Park Gil-ryong (1898-1943) in 1937 using a mix of Korean and Western architectural styles. The art museum is closed on Mondays and admission is free.
Address: 34, Okin 1-gil, Jongno-gu, Seoul
Inquiries: +82-2-2148-4171 (Korean, English)
1330 Korea Travel Hotline: +82-2-1330 (Korean, English, Japanese, Chinese)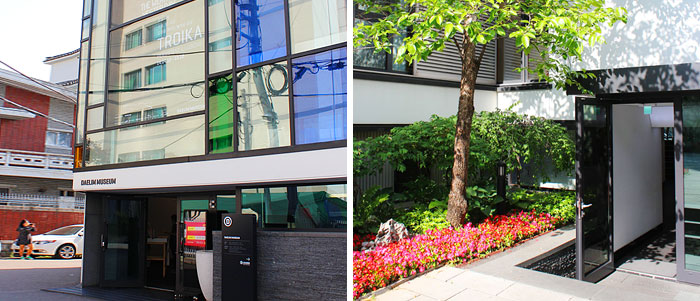 Daelim Museum holds exhibitions of the most celebrated artists from all over the world. Originally a privately-owned residential house, it was remodeled into an art museum by French architect Vincent Cornu and opened its doors to the public in 2002. The museum provides ample space for visitors to rest and chat in a relaxed atmosphere. The museum's stained glass façade is designed after Korean traditional patterns called bojagi. Entering the lobby on the first floor, there is a reception desk and alongside a display of various art products is a large table with computers available for public use.
Address: 21, Jahamun-ro 4-gil, Jongno-gu, Seoul
Inquiries: +82-2148-4171 (Korean)
Admission: 5,000 won (adults)
Homepage: https://www.daelimmuseum.org/eng/index.do (Korean, English)
1330 Korea Travel Hotline: +82-2-1330 (Korean, English, Japanese, Chinese)
Hyoja Bakery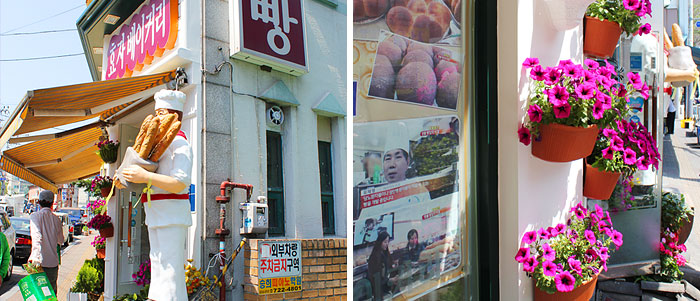 Located next to Tongin Market, Hyoja Bakery became famous as it has supplied goods to Cheong Wa Dae (the Blue House, Korea's presidential residence) for the past 26 years. The most popular goods at Hyoja Bakery include the onion cream bagel, corn bread, and blueberry cheese bun, all of which come from original recipes developed by the bakery owner. Their prices are much more affordable compared to many of the large bakery shops in the area. A Korean-style hamburger or sausage bread generously stuffed with cabbage only costs around 1,500 won apiece. Also famous in this bakery are around 10 different kinds of cookies, including the black sesame and almond jeonbyeong and the Venus cookie.
Address: 54, Pilun-daero, Jongno-gu, Seoul
Inquiries: +82-2-736-7629 (Korean)