Nighttime in Seoul is always crowded and filled with people's vibrant energy and laughter, often until sunrise the next morning. Korean night culture has a wide variety of activities and food. Experiencing Korean night culture is a fun way to learn more about the city's different districts. Cheongdam-dong in Gangnam is a famous upscale Korean night culture spot, frequented by celebrities and fashionistas both visiting and living there. If you are looking for a glimpse into Korea's nightlife, delicious food, and a fun atmosphere, be sure to check out the night tour of Cheongdam-dong!
Cheongdam-dong's Fashion and Flavors
ChiMc (Cheongdam Branch)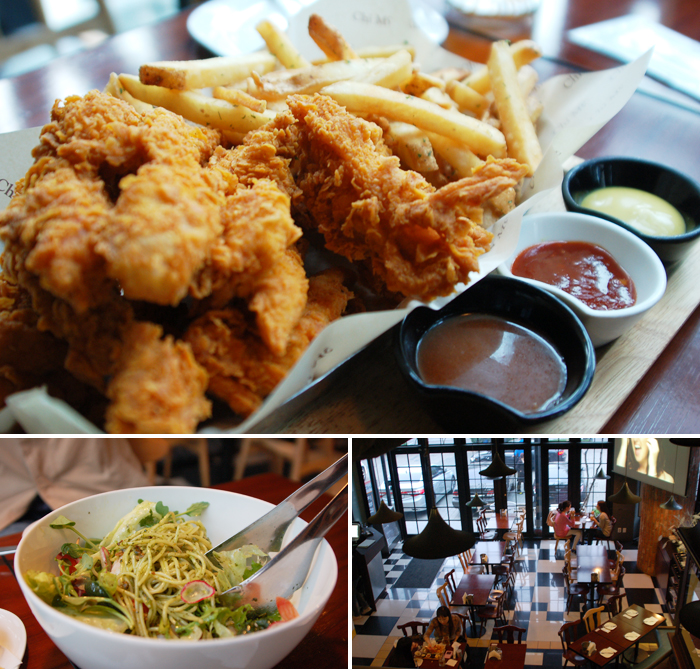 ChiMc is a popular pub providing chicken as a side dish with drinks. The name ChiMc is a compound word of chicken and beer (maekju). Chicken is one of the most favored snacks by Koreans due to its affordable price and great taste, and is usually accompanied by beer. The Cheongdam branch of ChiMc boasts a trendy interior and a cozy atmosphere where one may enjoy maekju during a night out with friends or on a date.
More Info

ChiMc (Cheongdam Branch)

☞ Homepage : http://www.chimc.co.kr/ (Korean)
☞ Address : 410, Dosan-daero, Gangnam-gu, Seoul
☞ Direction : Get off at Apgujeong Rodeo Station (Bundang Subway Line), exit 4, 8 minutes away from the exit.
☞ Price : Chicken & Maekju around 35,000 won (for two persons)
Dal Hangari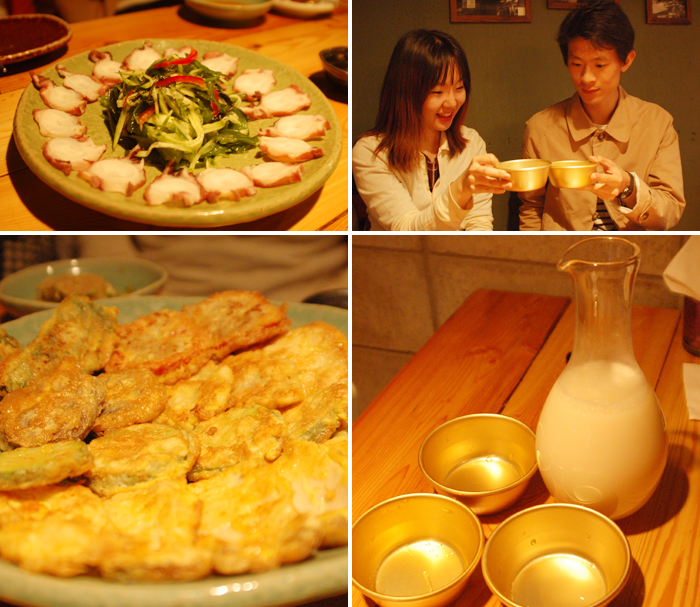 Korea is known for makgeolli, a traditional rice wine drink. Quiet and warm, Dal Hangari in Cheongdam-dong is recommended for its variety of makgeolli and offbeat side menus. Rare types of makgeolli such as pear makgeolli and scorched rice makgeolli are found here in addition to regular makgeolli. The popular side dish with drinks at Dal Hangari is a spicy haemul-jjim (seafood stew) filled with octopus, oyster and abalone. The served haemul-jjim is portioned for at least two people. The restaurant also has a variety of other drinks and side dishes on its menu.
More Info

Dal Hangari (달항아리)

☞ Address : 8, Seonneungno 133-gil, Gangnam-gu, Seoul
☞ Direction : Get off at Apgujeong Rodeo Station (Bundang Subway Line), exit 3, 5 minutes away from the exit.
☞ Price : Haemul-jjim (small size) 40,000 won, maekgeolli 8,000 won
Banpo Bridge Rainbow Fountain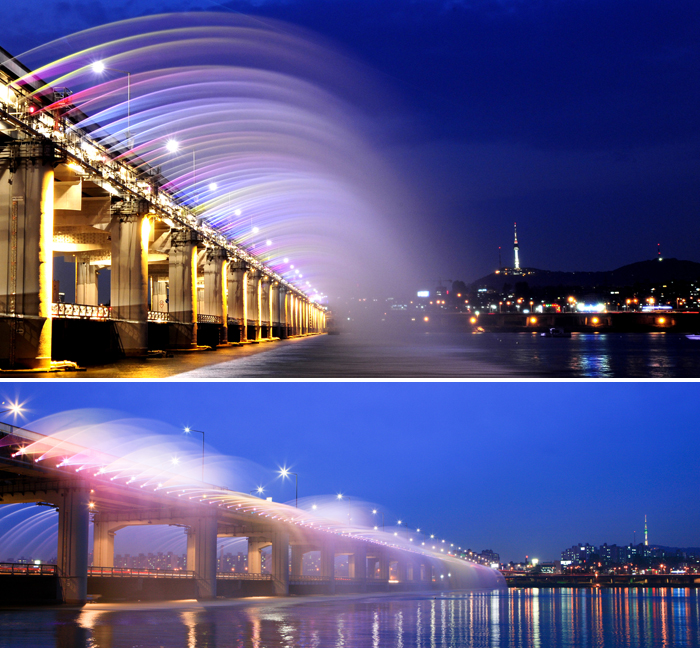 Banpo Bridge is the two-story bridge connecting the districts of Yongsan-gu and Seocho-gu. The first story of the bridge, connected to Banpo Hangang Park, provides a front row view of the renowned Banpo Bridge Rainbow Fountain. Rainbow-colored jets of water arc through the air from Banpo Bridge Rainbow Fountain. This show lasts for 15 minutes and provides for a beautiful and romantic interlude in your evening. See the table below for more information on when to catch the show.
More Info

Banpo Bridge Rainbow Fountain

☞ Address : Yongsan-gu & Seocho-gu, Seoul
☞ Direction : Get off at Seoul Express Bus Terminal Station (Seoul Subway Line 3, 9), exit 8-1, 15 minutes away from the exit.
☞ Schedule :

| Weekdays | Weekends & National holidays |
| --- | --- |
| 12h, 20h, 21h | 12h, 17h, 20h, 20h30, 21h, 21h30 ((July & August) 19:00) |

☞ Duration : 15 minutes
☞ Admission fee : Free
Pierrot Strike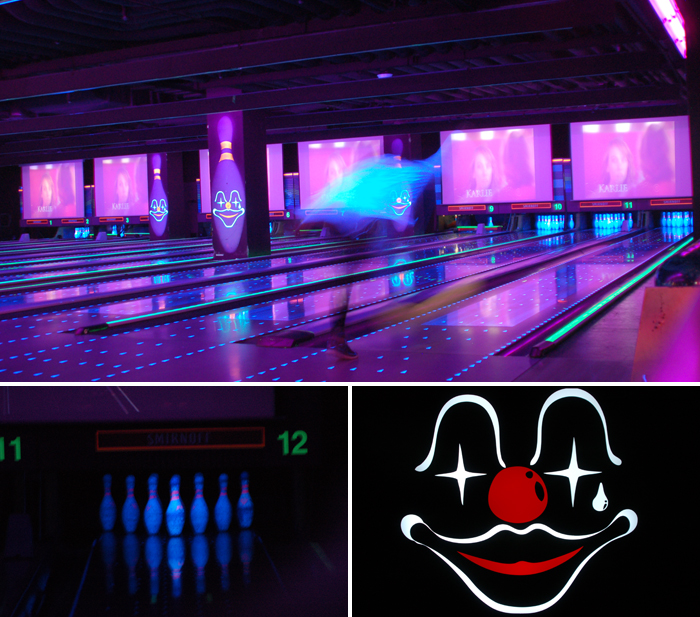 For those who like to include some activities with their evening of clubbing, Pierro Strike has one bar, 12 bowling lanes, two pool tables, and other bar games. Under the theme of a pierrot pantomime, the bowling alley has the atmosphere of an upscale club with its dark lighting, loud music, and illuminated interior design. Many visitors who stumble upon the venue are surprised to find that it is a bowling alley, and not a club. The lively atmosphere and music will add fun to your evening of bowling. Tip: wear some white clothing or accessories to stand out under the black lights.
More Info

Pierrot Strike

☞ Homepage : http://www.pierrotstrike.co.kr/ (Korean)
☞ Address : 818, Seonneung-ro, Gangnam-gu, Seoul
☞ Direction : Get off at Apgujeong Rodeo Station (Bundang Subway Line), exit 4, 6 minutes away from the exit.
☞ Price : bowling 5,000 won, shoes rental 1,500 won, two bottles of beer 20,000 won