Photo: Camellias taller than the average person

Camellias are called dongbaek in Korean because they blossom in the wintertime (dong means winter, and baek tree). Gabriel Coco Chanel, the French fashion designer and founder of the Chanel brand, said that the camellia was her favorite flower resulting in it becoming one of her key design inspirations. Camellia was also a great source of inspiration for other artists. Verdi's famed opera La Traviata is based on the novel La Dame aux camélias (The Lady of the Camellias) by French novelist Alexandre Dumas, fils. The title character, Marguerite, was based on the real-life lover of Dumas and in the novel she wore a camellia in her hair. These examples reflect the great affection that camellias have received over time from all corners of the globe. In this column, we present some of the top camellia destinations in Korea to enjoy.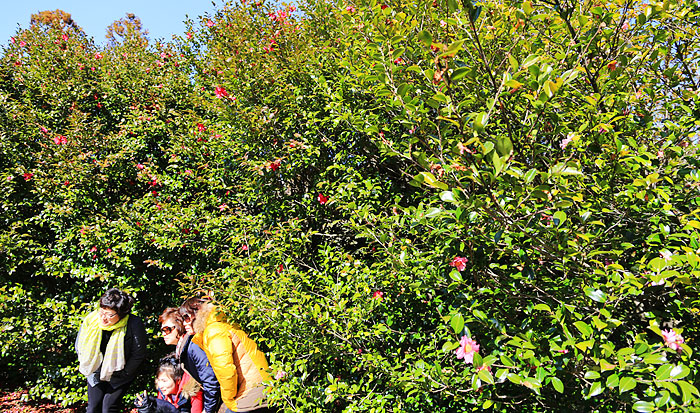 Photo: Tourists taking a photo under camellia trees
Camellia Hill is a famous camellia tourist destination in Jeju and the largest camellia arboretum in Asia. The arboretum sits on an area of 19.8 hectares and is home to about 6,000 camellia trees from 500 camellia species native to 80 different countries across Asia and Europe. The various species of camellias begin to bloom in mid-September and last until April.

Camellia Hill arboretum has plenty of relaxing trails to walk along to enjoy the flowers. As soon as you enter, you will be greeted by a wild flower road, followed by a European camellia grove featuring about 100 camellia species from various parts of the world. There, you will enjoy camellias in bloom from late autumn to early spring. Come and enjoy the British camellias with their small petals, the camellias with petals as large as a dish, and the camellia trees that produce various colored flowers.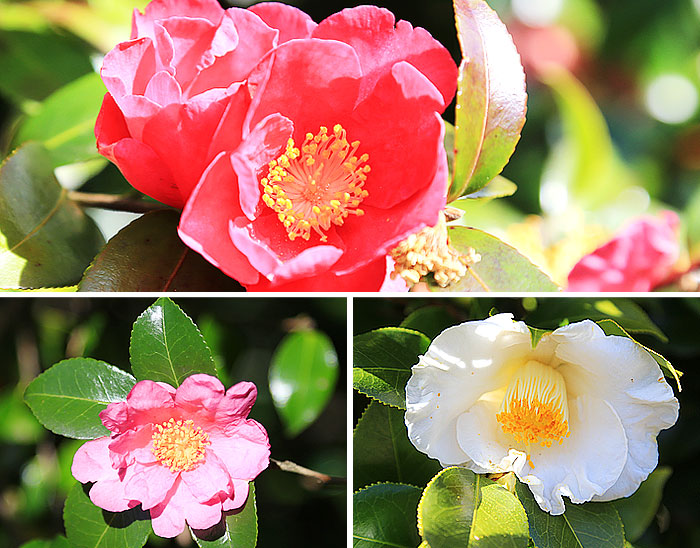 Photo: The camellias native to Korea with red petals and various other camellia species
Next is the Camellia sasanqua grove where these camellia sasanqua trees form a small and lovely tunnel with their branches touching each other. Camellia sasanqua are in full bloom in October and wilt in December. When the petals fall, they cover the olle path like a red carpet. The traditional olle path (in the local Jeju dialect, olle refers to the narrow path between the street and one's doorstep) found in the arboretum has black stonewalls and indigenous camellia flowers, both of which reflect the simple lifestyle of Jeju islanders.

At the end of the olle path is the Asia Pacific Camellia Forest. There, visitors will find indigenous local camellias as well as major camellia species from China, Japan, and the United States. In Asia, oil extracted from camellia seeds are used for culinary and other purposes. At the café or souvenir shop inside the arboretum, visitors will find natural oil and soap made of camellia.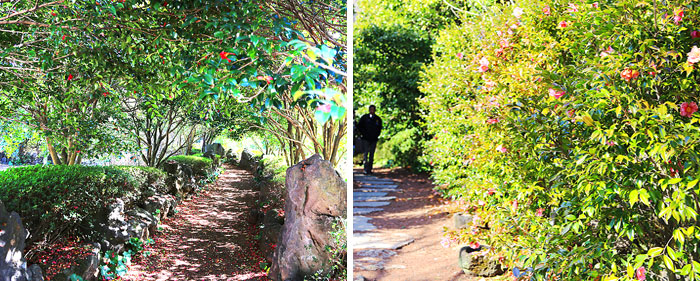 Photo: Camellia sasanqua tunnel
The Saesori Baramsorigil, or the Birdsong Sound of Wind Road, is dense with big camellia trees. Yoona of Girls' Generation fame filmed a cosmetic commercial. The path is an excellent place to take a relaxing walk while listening to the birds singing and the sound of branches as the wind blows through them. Camellia Hill also features groves of rhododendron, a pond with seven water lilies and three islands, a European garden, the Heart's Garden inspired by traditional Korean elements, and a green lawn. It takes roughly two hours to visit all of these attractions. Camellia Hill also offers a variety of lodging facilities, so visitors can consider the option of staying overnight as well.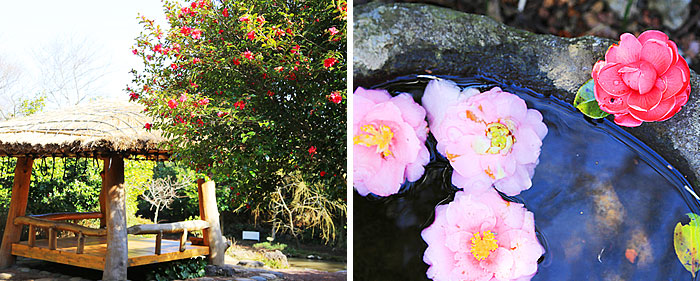 Left: Traditional pavilion and camellia flowers
Right: Camellia flowers in a basalt bowl
More Info
Jeju Camellia Arboretum Camellia Hill
☞ 1330 Korea Travel Hotline: +82-2-1330 (Korean, English, Japanese, Chinese)
☞ Related columns
*Jeju Island Food Tour
*A Walking Tour in Nature - The Jeju Olle Walking Festival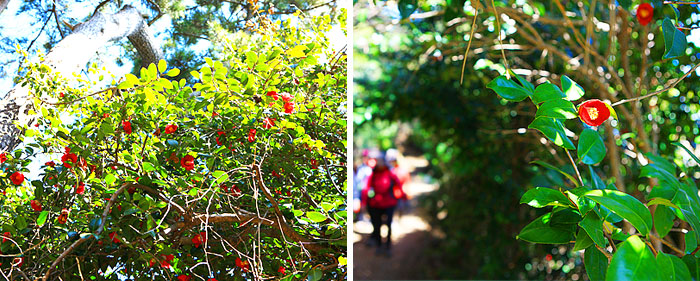 Photo: Red camellia flowers of Jisimdo (Photo courtesy of the Korea Tourism Organization)
A small island near Geoje-si, Jisimdo features a variety trees and when seen from afar, the island looks like one big forest. Of the various species of trees, camellia trees account for up to 60 to 70% of the total surface area. The island might as well be called Dongbaekseom, or Camellias Island, when the flowers are in full bloom. Camellias begin to blossom in early December and last until the end of April. The flower buds start to open up even in winter, but they burst in full bloom in the warmer weather of spring, making the best time to visit the island is in March.

Jisimdo features steep coastlines, but the mountain slope where the island village is located is comparatively smooth. This small island is relatively well paved and visitors can walk around the island at an easy pace. Take the Osol-gil Road, which is the perimeter road, and you can explore the whole island in just two to three hours. Make sure to walk under the camellia tunnel with the clear blue sea in the background to make some unforgettable memories.

You can reach the island by taking a boat leaving from Jangseungpohang Harbor in Geojedo. The ride takes just 15 minutes to reach the island.
More Info
Jisimdo Island
☞ Jisimdo Terminal: 702-3, Jangseungpo-dong, Geoje-si, Gyeongsangnam-do
☞ Boat schedule
*(Weekdays) Departing from Jangseungpo 08:30, 10:30, 12:30, 14:30, 16:30 / Departing from Jisimdo 08:50, 10:50, 12:50, 14:50, 16:50
*(Weekends and holidays) Departures (excluding the period from September 1st to end of February) Departing from Jangseungpo from 08:30 to 16:30 every 30 minutes / Departing from Jisimdo from 08:50 to 16:50 every 50 minutes
* Additional boats available on weekends, holidays, and high season
☞ Fare: Adult round-trip fare 12,000 won, children 6,000 won
☞ Homepage: www.jisimdoro.com (Korean)
☞ 1330 Korea Travel Hotline: +82-2-1330 (Korean, English, Japanese, Chinese)
Left: Camellia grove on Odongdo Island
Right: Forest tunnel trail on Odongdo Island
Odongdo Island is of the coast of Yeosu, the host city of the Expo 2012 Yeosu, and home to about 3,000 camellia trees. The camellias begin to blossom in January and are in full bloom in March. Take the trail that goes up to the highest point of the island and you will come across groves of silver magnolias and camellias. Once past the rocks on the seashore, you will soon reach the top of Odongdo Island where a white lighthouse stands.

The best part of traveling in Odongdo is the 2.5 kilometer-long tunnel of thick and tall camellia trees flanked by the seashore with strangely shaped rocks. Visitors will also find a music fountain park and a bare foot park for unique and fun activities. The 768 meter-long breakwater connects Odongdo with the mainland, allowing visitors to walk to and from the island. The Dongbaek (camellia) Train for tourists also takes visitors into the island.
More Info
Odongdo Island
☞ Odongdo Tourist Information: +82-61-664-8978 (Korean, English, Japanese, Chinese)
☞ Odongdo Dongbaek Train: Hours of operation - 09:00~17:00 / Open year round / Adult fare 500 won / Foreign language services not available
☞ Yeosu Culture & Tourism: http://www.ystour.kr/ (Korean, English, Japanese, Chinese, French)
☞ 1330 Korea Travel Hotline: +82-2-1330 (Korean, English, Japanese, Chinese)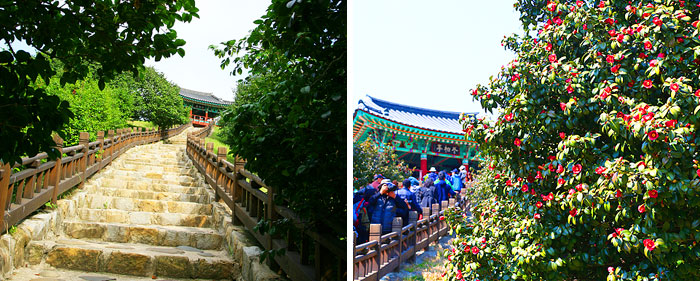 Left: Camellia Forest Tunnel leading to Dongbaekjeong Pavilion
Right: View of Dongbaekjeong (Photo courtesy of Seocheon-gun County Office)
Maryang-ri in Seocheon-gun, Chungcheongnam-do marks the northern limit line for camellias on Korea's shore. Further up north, the climatic conditions are not conducive to the growth of camellias. For this reason, the camellia forest of Maryang-ri is particularly valuable. Designated Natural Monument No. 169*, the forest offers a splendid landscape when the camellias are in full bloom in April. Situated on the east side of a hill that blocks the sea breeze, the forest is home to 80 or so camellia trees about 500 years old. The hill is also sparsely wooded with large trees. During the camellia season, red flowers blossom in between glossy leaves of camellia. When the flowers fall, they do so in clusters. On the hill of the camellia forest, one will find Dongbaekjeong Pavilion from which to view the west sea. The sunset is particularly beautiful with the surrounding landscape.
* Natural Monument: flora, fauna, and their habitats designated for protection and preservation under the Cultural Heritage Protection Act for their significant academic value and splendid scenic beauty. Also included are geographical features and minerals.
☞ Seocheon Culture & Tourism: http://tour.seocheon.go.kr (Korean, English, Japanese, Chinese)
Photo & Text: Travel columnist Jung Eun Ju