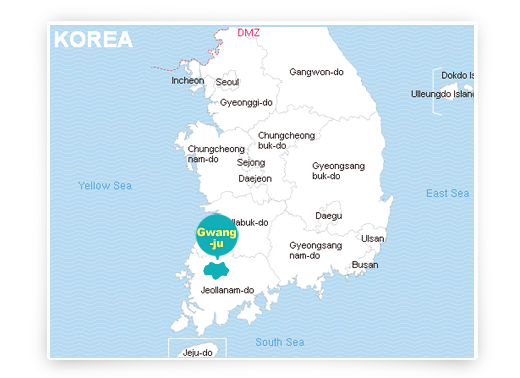 Due to its warm climate and fertile soil, Jeollanam-do produces a wide variety of foods. Jeollanam-do's food is often characterized by spicy flavors as a lot of red pepper powder is used in their dishes.
Gwangju, a City Full of Flavor!
Located in southwestern Korea, Gwangju offers a diverse range of dishes, using crops harvested from the Honam Plains, seafood from nearby coasts and various vegetables. Thanks to its diverse use of ingredients, restaurants in Gwangju generally provide more side dishes than other regions. In this article we will focus on some of Gawngju's local specialties, including boribap (barley rice) served with a variety of greens, fried foods wrapped in lettuce, and tteokgalbi.
Mudeungsan Mountain Boribap Alley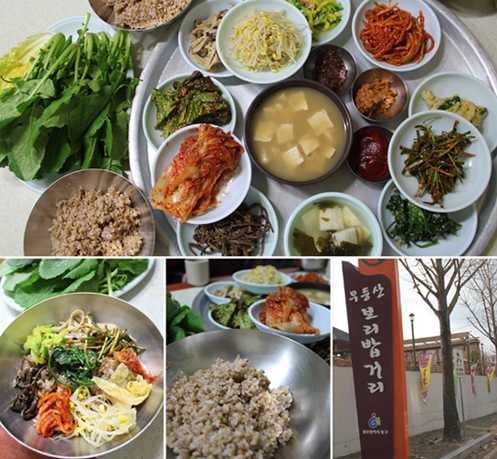 Next to Gwangju's Shin Yang Park Hotel, is the boribap (barley rice) alley filled with restaurants serving up some of the best boribap in Korea. In the past, boribap was eaten during financially difficult times, but these days, it is a favored dish of those trying to eat healthier. Restaurants in this area generally serve two boribap dishes: one uses only barley rice and the other uses half barley rice and half white rice. When the boribap dish comes out, it is accompanied with about ten side dishes, doenjang (soybean paste) soup and vegetables. Make sure to mix the vegetables, side dishes, sesame oil and gochujang (red pepper paste) sauce with the boribap for the best flavor. Also, make sure to try out the scorched-rice water after you finish eating for a good post-meal flavor following the boribap.
Fried Food Lettuce Wraps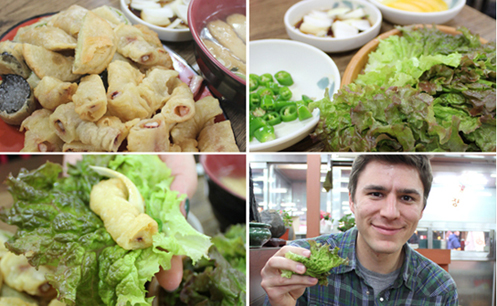 Eating fried food with lettuce is said to have begun when a merchant ate fried food with lettuce because of the lack of rice in 1970s in Gwangju. This dish was traditionally beloved by students but is now eaten by just about everyone. Some of the favored fried dishes include squid, mandu (dumplings), sweet potatoes along with many others, and all are wrapped in fresh lettuce leaves. The fried fare tastes even better when mixed with onions soaked in soy sauce and Cheongnyang red peppers. The dish is served along with fish cakes and pickled radish. It is also quite affordable at just around 3,000 won per person.
Songjeong Tteokgalbi Alley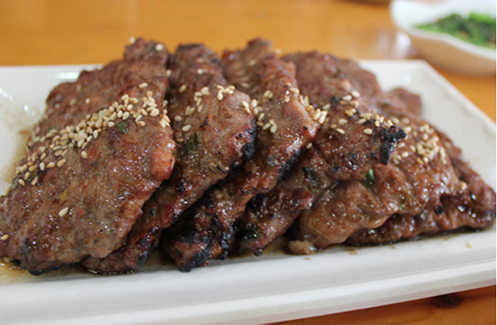 In the past, Songjeong tteokgalbi was known as a nutritious dish that people ate at traditional markets. However, it is now a famous local food of Gwangju. Tteokgalbi (grilled short rib patties) is a hand formed one-to-one ratio of pork and beef mixed with pears, green plums, onions, and medicinal herbs. After a day in the fridge, it is cooked over charcoal while evenly coating it in a special marinade. Tteokgalbi tastes great eaten plain or wrapped in lettuce with other ingredients. When you order tteokgalbi from restaurants in the Songjeong Tteokgalbi Alley, the main dish is usually accompanied by soup that is prepared by slow cooking pork bones in a broth with seaweed, radish, green onions and more. It costs around 15,000 won per person.
☞ Location: Areas around 830-6, Songjeong 2-dong, Gwangsan-gu, Gwangju (Nearby Songjeong Station in Gwangju)
Cheongwon Momil, Gwangju's Most Famous Restaurant
Located on Chungjang-ro Street in Gwangju, Cheongwon Momil has been a staple of Gwangju's dining scene since it opened in 1960. The two most popular styles of momil (buckwheat noodles) served at the restaurant are momil in a warm broth and dried momil, which comes with a dipping sauce for the noodles. The restaurant provides only two side dishes, kkakdugi and pickled radishes, but they are the expertly prepared and pair really well with the momil. The momil broth, which is the most important factor influencing each dish's taste, is slow cooked with anchovies and vegetables for a long time. For its flavor and tradition, Cheongwon Momil comes recommended by the Michelin Guide of Korea, so make sure to stop by Cheongwon Momil to sample some of the best momil in Korea.