The newly-constructed bicycle route that runs along Korea's four major rivers— Hangang River, Nakdonggang River, Geumgang River, Yeongsangang River— stretches 1,757 kilometers across the country and takes riders past traditional Korean villages, historical relics, and restaurants with traditional Korean food. Connecting the land from east to west, and from north to south, the route was recently constructed, and is safe for cycling. It also features a variety of convenience facilities including camp sites. The route also features several bicycle rental shops on the way, so visitors can rent a bike and safety gear at affordable prices. Read on and immerse yourself in the scenic adventures of cycling tours around Korea.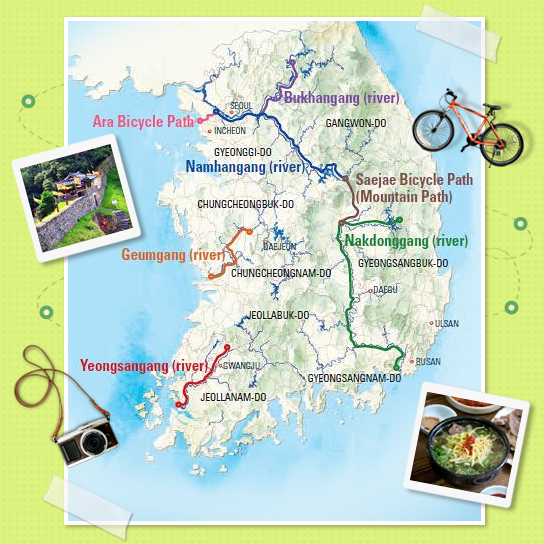 Biketel along the River and along the Road
During cycling tours, it is necessary to find accommodation facilities where bicycles can also be stored. A new form of accommodation called "biketel" caters to cycling tourists. Biketels are accommodation facilities that offer bicycle lockers for safe storage. Biketels have been established to offer convenience to a rising number of cycling tourists traveling long distance on bicycle routes. There are currently ten biketels—in Gyeonggi-do's Yeoju, Gangwon-do's Chuncheon, Daejeon's Yuseong, Chungcheongnam-do's Gongju and Buyeo, Chungcheongbuk-do's Chungju, Gyeongsangbuk-do's Mungyeong and Sangju, and Jeollanam-do's Damyang and Yeongam. For more information on specific biketel locations, please visit the website http://www.riverguide.go.kr/tour/bikeCourseList.jsp (Korean, English).
Biketel List
Biketel List
Area
Name of Accommodation
Tel
Chuncheon,
Gangwon-do
Ritz Motel
+82-33-241-0797 (Korean)
Yeoju, Gyeonggi-do
Neutinamuchon Minbak
+82-31-882-9432
(Korean, English,
Japanese, Chinese on weekends)
Chungju,
Chungcheongbuk-do
U& Tourist Hotel
+82-43-855-8876
(Korean, English, Japanese)
Mungyeong, Gyeongsangbuk-do
King Motel
+82-54-571-5558 (Korean)
Sangju,
Gyeongsangbuk-do
Sabeolbapsanggwa Dubakwiyeohaeng Minbak
+82-54-536-1006 (Korean, English)
Damyang, Jeollanam-do
Golden River Motel
+82-61-383-8960 (Korean)
Yeongam, Jeollanam-do
Soft Motel
+82-61-471-8101 (Korean)
Buyeo,
Chungcheongnam-do
Samjeong Buyeo Youth Hostel
+82-41-835-3101
(Korean, English (only weekdays)
Gongju,
Chungcheongnam-do
Hanok Village
+82-41-840-8900 (Korean, English)
Daejeon
Gyeongha Hot Spring Hotel
+82-42-8225656
(Korean, English, Japanese)