The newly-constructed bicycle route that runs along Korea's four major rivers— Hangang River, Nakdonggang River, Geumgang River, Yeongsangang River— stretches 1,757 kilometers across the country and takes riders past traditional Korean villages, historical relics, and restaurants with traditional Korean food. Connecting the land from east to west, and from north to south, the route was recently constructed, and is safe for cycling. It also features a variety of convenience facilities including camp sites. The route also features several bicycle rental shops on the way, so visitors can rent a bike and safety gear at affordable prices. Read on and immerse yourself in the scenic adventures of cycling tours around Korea.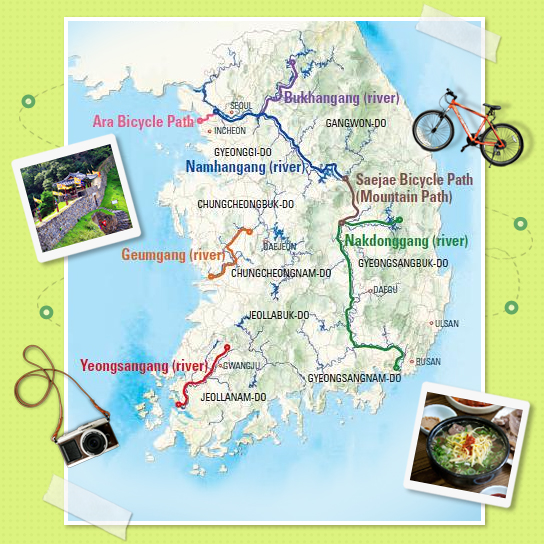 Yeongsangang River Bicycle Route (146 kilometers, 9 hours 40 minutes)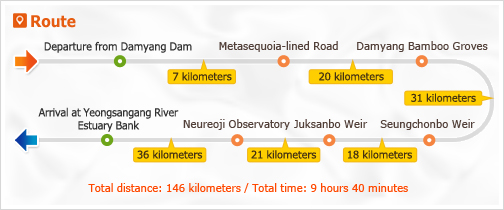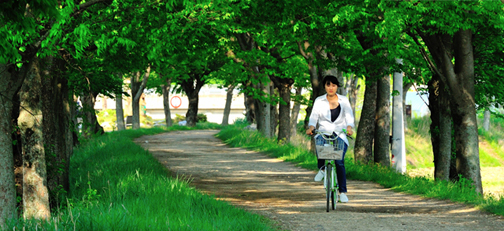 The Yeongsangang River bicycle route, which spans 133 kilometers along the Yeongsangang River in Jeollanam-do, is established on the river embankment down Damyangho Lake. In Damyang, the path joins the Metasequoia-lined Road and then the bamboo groves of Damyang Marsh before approaching downtown Gwangju. There, the Yeongsangang River widens after joining Hwangryonggang River, and then passes by Seungchonbo Weir before entering Naju Plain. The path near Seungchonbo Weir is full of canola flowers and pear blossoms in the spring. After passing Juksanbo, the second weir on Yeongsangang River, the path goes through the Naju Image Theme Park where the drama "Jumong" was filmed. The path goes through Hampyeong and Naju and then runs into Neureoji in Muan, which is shaped in the form of the Korean Peninsula, before crossing the Mongtandaegyo Bridge. After that, the path extends along the 10 kilometer-long bank, which is called the Bicycle Highway. The route finally reaches the estuary of Yeongsangang in Mokpo.
Attractions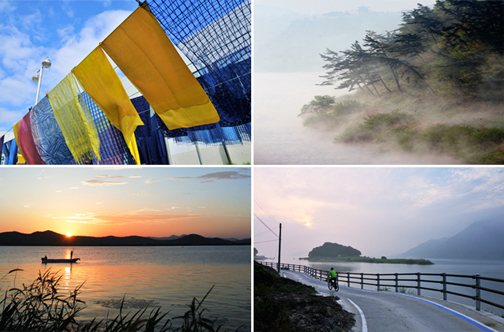 Metasequoia-lined Road

The 8.5 kilometer-long Metasequoia-lined Road in Damyang features about 1,500 Metasequoia trees. The road was also a filming location for the Korean drama Summer Scent in addition to a number of movies and commercials. Visitors can walk down the road barefoot. The road is connected to Gwanbangjerim Forest, a forest that was made to block the wind from the banks of Damyangcheon Stream during the Joseon period. Situated across from Gwanbangjerim, the Juknokwon Bamboo Garden is thick with green bamboo trees, and there are also eight walking trails in the garden.

Changpyeong Slow City

Known as a special place where a small brook flows along a stone wall path, the slow city of Changpyeong began as a settlement of the Changpyeong Goh Clan for 500 years. There are about 20 hanok buildings constructed in the early 1900s. Walk on the 3,600 meter-long stonewall path covered with ivy, and you will soon feel peace and serenity of mind. Slow cities in Korea must maintain a set of traditional characteristics in order to be designated a "slow" city.
The Yeongsangang Culture Pavilion sits next to Seunchonbo Weir, which is designed in the form of a rice grain. The pavilion offers information on how the weir was built on the river. There are a few videos projected such as the "River is" by Jussi Angesleva. Go up the observatory to get a panoramic view of Gwangju Mudeungsan Mountain, Yeongam Wolchulsan Mountain, and Naju Geumseongsan Mountain. There is an car camping site outdoors.

Naju Image Theme Park

Down Juksanbo Weir is Naju Image Theme Park, where the Korean drama Jumong was filmed. Filming took place on a cliff, and on the Hwangpo sailboat as it sailed down the foggy and serene Yeongsangang River.

Muan Neureoji

Neureoji means "Where the flow of water slows down." After passing the S-shaped boundary between Naju and Muan, the Geumgang River slows down at Isan-ri, Mongtan-myeon in Muan. Neureoji is also a rich agricultural area, and is most beautiful when it takes a golden hue in the fall. Climb up to Bongryong Observatory in Naju for a view of Neureoji, which when seen from the sky, protruding in the form of the Korean Peninsula.

Hoesan White Lotus Pond

The Hoesan white lotus pond in Muan measures 330,000 square meters in total surface area, and three kilometers in circumference. The pond is the largest white lotus habitat in Asia, and a filming location for the drama Summer Scent. There is a walking trail around the pond and a wooden bridge across it, from which visitors can view white lotus up close. White lotuses are in full bloom for three months from July to September, blooming in the morning and closing up at night.

Museums in Mokpo

Mokpo is home to a number of museums, including the Mokpo Natural History Museum, which has on exhibition fossil fuels, minerals, plants and various exhibits of 4.6 billion years ago, Literary Art and History Museum, and National Research Institute of Maritime Cultural Heritage.
Food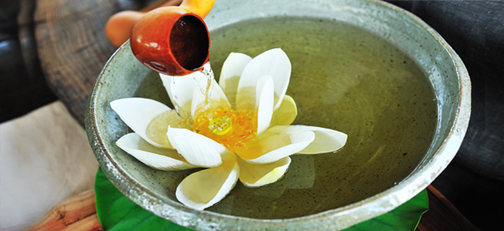 Damyang hanu tteokgalbi is made by removing meat from the bone, mincing it and shaping it into a rectangular form. The meat is grilled on charcoal and dressed with a mixture of soy sauce, pear juice, onion juice, cheongju liquor, sugar, and sesame oil. Or, the meat can be marinated in the sauce for a day. The daetongbap is nutritious rice cooked in local bamboo. The dish is made with non-glutinous rice, glutinous rice, and black rice.

The Yeongsanpo Hongeo (skate fish) Street in Naju has a few restaurants specializing in hongeo dishes. Try a course meal that comes with hongeo-muchim (seasoned skate with vegetables), hongeo-jeon (skate fritters), hongeo-twigim (deep-fried skate), and hongeo samhap (a combo of fermented skate, steamed pork, and kimchi). When eating the hongeo samhap combo, it is best to eat each separately than wrapping them all in one.

The Gomtang Street in front of Geumseonggwan is lined with Naju Gomtang restaurants that have been in business there for several decades. Unlike gomtang soup made with bones in other regions, the Naju version is made with meat, so the broth is more savory. The soup is served with old kimchi and kkakdugi.

In Muan, which is famous for its foreshore, the most delicious meals are the three-legged small octopus, raw mullet, grilled eel, and pork grilled on straw fire.
Accommodation
The Jukhyang Culture Village in Juknokwon in Damyang features a reproduction of Songgangjeong, Myeonangjeong, Sigyeongjeong, Myeongokheon, and Gwangpunggak pavilions of Damyang. The village has three hanok houses offering six rooms that can accommodate up to seven or eight people in each room. There are also a few hanok houses offering homestay accommodations in Samjinae Village. The Damyang Resort Hot Spring in Wonyul-ri, Geumseong-myeon is a family hotel famous for hot spring water containing germanium. It also offers a bamboo charcoal sauna, a bath infused with bamboo leaves, and a swimming pool. There are also hotels and motels in Bukhang accommodation district and Hadang accommodation district in Mokpo.