The newly-constructed bicycle route that runs along Korea's four major rivers— Hangang River, Nakdonggang River, Geumgang River, Yeongsangang River— stretches 1,757 kilometers across the country and takes riders past traditional Korean villages, historical relics, and restaurants with traditional Korean food. Connecting the land from east to west, and from north to south, the route was recently constructed, and is safe for cycling. It also features a variety of convenience facilities including camp sites. The route also features several bicycle rental shops on the way, so visitors can rent a bike and safety gear at affordable prices. Read on and immerse yourself in the scenic adventures of cycling tours around Korea.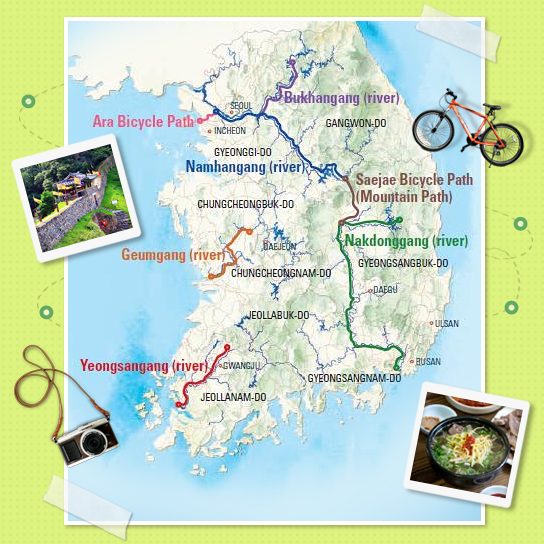 Nakdonggang River Bicycle Route (389 kilometers, 26 hours)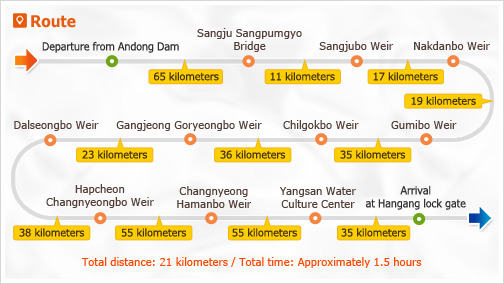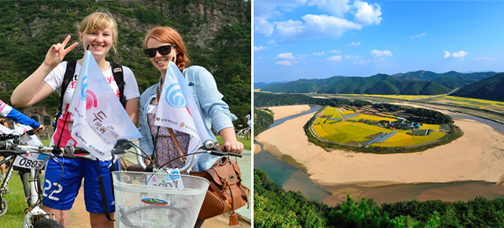 Nakdonggang is the longest river in Korea. The Nakdonggang River bicycle route is 389 kilometers long, beginning at Andong Dam and passing by time-honored villages like the Andong Hahoe Folk Village in the Yeongnam inland region before reaching Eulsukdo Island. Andong Hahoe Village is a major traditional village in Korea and is a designated a UNESCO World Heritage site. The route passes by Sangju, which is known as the city of bicycles, and then the Upo Wetland in Changnyeong, which is a Ramsar site, before ending in Eulsukdo Island in Busan, which is a paradise for migratory birds. It takes about a week to finish the Nakdonggang River bicycle route, but riders are recommended to select a few interesting courses for a few hours of riding and then enjoy sightseeing in the nearby villages. On the road, riders can also enjoy canoeing, kayaking, and other leisure sports, as well as a variety of traditional food and cultural experiences.
Attractions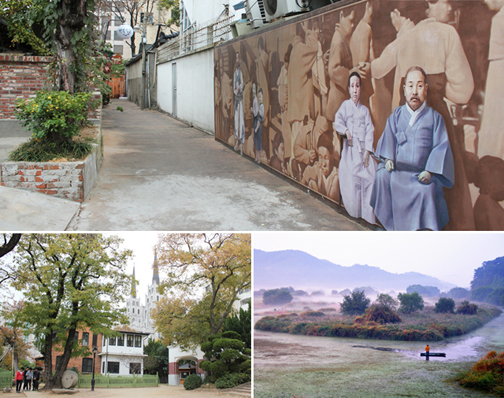 Andong Hahoe Folk Village

Andong Hahoe Village is a traditional riverside village that dates back 600 years and is listed as a UNESCO World Heritage site. It is the birthplace of brothers Ryu Un-ryong, a renowned scholar of the Joseon period, and Ryu Seong-ryong who served as prime minister during the Imjin War against the Japanese invaders in the Joseon period. The village is nestled along the S-shaped bends of the Nakdonggang River. This is how the village got its name Hahoe (river going around). The Hahoe Mask Museum by the entrance to the village features various masks from Korea and around the world. The permanent performance hall stages the Hahoe Mask Dance drama performance (mask performance of Hahoe byeolsingut exorcism).

Samgang Jumak

The area around the tavern called Samgang Jumak in Yecheon is where people crossed the river on a ferry before a bridge was installed. In the past, people came to Samgang Jumak for a meal or an overnight stay. The tavern was restored in 2008 and tourists drop by for old memories over a meal and makgeolli rice liquor. From a nearby observatory, visitors can see a beautiful landscape created by Hoeryongpo Village surrounded by the winding Naeseongcheon River.

Gyeongcheondae Terrace

Gyeongcheondae Terrace in Sangju means "Even heaven was taken aback by its beauty," and is considered by many to be the most beautiful landscape near the Nakdonggang River. Go up the observatory to view steep rock cliffs and a golden field in a semicircular shape by the blue water of the river. Nearby are the Sangju Bicycle Museum, Gyeongcheonseom Island, and Sangjubo Weir. Visitors can also ride horses at Sangju International Ranch, which features indoor and outdoor horseback riding facilities.

Daegu Alley

A city of alleys, Daegu is home to numerous alleys such as the modern culture street and food alleys. The Yakjeongolmok Alley is home to around 200 Eastern medicine shops and clinics established along a 600-meter-long street. There is also the Jingolmok Alley, an affluent residential area, the Yasigolmok Alley lined with fashion stores and shoe shops, and the Meokjagolmok Alley with various food. Visit one of these alleys and to experience a trip 100 years back in time.

Daegaya Museum

In Goryeong, the capital of Daegaya (45-562 AD; a city-state of the Gaya confederacy), there are various historical relics related to the kingdom, including the Jisandong Ancient Tombs. The tombs are the first in Korea where servants were found to have been buried alive with their dead masters. Other sites include the Daegaya history theme tourist site, the Daegaya Museum, and the Daegaya Royal Tomb Exhibition Hall. Also worth a visit are the Ureuk Museum commemorating celebrated musician Ureuk and the Gaepo Ferry from which the Palman Daejanggyeong (Eighty Thousand Tripitaka Koreana) were transported.

Upo Wetland

Bearing witness to 140 million years, the Upo Wetland in Changnyeong is a natural wetland. In the past, the inland area of Changnyeong region was affected by the intrusion of sea water that flowed along the Nakdonggang River. Sediments were deposited in the lower reaches of Topyeongcheon Stream, forming a natural embankment. The locked-in water behind the embankment created a wetland. The small riverine marshes surrounding Upo were created in this process. Upo Wetland is a habitat for migratory birds. In the early mornings, the area is surrounded by a blanket of fog. The Bugok Hawaii in Changnyeong is a hot spring resort with a 6,000-ton daily water supply emanating from underground at a temperature of 78℃. The water is rich in sulfur and other minerals like silicon and chlorine.

Eulsukdo Island

Eulsukdo in Busan is an island formed by the deposit of earth and sand in the lower Nakdonggang River estuary. It is named Eulsukdo because it is home to many birds and has clear water. In the past, the island had been the largest migratory bird site in Asia. Then, when the bank in the lower reaches of the Nakdonggang River was connected with the land, most of the island turned into a park. There are various convenience facilities such as an inline skating rink. The nearby Taejongdae with its beautiful rock cliffs was featured as one of the top 100 tourist sites voted by Netizens.
Food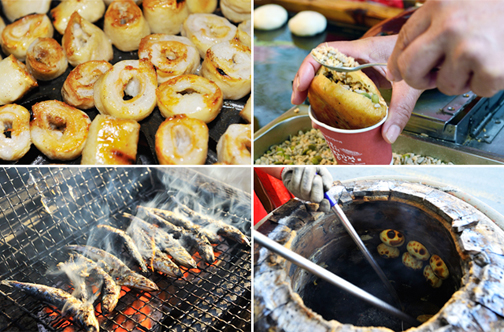 Heotjesabab

Andong Heotjesabab is memorial ceremony meal, but is also prepared for regular meals. The food is prepared without too much seasoning, giving it a plain and simple flavor. Other popular local dishes are the Andong salted mackerel, Andong jjimdak (chicken cooked in soy sauce), and Andong hanu beef. There are many related restaurants near Andongho Lake, downtown Andong, and Hahoe Village marketplace.

Sangju Hanu beef

In Gyeongsangbuk-do Province, Sangju is a well-known production center of Hanu beef (Korean beef). Particularly famous is Hanu fed with persimmon, a major product of Sangju.

Ten Delicacies of Daegu

These include gukbap (beef soup), swellfish bulgogi, jjim-galbi (spicy steamed ribs), napjak-mandu (flattened dumplings), and somakchang-gui (grilled beef tripe). There are many places to enjoy these delicacies, including the Dongin-dong Jjim-galbi Alley, Bokhyeon Ogeori Makchang Alley, Deulangil Food Town, and Gyo-dong Food Alley.

Busan raw fish

Busan offers countless delicacies, including the fresh raw fish sashimi, Dongrae pajeon scallion pancake, steamed angler, whale meat, and grilled anchovies. Visitors can purchase tasty dishes at inexpensive prices at Kkomjangeo Alley (selling inshore hagfish) near Jagalchi Market, the Nampo-dong Galbi Alley and Gogalbi (mackerel dishes) Alley, the Gopchang (tripe) Alley in Munhyeon-dong, and Sogogi Gukbap (beef soup) Alley in Haeundae.
Accommodation
In Andong, there are about 50 Hanok residences that offer home-stay accommodations. The Imcheonggak House, which is close to where the Nakdonggang River bicycle route begins, represents a typical house of an upper-class nobleman of the Joseon period. It is the home of the head of the Goseong Lee clan. In Hahoe Village, there are many tile-roof houses like Bukchondaek House and thatched roof houses available for accommodation. The Gimhae Hanok Experience Hall organizes various programs for its guests, including traditional hanjeongsik meals, permanent Korean classic music performances, and craft making programs. In big cities like Daegu and Busan, there are a variety of accommodation facilities, ranging from hotels to motels.