The newly-constructed bicycle route that runs along Korea's four major rivers— Hangang River, Nakdonggang River, Geumgang River, Yeongsangang River— stretches 1,757 kilometers across the country and takes riders past traditional Korean villages, historical relics, and restaurants with traditional Korean food. Connecting the land from east to west, and from north to south, the route was recently constructed, and is safe for cycling. It also features a variety of convenience facilities including camp sites. The route also features several bicycle rental shops on the way, so visitors can rent a bike and safety gear at affordable prices. Read on and immerse yourself in the scenic adventures of cycling tours around Korea.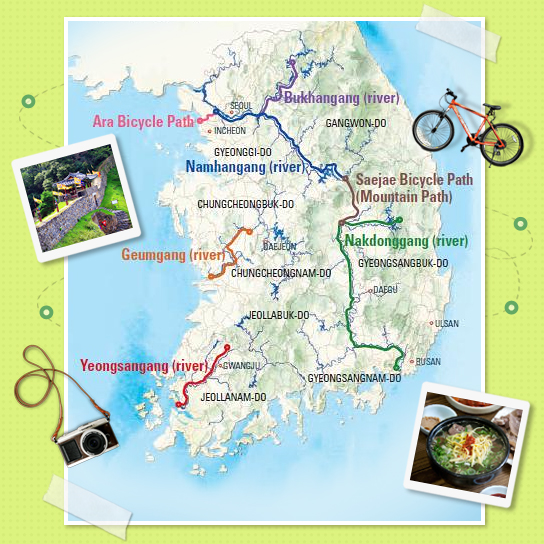 Ara Bicycle Route (21 kilometers, 1.5 hours)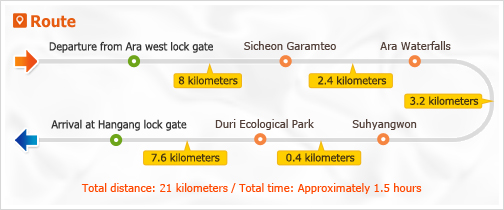 The 21 kilometer-long Ara bicycle route was created along the Gyeongin Arabaetgil Canal connecting Incheon and Seoul. Riders have called it a "fantastic bicycle route." Like a runway, the route has no sudden curves or slants and it is set against a beautiful urban landscape. There are also 16 bridges, artificial waterfalls, rest areas, and large sculptures. There is also a scenic view from Arumaru Observatory, which is located in a gorge of Gyeyangsan Mountain.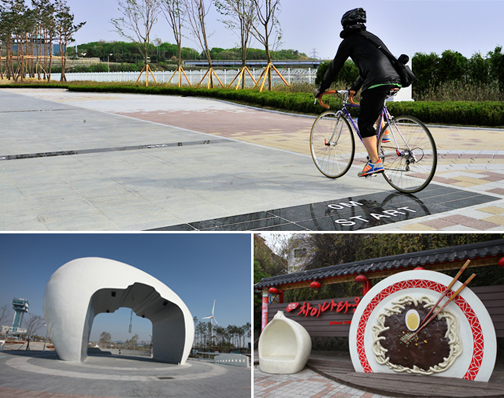 Attractions
Jeongseojin

Situated west of Gwanghwamun in Seoul, Jeongseojin in Oryu-dong, Incheon is the starting point of the cross-country bicycle tour route, and also has several large sculptures. The sunset landscape against the Yeongjongdaegyo Bridge that leads to Incheon International Airport is beautiful.

Cruise Travel

The Arabaetgil Waterway is the first canal in Korea connecting the west coast in Oryu-dong in the Seo-gu district of Incheon and Gaehwa-dong in Gangseo-gu district in Seoul. The canal is 18 kilometers long, 80 meters wide, and 6 meters deep. A cruise ship runs between Ara Incheon Terminal and Ara Gimpo Terminal. There is also a dinner cruise on Saturdays. Take the cruise ship going from Ara Incheon Terminal to Incheon Coastal Wharf, and experience passing through a lock gate aboard the ship.
* Hyundai Excursion homepage: http://www.aracruise.com (Korean) / +82-32-882-5555 (Korean)

Incheon Chinatown

Situated in Seollin-dong in Jung-gu, Incheon, Incheon China Town was established by Chinese who settled in the area 130 years ago. Visitors can enjoy a variety of Chinese food, shop for traditional Chinese clothing called qipao, traditional Chinese tea, ceramics, and accessories, and watch Chinese performances.
* Incheon Station Tourist Information Center: +82-32-777-1330 (Korean, English, Japanese, Chinese)