The article courtesy of SEOUL magazine
Korean history, like that of most other countries, is full of what-ifs. Alternative versions of history offer new perspectives on current issues. One of the biggest what ifs in 20th-century Korean history is what would have happened if independence fighter Kim Koo had become the first president of a united Korea.

An interesting place to explore these questions is Hyochang Park and the Kim Koo Museum and Library near Sookmyung Women's University. Start by leaving Exit #9 or #10 of Sookmyung Women's University Station (Line 4) and walk under the railroad bridge in the direction of the university. The walk takes you past a typical student town full of inexpensive eateries and coffee shops. The street ends at the entrance to Hyochang Park, a large green oasis in this densely populated area. Turn left and curve down the hill toward the entrance on the right side of the street where the road merges into another road.

The main entrance to the park is a traditional Korean-style gate, which suggests the park is rooted in history. The park sits on the site of the tomb of King Jeongjo's (1752-1800, r. 1776-1800) eldest son Crown Prince Munhyo (1782-1786) and was called Hyochangwon. During the Japanese colonial period (1910-1945), the tomb was moved to Seosamnyeung in Goyang, a city northwest of Seoul, and the area was turned into a park. This fit the pattern of the Japanese appropriating sites associated with the Joseon royal family and turning them into parks and public buildings.
Kim Koo and other patriots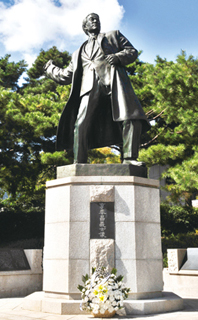 After the liberation of Korea from Japanese rule in 1945, political groups in Korea began the task of nation building as the United States occupied the area south of the 38th parallel and the Soviet Union the area north of that line. One of the most important players was the Provisional Government of the Republic of Korea in China under the direction of Kim Koo. He returned to Korea in November 1945 and began leading an effort for immediate independence and an end to American and Soviet occupation. As part of the effort to honor those sentenced to death for violent acts against the Japanese in the fight for Korean independence, Kim arranged for the remains of Lee Bong-chang, Yun Bong-gil and Baek Jeong-gi to be interned in the park in June 1946, and the provisional government held a state funeral in July of that year.

The graves of these "three martyrs" occupy the most prominent place in the park. To the left stands Uiyeolsa Memorial Hall, a formal hall built in 1990 for the three martyrs, Kim and three other important figures in the provisional government: Yi Dong-nyeong, Cha Yi-seok and Jo Seong-hwan. These men are buried in a separate tomb built near the park entrance in 1991. Memorial services for these seven leaders are held here on April 13th every year.

To the left of Uiyeolsa Memorial Hall is Kim's tomb. He was assassinated on June 26, 1949, and buried here. Kim opposed the National Assembly election in 1948 that led to the establishment of the Republic of Korea in the American-occupied zone south of the 38th parallel because he thought it would create a permanent division of the nation. Many believe that Syngman Rhee, the first president of the Republic of Korea, was behind the assassination as part of an effort to consolidate his rule.

Sitting next to the tomb is the Kim Koo Museum and Library, which contains an extensive two-floor exhibit with explanations in English on Kim's life and the history of the provisional government in China. The exhibit leaves questions over alternative history open, but exerpts from Kim's autobiography suggest much of his vision has been achieved in the Republic of Korea: "Our national strength will be sufficient as long as our wealth makes our lives abundant and our military strength repels others' invasion. But the one thing I seek in infinite quantity is the power of a highly developed culture. This is because the power of culture brings happiness and meaning to our lives and, by extension, to the lives of others."

After seeing the museum, return to the park entrance and walk back to Sookmyung Women's University Station. An alternative route is to turn right at the park entrance and walk past Hyochang Stadium. This leads to Hyochang Park Station (Line 6).

Go Hyochang Park Station 효창공원역 Line 6, Exit 1
The article courtesy of SEOUL magazine