The "Miss Flower" video series shows a love story that unfolds against an array of beautiful natural landscapes in Korea. Each episode of the Miss Flower series presents a love story that takes place in one of the distinct seasons of Korea, combining to make one interconnected story. The winter episode presents snow-capped scenes and photos taken by professional photographers along with notes on the filming locations. The background music helps set the mood for the spectacular scenery and was created by music director Han Ju-heon, who also created the soundtracks of well-known Korean movies including "Christmas in August" and "One Fine Spring Day."

"Miss Flower – Winter" features the snow fall of Deogyusan National Park in Muju, the snowy landscapes of Bukchon, Changgyeonggung Palace, and Namsan areas in Seoul, and the chrysanthemums and winter flowers of Beartree Park in Sejong Special Self-Governing City. The Miss Flower video series debuted with its spring video, followed by the summer, fall, and winter chapters that can all be accessed via the links below.
During winter in Korea, the bare tree branches become covered with snow and despite the chilling weather, winter is a fun-filled season. Korean winters offer a chance to try a wide variety of winter sports, seasonal foods, and attractions that will keep the cold at bay. For the last episode of the Miss Flower series, we present some of the most picturesque winter sites where crisp white snow blankets the ground, tree branches, and ancient palaces.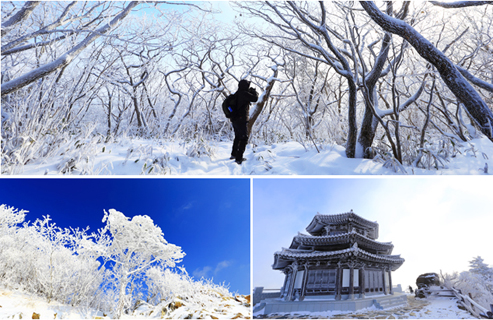 Deogyusan National Park spans across Muju-gun and Jangsu-gun Counties in Jeollabuk-do Province and Geochang-gun County in Gyeongsangnam-do Province. The Deogyusan Mountain range has multiple peaks over 1,000 meters high with Hangjeongbong Peak at 1,614m in the center. It was designated a national park in 1975 for its beautiful valleys and diverse animal and plant life that inhabits the mountain ranges. The grandeur of Deogyusan Mountain is greatest during the wintertime when a dazzling carpet of snow covers the mountain landscape.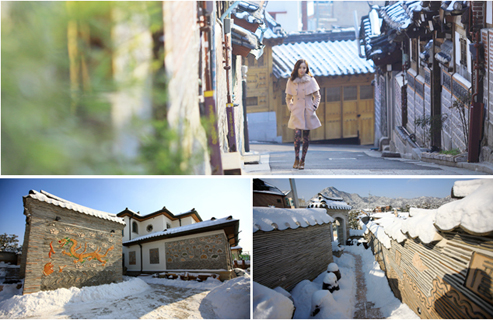 Surrounded by Gyeongbokgung Palace, Changdeokgung Palace, and Jongmyo Shrine, Bukchon Hanok Village is a traditional Korean residential area in Seoul with over 600 years of history. The village is home to charming old houses as well as workshops and museums scattered throughout its alleys. The Bukchon Cultural Center provides a wide range of information and provides visitors with a free map of the Bukchon area. The center can be reached by taking Exit 3 at Anguk Station (Seoul Subway Line 3) and walking into the alley by the Hyundai Building. The village is divided by a number of walking paths including Samcheongdong-gil, Gyedong-gil, and Gahoedong-gil. The most picturesque area of the village is 31 Gahoe-dong, a popular alleyway lined with hanok houses. Gyedong-gil is located within close proximity to many great attractions such as the Hanok Experience Hall, Gahoedong Museum, Dong-Lim Knot Museum, Silk Road Museum, and more.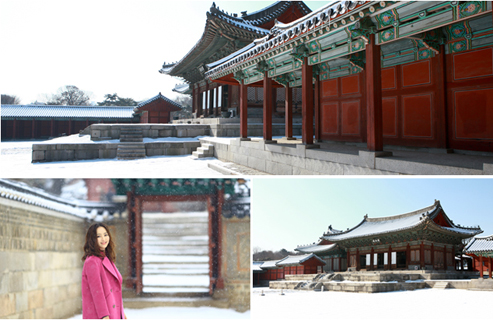 Changgyeonggung Palace is a royal palace from the Joseon Dynasty (1392-1910). Originally built for King Taejeong (1367-1422) and named Suguanggung Palace, it was renovated and renamed during the reign of King Seonjong (1469-1494). Although the palace was burned down during the Imjin War (Japanese invasion of Korea, 1592-1598), it was restored to its original appearance in 1986. The palace has become a much-loved tourist destination, especially famous for its fall foliage and winter snow scenes.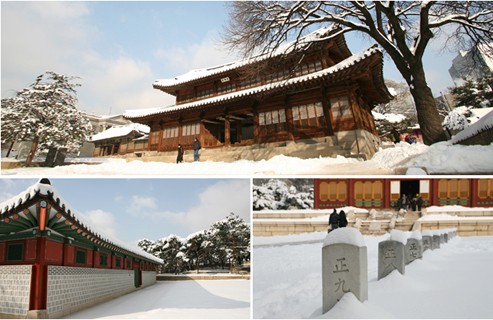 Located in Jung-gu, Seoul, Deoksugung Palace is another Joseon Dynasty palace. Once called Gyeongungung Palace, the name was changed to Deoksugung when King Gojong (1852-1919) took up residence at this palace in 1907. The landscape surrounding the traditional architecture is beautiful all year round, but the palace is particularly popular as a winter destination for its scenic snow scenes.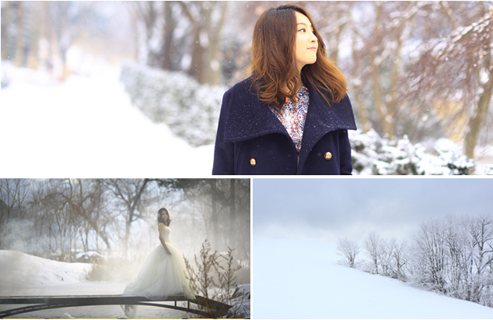 Spanning 82 acres of land, Beartree Park is an "arboretum with animals" that is home to over 400,000 flowers and trees as well as a variety of animals such as Asiatic black bears and Formosan deer. The park also has a pond with 500 carp, and visitors can see blooming chrysanthemums along with other species of flowers even during the winter.
Related Columns on Korea Tourism Promotional Video: Miss Flower