There are a surprising number of vegetarian dishes on everyday Korean menus that feature tofu, wild vegetables and other fresh greens. However, a meat-free diet is still a relatively new and unknown concept in Korea, and meat is a common part of meals. Seafood-friendly pescatarians will have an easier time navigating restaurants in the peninsular state, while vegetarians will need to be mindful of the seafood and meat that is found in many dishes, from some types of kimchi to "vegetable" dumplings (beef dumplings that also include some added vegetables).

Korea is also home to a Muslim community estimated to exceed 140,000. The Korean government has expanded efforts to encourage Muslim travelers to visit the country, widening the availability of prayer rooms at major destinations in the city. Muslims adhering to Halal follow strict dietary guidelines, which forbid the consumption of pork, animals that were not slaughtered according to Halal procedures, and alcohol, among other guidelines. Muslim travelers are also encouraged to visit vegetarian establishments. Halal-friendly restaurants can also be found throughout the city, but particularly in Seoul's Itaewon, which is home to the beautiful Seoul Central Mosque.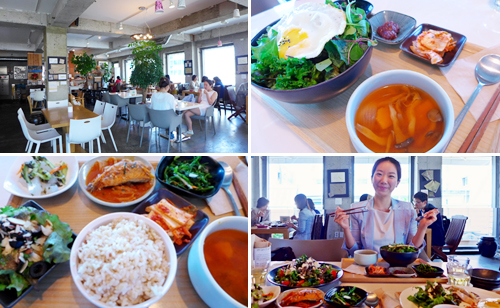 With the growth of the slow food movement, it's not uncommon to see restaurants promoting good food and strong links to their community and the environment. One such restaurant is Café Slobbie in Hongdae. The term "slobbie" (slow but better) is a coined word to succeed the yuppie (young urban professional). Slobbies care about good, healthy food and enjoy it at leisure, as opposed to fast-food lovers.

Café Slobbie gives off a café vibe with its comfortably spaced-out tables and relaxing ambience. The neat and simple interior is enlivened with artworks hanging on the wall, accompanied by a short note from the artist, and playfully painted paper cups hanging from the ceiling. In one corner, they sell handmade crafts and kitchenware, and unique tea blends for a good cause. Proceeds from the Eco Shop help support children in Cambodia. Café Slobbie also helps promote social and environmental responsibility by nurturing young chefs by training underprivileged youth and giving them the opportunity to work at Café Slobbie branches on weekends.

The Home Meal of the Day consists of a Korean soup, salad, several side dishes, and the day's featured food item. Most of Slobbie's main meal options like the salad bibimbap or the soybean curry cater to vegetarians. Non-vegetarian options like the beef bulgogi or chicken salad are also available. Vegan customers can inform the staff beforehand and they will be sure to bring out a vegan version of your meal. During lunch, the meals also come with a free coffee or buckwheat tea.
Address: 5th floor, 163-9 Donggyo-dong, Mapo-gu, Seoul
Getting there: Hongik Univ. Station (Seoul Subway Line 2) Exit 9. Turn left at KFC and turn right at the first corner. Walk past Olive Young and look up. Slobbie will be on the your left.
Menu: Home Meal of the Day 8,000 won / Salad Bibimbap 7,000 won / Kimchi Fried Rice 8,000 won / Tofu Salad 12,000 won
Hours: 11:30–23:30 (Closed on Sundays / Closed on the first Monday of the month)
SNS: http://blog.naver.com/slobbie8 (Korean), www.facebook.com/slobbie8 (Korean)
Tel: +82-2-3143-5525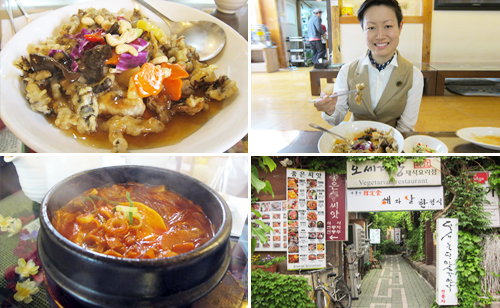 Osegyehyang Restaurant is nestled in a hidden corner of Seoul's traditional Insadong neighborhood, boasting an entirely vegan menu. The restaurant is part of the Supreme Master Ching Hai religious movement, but its vegan variations on traditional Korean and fusion offerings attract monks, nuns and vegetarians from all walks of life.

This branch of the local restaurant has a distinctly traditional vibe with its floor seating, low Korean tables, and beautiful wooden ceiling beams reminiscent of traditional Korean houses. The menu has a range of noodle and rice dishes, and a number of entrees, many of which feature flavorful meat alternatives. Some of the popular dishes are Vegetarian BBQ and Rice, a variation on Korea's bulgogi dish, soy protein cutlet, a variation on Japan's breaded pork cutlet, and various stews. After a meat-free meal, visitors can step outside and follow up meal with a rich cup of traditional Korean tea or shop for traditional Korean wares in Insadong.

The restaurant is popular for business meetings and casual social gatherings. Prices generally range from 7,000 won for stews to 15,000 won for some entrees. Don't forget to check out their stock of frozen meat alternatives, ramen, soy milk and vegan bread on your way out.
Address: 14-5, 12-gil, Insa-dong, Jongno-gu, Seoul-si
Getting there: Anguk Station (Seoul Subway Line 3) Exit 6. Turn left onto Insadong-gil and walk down the street and turn left at Insadong 4-gil, opposite the ARTSIDE gallery. The restaurant is at the end of the alley.
Menu: grilled soy protein stew 8,000 won / soy protein cutlet with a meal 11,000 won / Vegetarian BBQ and rice 8,500 won / fried soy protein served with sweet and sour sauce 15,000 won
Hours: 12:00-15:30, 17:00-21:00 (Break Time: 15:30-16:30)
Homepage: http://www.go5.co.kr (Korean, click the lower text that says 오세계향)
Tel: +82-2-735-7171
Garobee in Gangnam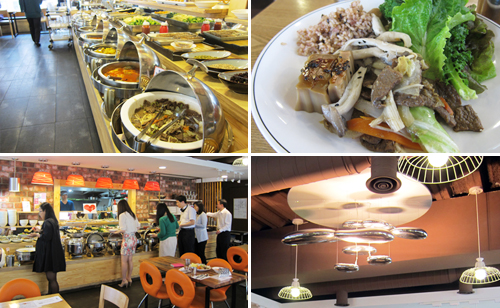 Garobee is a delicious vegetarian and vegan buffet located in the heart of Seoul's Gangnam area. Since Gangnam is known as a ritzy and affluent area, restaurants and particularly buffets in the district can be pricey. Garobee offers a break from this trend, with a moderately-priced all-you-can-eat buffet that costs 15,000 won. Their delicious range of entrees, soups, salads, side dishes and beverages makes it worth budgeting in.

A large sign welcoming each visitor to the restaurant offers more information on the food preparation, removing any doubt as to the authenticity of this vegetarian restaurant. They use no meat, fish, eggs, dairy products, honey, pickled foods, additives or preservatives and the result is extremely fresh food that is as just tasty as it is healthy. Everything from their salads to curried rice is carefully prepared and rich in flavor.

The atmosphere is quiet and inviting and during a busy Gangnam lunch break, and the kitchen continuously serves fresh dishes. After finishing your meal, be sure to relax and have some complimentary coffee or tea while enjoying Garobee's homemade rice cakes and other dessert treats. Anyone in the Gangnam area looking to fill up on healthy eats should be sure to stop by Garobee!
Address: 2nd floor Sohyun Building 813-8 Yeoksam-dong, Gangnam-gu, Seoul
Getting there: Gangnam Station (Seoul Subway Line 2) Exit 11. Go straight until you arrive at the CGV building. Garobee is behind the building on the 2nd floor.
Menu: Weekday lunch buffet 12,000 / Dinner and weekend buffet 15,000
Hours: 12:30–14:30, 18:00-21:00 (Closed on Sundays / Closed on the first Monday of the month)
Tel: +82-566-7545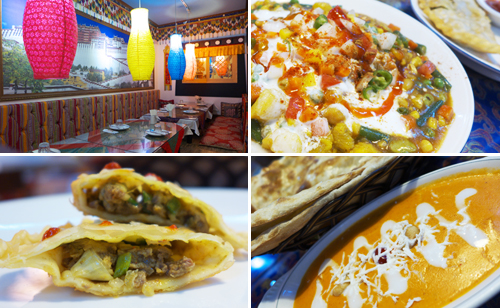 Walking into Potala, one would notice the colorful décor, warm lighting, and friendly atmosphere. The restaurant is named after Tibet's Potala Palace, an iconic building and a symbol for Tibet itself. Potala, owned and operated by a native Tibetan, offers a taste of Himalayan culture by serving Tibetan, Indian and Nepali food.

A wide variety of dishes, appetizers, desserts, several lunch sets and dinner sets are available to choose from. The menu is divided into salads and soups, Tibetan food, Indian and Nepali food, desserts and lassi, and teas and beverages. Although not written on their menu, Potala's menu items consist of halal food, or items that are prepared in accordance with Islamic guidelines. Located along Cheonggyecheon, the restaurant's customers consist of both office workers and tourists alike. The only Tibetan-owned restaurant, richly decorated and staffed with friendly waiters, Potala certainly offers a pleasant dining experience.
Address: B1, 35-2 Gwancheol-dong, Jongno-gu, Seoul / 4F, 32-14, Myeongdong 2-ga, Jung-gu, Seoul
Getting there: (Main branch) Jongno-3-ga Station (Seoul Subway Line 1, 3, or 5), Exit 15. It is located in basement level of the building next to New Pagoda along Cheonggyecheon.
(Myeongdong branch) Myeongdong Station (Seoul Subway Line 4), Exit 8. Go straight towards M Plaza. In the next block after M Plaza, you will see The Face Shop. Potala is located on the 4th floor of that building.
Menu: Sha bhakle 8,000 won / Samosa Chat 9,000 won / Curry 10,000-13,000 won / Naan 2,500-4,000 won / Lassi 4,000-5,000 won
Hours: 11:00 - 23:00 (Last order is at 22:00) (Open all year round)
Homepage: http://potala.co.kr/ (Korean)
Tel: +82-2-318-0094 (Main: Jongno) / +82-2-775-8860 (Myeongdong)
Pasha in Gangnam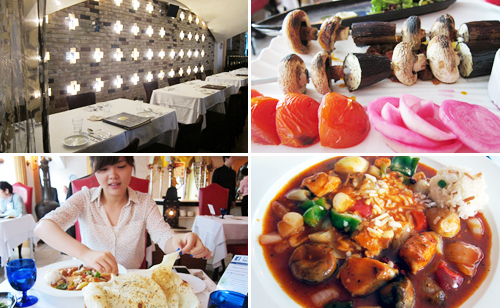 The moment you enter Turkish restaurant Pasha, located in Gangnam, you will feel as if you have been transported to Turkey. Luxurious interior designs greet customers at the main door and sharply-dressed waiters and waitresses await customers at a pleasant table. The soft glow coming from an entire wall of lights, Turkish antiques and high-backed red and white seats and linen-covered tables create a Middle-Eastern atmosphere in the middle of Seoul.

Pasha serves an array of appetizers, salads, spaghettis, kebabs, main dishes, main courses, drinks and desserts. Adding to its wide range of dishes, the restaurant has also prepared a range of vegetarian dishes. If you go Pasha during their lunch hour (12:00 – 16:00), you will be able to order the special lunch set menu. The lunch set includes today's soup, salad and Lavas (Turkish bread). Some recommendations include the Pasha Kebab (27,500 won), Ilhan Kebab (25,000 won), Adana Iskender Kebab (22,000 won) and Sote (22,000 won).

To fully enjoy your Turkish dining experience, try following these special instructions. First, try a kebab. It is grilled over a charcoal fire so it is roasted and not oily. Second, try Lavas wrapped around chicken, beef and vegetables. The taste is maximized with yogurt sauce. Third, if you want something to complement your Turkish meal, try Ayran, a traditional Turkish drink. Finally, finish your meal with Lokum, Turkish jelly. Pasha also has Turkish ice cream in the flavors of vanilla, chocolate, strawberry and more, for 3,000 won.
Address: 4th floor, 1317-31, Seocho 4-dong, Seocho-gu, Seoul
Getting there: Gangnam Station (Seoul Subway Line 2), Exit 9. Go straight for 20 meters, turn right and walk straight. Pasha will be on your right, on the 4th floor.
Menu: Pasha Kebab 27,500 won / Ilhan Kebab 25,000 won / Adana Iskender Kebab 22,000 won / Sote 22,000 won
Hours: 11:30 – 23:00 (all year round)
Homepage: http://www.pashakebab.com/ (Korean)
Tel: +82-2-593-8484
Petra in Itaewon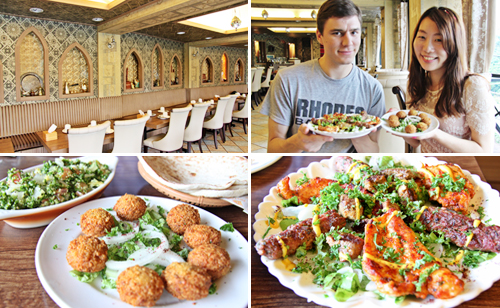 Petra sits atop a hill in Itaewon overlooking a busy intersection and the tree line covering Yongsan Army Base. Widely considered one of the best Halal restaurants in Seoul, Petra has been serving up authentic Arabic Halal food since it opened in 2004. The extensive menu offers something for everyone including a large selection of delicious vegetarian options, using the freshest ingredients mixed with the best herbs and spices. We recommend the mixed kebab and tabouli, pictured above, for a sampling of some of Petra's best offerings.

Even after you've finished your meal, Petra is a great place to pass the time. It offers patrons a chance to enjoy themselves in a relaxing environment complete with a tastefully decorated interior and the cool breeze drifting through open windows, with both Hookah and a large assortment of beverages. Stop by and be sure to enjoy some delicious teas, hookah and some authentic Arabic Halal food along with the great view from one of Seoul's best restaurants.
Address: 33, Noksapyeong-daero 44-gil, Yongsan-gu, Seoul
Getting there: Noksapyeong Station (Seoul Subway Line 6), Exit 1. Cross the pedestrian overpass. Turn right and walk 50m. It is located in the second floor on your left.
Menu: Hummus 8,000 won / Falafel (R) 11,000 won / Salad 7,000-10,000 won / Kebab 16,000-45,000 won
Hours: 12:00 - 22:00 (Last order is at 20:50) (Open all year round)
Tel: +82-2-799-4433

☞ Related News
Hanyang University Opens Halal Food Court
Increase in Muslim tourists due to availability of prayer rooms

☞ Related Pages
Dietary Restrictions

☞ E-book
Korea Travel Guide for Muslim Visitors
Restaurant Guide for Muslim Visitors

☞ 1330 Korea Travel Hotline: +82-2-1330 (Korean, English, Japanese, Chinese)