It wouldn't be too much of an exaggeration to call Andong the anti-Seoul. As the nation's capital rushes headlong into the 21st century, Andong remains proudly anchored in its illustrious past. This is a a place of charming old villages, rustic country manor homes, wizened Confucian gentlemen, and patterns of life that have changed little over the last six centuries. Arguably the most Confucian town in the world's most Confucian nation, Andong is all about healthy living, Joseon Dynasty-style.

Andong's major draws are Hahoe Village, a perfectly preserved Joseon Dynasty village that was recently registered on the UNESCO World Heritage List; the spectacular Confucian academies of Dosan Seowon and Byeongsan Seowon; and Bongjeongsa Temple, a hidden gem of Korean architecture. In September, though, Andong offers visitors an additional treat in the form of the Andong International Maskdance Festival, one of Korea's longest-running and best-loved celebrations of the traditional arts.
Hahoe Village 하회마을 and Byeongsan Seowon 병산서원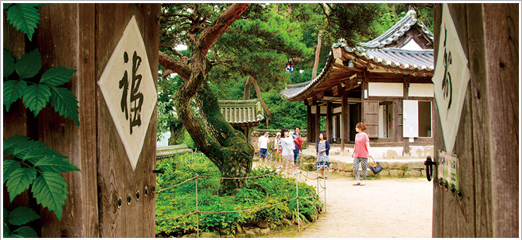 Former villa of Ryu Seong-nyong, Hahoe Village
Hahoe means "enveloped by water," and in the case of Hahoe Village, that's no lie—like many of southeast Korea's historic communities, it sits on a sandy oxbow in the lazily meandering Nakdonggang River. The home of the Pungsan Ryu clan, the village has produced more than its fair share of luminaries throughout history, most notably the 16th-century prime minister and statesman Ryu Seong-ryong. Despite the centuries, the village has remained remarkably well preserved, so much so that it was designated a UNESCO World Heritage site in 2010.

The rigid stratification of Joseon Dynasty society is reflected in the village's architecture. Grand, opulent manor homes reveal the simple, rustic aesthetic preferred by the dynasty's Confucian aristocracy but at the same time betray the extravagance of the age. Surrounding the manors are the humble thatched-roof huts of the peasantry who worked the land.

Set aside an entire morning or afternoon to wander about the village's alleyways. Many of the homes now function as restaurants and guesthouses. The best views of the village can be had from the top of Buyongdae, a cliff on the opposite side of the river. Ferry boats will take you across.

Not terribly far from Hahoe Village is Byeongsan Seowon, a Confucian school established in the early 17th century to pay tribute to Ryu Seong-nyong. Architecturally, it's positively inspired—the harmony of the roof lines with the river, sand, and the cliffs on the other side are the very epitome of Korean grace and reverence of nature.

Go Take bus No 46 from downtown Andong to Hahoe Village. Getting to Byeongsan Seowon usually requires a taxi ride from Hahoe Village.
Bongjeongsa Temple 봉정사
While most of Andong's main tourist destinations are connected with the Confucian Joseon Dynasty, Bongjeongsa Temple is a jewel of the preceding Goryeo Dynasty, when Buddhism was Korea's dominant religion. It is best known for its Geungnakjeon ("Nirvana Hall"), Korea's oldest surviving wooden building. Besides Geungnakjeong, the temple is home to several lovely pieces of early and mid-Joseon Dynasty architecture. An especially enchanting spot is Yeongsanam, a 19th-century hermitage just to the right of the main temple.

Go Take bus No 51 from downtown Andong to Bongjeongsa Temple
Dosan Seowon 도산서원
Located in the far northeast of Andong, just past the large, snaky reservoirs formed by the construction of the Andong and Imha Dams, is Dosan Seowon, Korea's best-known Joseon Dynasty Confucian academy and shrine. Founded in 1574 by the students of Yi Hwang, one of Korea's two greatest Confucian philosophers and an Andong favorite son, the academy was dedicated to sustaining Yi's particular school of Confucian thought. It was also one of only a handful of private Confucian academies that survived a late 19th-century crackdown on such institutions.

Dosan Seowon is a masterpiece of Korean architecture and landscaping. The terraced precinct is hidden on a densely wooded hillside. At the top of the complex is a shrine where regular memorial ceremonies for Yi are held. As you explore the many courtyards, you'll also find classrooms, libraries, teaching halls, and other buildings.

Go Take bus No 67 from downtown Andong to Dosan Seowon.
Wolyeonggyo Bridge 월영교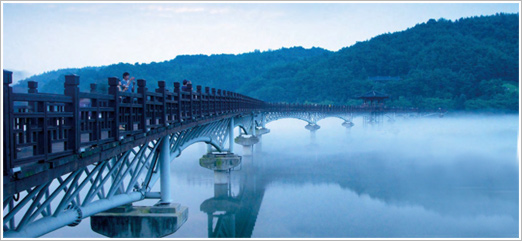 A very misty Wolyeonggyo Bridge
Andong's best night destination is Wolyeonggyo Bridge, a beautiful Korean-style wooden span than crosses the lake just in front of the imposing Andong Dam. At 387 m in length, it's the longest wooden bridge in Korea. At night, it's lit up, and there's a fountain display, too, making it a wonderful spot to enjoy an evening stroll. The lake is often covered in fog, producing a wonderfully mysterious landscape of water, mountains, and ghostly reflections.

On the other side of the bridge is Andong Folk Village, a collection of historic Korean homes that were moved to higher ground when the valley below was flooded by Andong Dam.

Go Just take a cab from downtown Andong.
Andong International Maskdance Festival (Sep 27-Oct 6)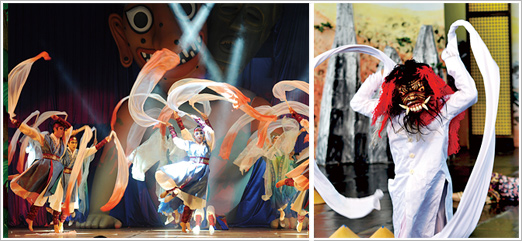 Scenes from the Andong International Mask Dance Festival
Andong is well-known for the talchum, a form of storytelling through dance in which the participants wear masks. Unique versions of the talchum can be found throughout Korea, but the version performed for centuries by the residents of Hahoe Village is considered one of the most representative. Rooted in Korea's heritage of shamanism, the mask dance is part shamanistic rite, part enter-
tainment, and part social satire. Peasants used the dances to lampoon lusty monks, corrupt officials, and other segments of society that needed to be knocked down a peg.

The Andong International Maskdance Festival, held in Hahoe Village, is a good opportunity to see not only the Hahoe strain of the mask dance but also Korea's other representative forms of mask dance. Foreign mask dances will be performed as well. In addition to the dancing, Hahoe Village takes on a real carnival feel—if there's a time of the year to visit, this is it.

FYI T. 054-841-6398, maskdance.com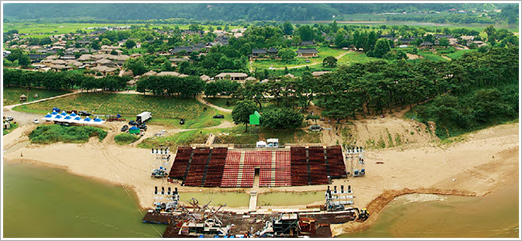 Andong's Hahoe Village
Eat Andong has a unique local cuisine. Some of its better known foods are gan godeungeo (salted mackerel), sikhye (a sweet rice beverage), and Andong soju, a hand-brewed spirit that's miles away from the rough, cheap soju you'll find in convenience stores across Korea. One local favorite that has gone national is Andong jjimdak, or steamed chicken, vegetables, and cellophane noodles served with a sweet sauce made from soy sauce. There's an alleyway of small shops selling this dish in Andong's Gusijang Market. Another local specialty is heotjesabap ("fake jesa food"), a variety of the bibimbap that was traditionally served as a sacrifice during the jesa, or Confucian memorial rite. Rather than be offered for sacrifice, however, the heotjesabap was eaten, hence its unusual name. Many of the restaurants in Hahoe Village serve this dish.
Stay If you're looking for cheap accommodations, the area in front of Andong Station has an assortment of motels and inns. If you're spending the night in Andong, though, do yourself a favor and stay in one of the town's many hanok guesthouses. Hahoe Village has the greatest concentration of these, including the beautiful 19th-century mansion Bukchondaek (T. 054-853-2110, www.bukchondaek.com), where rooms begin at KRW 200,000 a night. Another high-end option is the Andong branch of the boutique hanok hotel Rakkojae (T. 054-857-3410, www.rkj.co.kr), where rooms start at KRW 180,000 a night.
FYI www.tourandong.com
http://city.andong.go.kr/open_content/en
www.hahoe.or.kr
Go Buses to Andong depart from Seoul's Central City and Dong Seoul Bus Terminals (travel time: about 3 hours). Andong's new bus terminal is a bit out of town. There are also several trains to Andong that depart from Seoul's Cheongnyangni Station.
The article courtesy of Seoul magazine
More Info.
Andong Hahoe Village [UNESCO World Heritage] (안동 하회마을)
Byeongsanseowon Confucian Academy (병산서원)
Buyongdae Cliff (부용대)
Bongjeongsa Temple (봉정사)
Byeongsan Seowon Jusa (병산서원주사)
Dosanseowon Confucian Academy (도산서원)
Woryeonggyo Bridge (월영교)
Andong Maskdance Festival (안동국제탈춤페스티벌)

Related Pages
Hanok Stay: Gateway to Traditional Living
KOREA'S MOST UNIQUE ACCOMMODATIONS (3-1)
KOREA'S MOST UNIQUE ACCOMMODATIONS (3-2)
Historic Villages of Korea - Andong Hahoe Village
Favorite Pockets of Tradition Villages & streets embracing the past & the present
Andong Hahoe & Gyoengju Yangdong Clan villages from the Joseon Dynasty