The sparkling new Gangnam Tourist Information Center is no mere tourist information booth. It's a one-stop introduction to the hub of beauty, fashion, and culture that is Gangnam.

It's an introduction that's very much hands-on, too. In addition to dispensing information, the center provides a wide range of free experiential programs, including medical checkups, K-pop hair and makeup stylings, and even virtual plastic surgery. It's a 21st-century tourism center for a 21st-century town.
Reliable information
You can tell the tourism authorities in Seoul's most affluent district have really got their proverbial stuff together the minute you step foot in the lobby. You're immediately greeted by an information desk staffed by a multilingual crew. Your attention is drawn, however, to the brightly lit Medical Tour Center to the left, where a collection of experts wait to take your inquiries. In the lounge area, a visitor browses for information on a row of computers all sporting copies of Windows 8. On a flat screen, you've got a music video playing. In terms of design, it's part "Gangnam Style," part Kubrick's 2001.
Lee Suna, the general director of the center, explains that the center gets about 40 overseas visitors a day. "We have more Korean visitors at the moment," she says. "But of course, this facility is mainly [to provide] international visitors [with] reliable information." The center's layout—the Medical Tour Center on the first floor, and the K-Wave Experience Zone on the second—reflects the two primary themes of Gangnam tourism: medical tourism and Korean pop culture.

The informational side of the operation focuses on reliability. "Mainly, [visitors] want reliable information," says Lee. "We now live with a flood of information, but reliable information is sometimes difficult to find." Many of the foreign visitors who come to the center come pre-armed with a ton of information; says Lee, "Sometimes, they know more than us." Much of the info out there is wrong or out-of-date, however. "Visitors want to be reassured that the information they have is correct and up-to-date," says Lee. This assurance is provided by the center.
The first floor Medical Tour Center is a perfect example of this assurance in action. Unlike many medical tourism information centers, this center is staffed by trained professionals qualified to give you the information you need, and in English, Chinese, Japanese, and Russian, at that. There's a plastic surgery information booth, of course—Gangnam is home to some 2,000 plastic surgery clinics. In fact, the information booth can perform a bit of "virtual plastic surgery"—a specialist uses a computer to perform virtual procedures on a 3-D image of the would-be patient's head, taken using a special camera. Other booths dispense info on Korean traditional medicine, spa treatments, and other specialties. You can get a free checkup, too.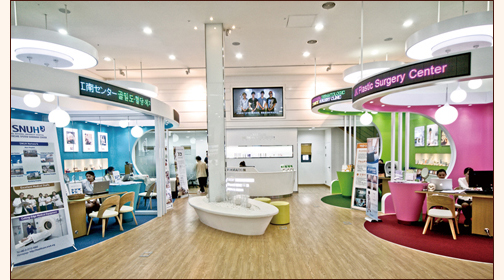 Experiencing the Korean Wave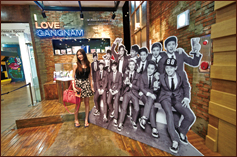 When it comes right down to it, though, Gangnam is about the glitz and glamour. Seoul's poshest district is also the driving engine of the Korean Wave, the remarkable global success of Korean pop culture. It's to this cultural heritage that the second floor of the center is dedicated. In the K-Wave Experience Zone, you'll find the center's "killer content": visitors gyrating on mock stages, professional hairdressers and makeup artists doing up tourists to look like their favorite K-pop stars, faux music video sets, and—of course—lots and lots of photos of K-pop stars. They've even got a lounge done up—to the last detail—to resemble a set from a Korean drama. This month, it looks like the living room from the popular drama A Gentleman's Dignity. There's a gift shop, too, if you're looking for something for the folk back home. As an added touch, the stairway is graced with designs by Lie Sang Bong.


On this day, a Chinese visitor, Lyla Yu, is enjoying the K-Wave Experience Zone with a friend, posing for photos at the various displays. She likes how the center really shows Korea's cutting-edge side. "I like how I could feel Korea's culture transforming," she says. "I like how I could feel the latest, trendiest culture."

FYI 02-3445-0111
Go Next to Hyundai Department Store