The R-16 Korea 2013 tournament begins on July 13, 2013, offering a refreshing retreat from Seoul's scorching summer heat. There are various ways of beating the summer heat. In Korea, there is a saying iyeol chiyeol, loosely translated as, "fight fire with fire." Attend the R-16 Korea tournament to experience dynamic and passionate performances by the world's top b-boy artists. The weather is sure to be put on the backburner with this one-of-a-kind competition centered on the concept of RESPECT.
Korean b-boy teams began to emerge on the world stage in 2002 with their first win at a major battle. In recent years, they secured wins at four prestigious international B-boying competitions*, rising as b-boying contenders on an international level. At the same time, b-boying became an iconic part of Korean Wave, promoting Korean culture to the world. In line with the growing popularity of b-boying in Korea, the Korea Tourism Organization launched a new b-boy tournament, naming it the R-16 Korea World B-boy Masters Championship. Simply called R-16 Korea, the tournament has only been held for seven years, but it has grown to be on par with the world's four major b-boying competitions thanks to the outstanding skills of South Korean teams. The 'R' in the tournament name stands for "RESPECT," and "16" represents the 16 countries that make it to the tournament following the preliminaries.
R-16 Korea is a large-scale competition drawing more than 300 participants, including the world's top b-boys, street artists, musicians, and promoters from around the world. It offers a great venue for sharing hip hop culture from different parts of the world and presenting Korea's unique street art to the world.

Read on to learn more about R-16 Korea, which has moved beyond its simple beginnings to become an event with new cultural content.
* What are the world's four major B-boying competitions?
Most consider four competitions to be the top worldwide: France's Battle of the Year, the U.K.'s UK B-boy Championship, the Freestyle Session in the U.S., and the Red Bull BC One of Korea.
Tip. What is b-boying?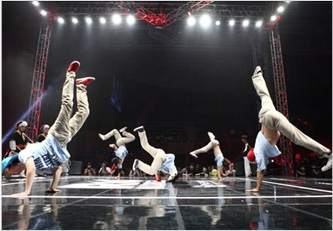 B-boying or breaking is a style of street dance that originated primarily in the African-American and Latino-American communities in New York City in the early 1970s. The dance was first presented in the mainstream media in the 1980s, and its popularity spread worldwide. B-boying is considered to be part of four elements of hip-hop culture, together with DJing, MCing, and graffiti writing. B-boying has since become a major cultural art form.
Lear more about R-16 Korea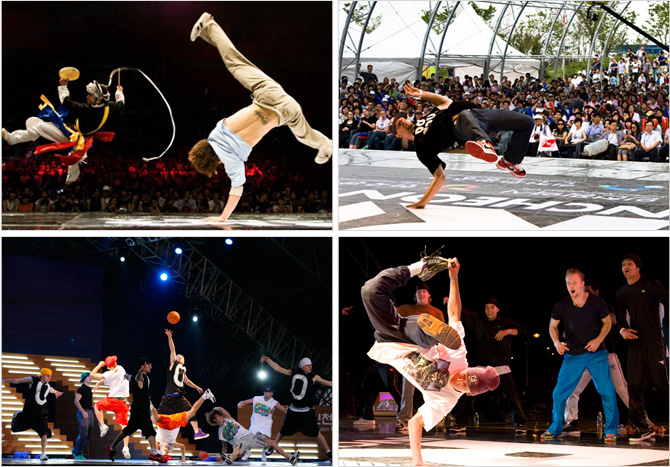 1. Mission
R-16 Korea is a venue for showcasing and sharing various cultures and lifestyles from around the world. The tournament offers an opportunity for people with backgrounds across the socio-economic spectrum in Korea and abroad to get together in harmony and is set to become a cultural competition with a positive influence on the whole of society. The tournament was also envisioned as a space for teenagers that are caught up in rapid social changes to uncover their creative potential and move forward. In turn, new leaders would serve as good examples for other youngsters.
2. R-16 Korea Emblem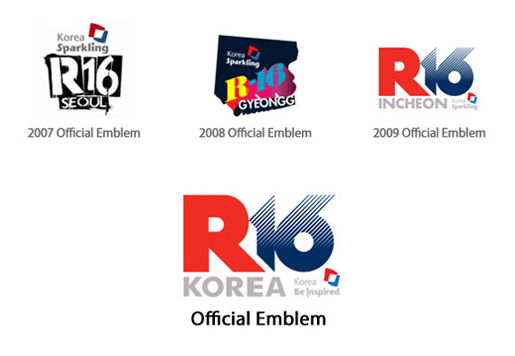 The current R-16 Korea emblem follows the 2009 logo, which was designed by world famous American designer Brent Rollins and art directed by Peter Chung. It symbolizes the organization of the R-16 tournament, which grew to be an international competition and represent Korea. The emblem is a classical representation in black and white to emphasize the dynamism of the event.

In 2007, the competition used a graffiti-style logo inspired by stencil; in 2008, the logo was redrawn into a three-dimensional, colorful expression reflecting the trends of youth living in the city.
3. Significance of R-16 Korea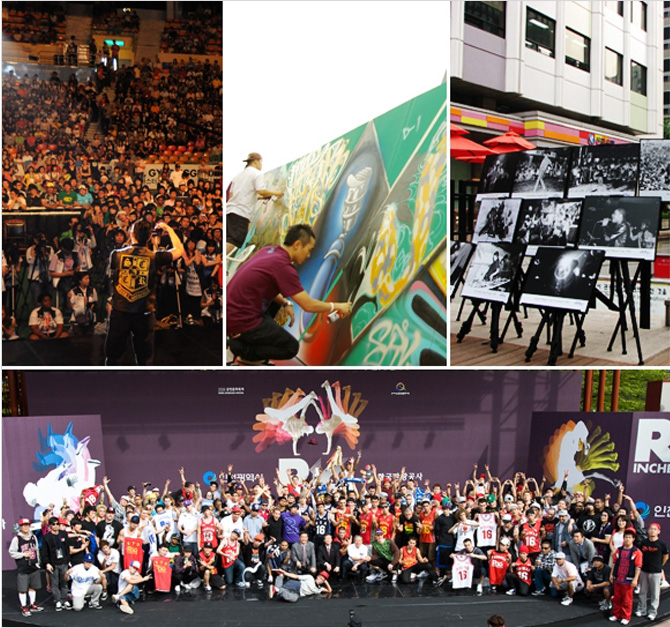 B-boying is considered one of the four elements of hip hop culture. It originated in the South Bronx area in New York in the 1970s, and has since become a cultural trend bolstered by artists and performers around the world. It encompasses four elements of MC'ing, DJ'ing, Graffiti and Breaking. R-16 Korea has become a major event to represent and promote elements of hip hop culture.

Elements of hip hop have since become featured in TV commercials, musicals, movies, dramas and other mediums, correspondingly heightening interest in events including R-16 Korea.

Once considered an underground culture, hip hop has since moved into more mainstream currents. Engaging hundreds of millions of people in the world through music, art and dance, hip hop continues to expand into a great empire under the continued interest of its artists and individual and corporate supporters.

Thanks to this cultural movement, the R-16 Korea has, over the years, become established as a major hip hop festival in Korea, attracting some the top young and seasoned artists from around the world.
Get a glimpse of the R-16 Korea atmosphere
1. 'R-16 Korea 2013'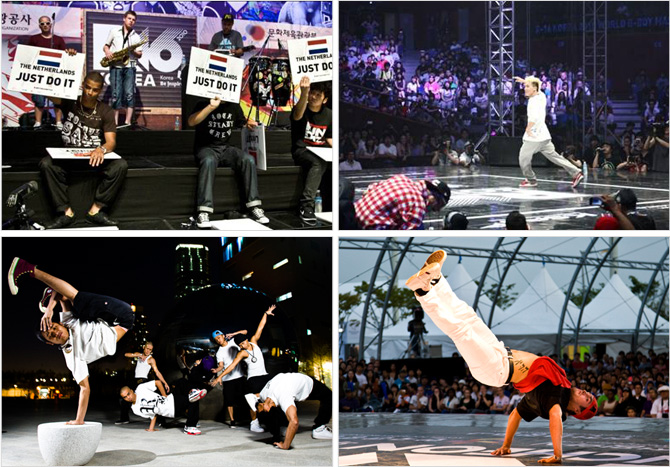 R-16 Korea 2013will be held at the Olympic Hall in Olympic Park in Songpa-gu, Seoul from July 13 to 14, 2013. The tournament will be attended by top dancers from 16 countries in the world that passed the national and regional preliminaries that began in March and lasted for over four months.

Marking its 7th year, R-16 Korea is divided into solo categories (popping, locking, and one-on-one battles) and crew categories (performance and battle). During the competition period, the Olympic Park area will be transformed into a venue for the Urban Street Arts Festival. R-16 Korea visitors can see the work of famous graffiti artists, and get hands-on experience in graffiti drawing and DJing, in addition to a tattoo program and street market.

K-pop star Jay Park has been the honorary ambassador of R-16 Korea for three years in a row. Jay Park demonstrated his passion for B-boying by participating in the Korea elimination last year, and released "Respect 16," the official promotional song for R-16 this year.
Tip. Another Attraction: Olympic Park

Located in Seoul's Songpa-gu district, Olympic Park was established in 1988 for the Seoul Olympics. Today, the park is used for sports, culture, arts, history, and relaxation. It is a major park and tourist site in Seoul.

The park features Stadiums 1, 2, and 3, as well as the Olympic Hall. It also offers green areas, a beautifully-landscaped outdoor environment, numerous sculptures (197 works from 110 countries), and small and large outdoor plazas.

Olympic Park offers a venue for various competitions, large-scale concerts and events. It is also often featured in TV commercials and movies. The biggest advantage the park offers is its convenient access by public transportation for both local and international tourists.

☞ Olympic Park
2. R-16 Korea videos
More Info

R-16 KOREA 2013 WORLD B-BOY MASTERS CHAMPIONSHIP


☞ Place:

Olympic Hall, Olympic Park, Songpa-gu, Seoul


☞ Dates:

18:00-21:00, July 13 – July 14, 2013


☞ Admission:

R-seat 50,000 won, S-seat 20,000 won, A-seat 10,000 won, Standing 20,000 won
* Must be aged 12 years or more


☞ Website:

www.r16korea.com (Korean, English)


☞ Click here to make a reservation(Korean, English, Japanese, Chinese)




☞ Tel:

+82-2-576-3463 (Korean, English)


☞ Korea Travel Hotline:

+82-2-1330 (Korean, English, Japanese, Chinese)



Photo Courtesy: International Event Team, Korea Tourism Organization