Cosme Road in Myeongdong is always bustling with tourists looking to buy great beauty products at reasonable prices. The cosmetic products found in store on Cosme Road are popular not only among foreigners but also among locals. The products boast high quality relative to price, so shoppers buy them not only as gift items but also for personal use. From skin care products like toners, moisturizers, and creams, to cosmetics products like lipstick, powder, and eyeliner, visitors are sure to find what they need and have a great shopping experience at the same time.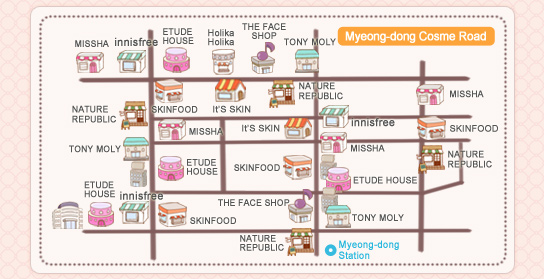 The streets of Myeongdong are always busy with local and international shoppers but the street with the highest international traffic is Cosme Road. It has been dubbed as such due to the countless local and foreign cosmetics brand shops lining up the street from Myeongdong Cathedral down to Sogong-dong. The street was formerly known as Jungang-ro (Central Road), but is now named Myeongdong 8-gil. About 300 meters long, the street is called Cosme Road mainly by Japanese and Chinese tourists.

Cosme Road is lined with mid- to low-priced cosmetics shops like The Face Shop, SKIN FOOD, NATURE REPUBLIC, Innisfree, MISSHA, TONYMOLY, Etude House, the Saem, It'S SKIN, and Holika Holika. Here, it is not uncommon to see shoppers, local or foreign, carrying one or two shopping bags full of cosmetic goods.

As Myeongdong became the center of hallyu (Korean wave) shopping, more and more cosmetic brands shops started to establish their presence in the area. Thanks to K-beauty, Korean cosmetic products have become widely recognized for their superior quality relative to price. Myeongdong plays an important role in shopping tourism and has contributed to the rising number of international tourists as a result. For international guests staying in one of the ten or so tourist hotels in the area, Myeongdong is also their starting point for sightseeing and the last shopping destination before leaving the country. Moreover, it offers great accessibility and convenient transportation, allowing visitors to come from and go to various directions. Even for locals, Myeongdong 8-gil road is a great place to find all the major brands in one place. Many of the brands have well-known hallyu stars as their endorsers and display their images on their advertising collaterals, drawing many passionate hallyu fans. The popularity of Myeongdong and its cosmetic stores is also an indication that Korea's mid- to low-priced beauty products are now enjoying as much recognition as imported brands. Product samples are also available and handed out to customers. Most of the stores have sales personnel who speak foreign languages in order cater to the international market.