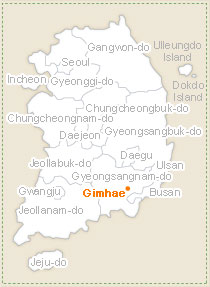 The city of Gimhae in Gyeongsangnam-do Province has a historic legacy that stretches back 2,000 years to when it was the capital of the Gaya confederacy. The significant number of relics from that time period that can be found in Gimhae transform the entire city into a historic museum. In particular, the streets of Gaya and its vicinity are an open-air museum of the city's history. Established along Haebancheon Stream that flows through downtown Gimhae, the streets are a harmony of the past and the present and chart a path through the city's lush green backdrop.
Gimhae in Gyeongsangnam-do Province is a city with a deeply rooted past, dynamic present, and open future. Gimhae is commonly called the "500-year-old capital of Gaya" or "City of 2,000 years." According to the chronicle Garakguk-gi in Samguk Yusa (Memorabilia of the Three Kingdoms), King Suro founded Garakguk state in the region of Gimhae in 42 CE. Garakguk led the Gaya confederacy and became a leader in sea trade in the Northeast region due to its flourishing iron culture. The Gaya state's iron industry, a leading trade 2,000 years ago, has since been succeeded by Gimhae's railroad, automobile, and machinery industries. Gimhae is now enjoying its second golden age with its agricultural, industrial, and cultural heritage base.
* Gaya: The Gaya period refers to the 600-year history of the Gaya confederacy in the Gyeongsangnam-do region from sometime around the first century of the Common Era before to the fall of Daegarak in 532 CE or of Daegaya in 562 CE.