The National Museum of Korea now stands on what used to be a golf course for the American military stationed in Korea, a symbol of both moving forward and acknowledging the past. The museum is an impressive building constructed with traditional architectural aesthetics associated with the construction of the hanok, a traditional Korean house. The museum has a pond in front and an open area between the two main exhibition halls allowing a clear view to Namsan Tower and the mountains it sits on. The dragon falls and reflecting pond near the main entrance give the area a natural feel.

The surrounding area is all repurposed land as well. To one side of the museum is the Yongsan Family Park, a quiet park with a pond and weeping willows lining its banks. Families come here to spend the day, let their children play and picnic in a tranquil environment that seems far removed from its location in the middle of the bustling city. The outdoor space and museum are located close to the Hangang River, making it easy to spend a whole day exploring Korea's rich history and beautiful parks.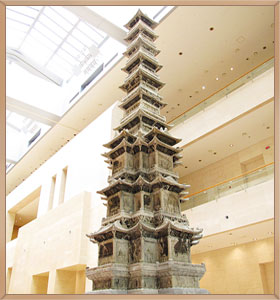 Though it is in the heart of one of the world's largest metropolises, the National Museum of Korea stands serenely like an island amid an ocean of urban activity. The building is welcoming, flowing seamlessly with its surrounding landscape. It is enclosed by gardens, ponds and waterfalls. It also neighbors the peaceful Yongsan Family Park. Although the museum's exterior is striking, the inside is even more impressive.

The building itself has 137,542.56 square meters worth of floor area housing a collection of some 300,000 pieces. The museum has an abundance of natural light thanks in large part to its grand, glass-paned circular lobby. The ceiling is ingenuously built with windows allowing natural light to hit mirrors reflecting the indirect natural light to the hallways leading to each exhibit. The museum also has restaurants, a café and gift shop where visitors can take a break during their tour or to pick up that perfect gift.

The museum is divided into two main areas: the East Wing and West Wing. The West Wing is home to the museum's permanent exhibits and divided among three floors. The first floor hosts a number of artifacts dating from prehistory to the early modern history of the Goryeo and Joseon Dynasties. The second floor has various donated works as well as a number of paintings and calligraphy works. The third floor is home to art gathered throughout Asia and around 600 sculptures and crafts including one of the Pensive Bodhisattvas statues, national treasures that are rotated throughout the year, and some impressive statues of Buddha.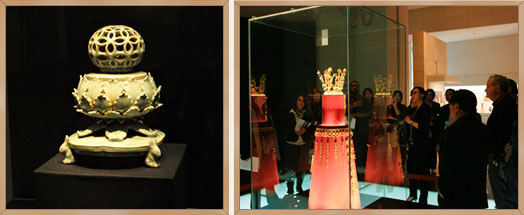 The West Wing of the National Museum is quarters to a variety of facilities. The Theater Yong is an 800-seat cultural space that hosts musicals, dramas, and concerts. There is also a Children's Museum with many hands-on exhibits and the National Museum of Korea Library. The West Wing also hosts special guest exhibitions.

With so much to offer and see, it is easy to spend a day examining and exploring all the halls and works on display inside the National Museum of Korea, but don't forget to explore the outdoor exhibits as well!
Outdoor Exhibits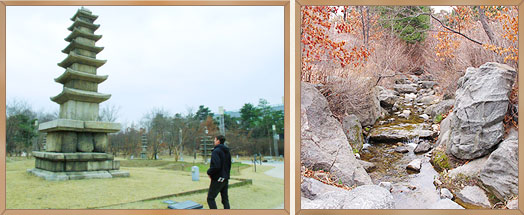 As you make your way through the outdoor exhibits, you will notice a wide array of artifacts on display ranging from simple pagodas to ornate statues. Along the outside wall of the East Wing are striking statues and stone lanterns. From there you will see what many consider to be the highlight of the outdoor exhibition area: the Bell Pavilion, which contains the Great Bosingak Bell (Korea Treasure No. 2). The path behind the Bell Pavilion will lead you past a little grove with two large seated Buddha statues and eventually to the Tapgol (pagoda) Park where numerous pagodas shoot up from the ground like trees. The path continues to Dragon Falls, a pleasant little enclave containing a small waterfall and pond. From here you can follow the path all the way to Yongsan Family Park and continue your relaxing day among nature and the arts.
Address: 137, Seobinggo-ro, Yongsan-gu, Seoul-si
Getting there: Ichon Station (Seoul Subway Line 4 & Jungang line), Exit 2 The subway is connected to the museum via an underpass called Bangmulgwan Nadeulgil (박물관 나들길)
Hours: Tue, Thu, Fri: 9:00 - 18:00 / Wed, Sat: 9:00 - 21:00 / Sun, Holidays: 9:00 - 19:00 (Closed on Mondays and January 1)
Homepage: www.museum.go.kr (Korean, English, Japanese, Chinese, Russian, Germany, French)
Tel: +82-2-2077-9045~7 (Korean, English, Japanese, Chinese)
Food Court 'Dachaeum'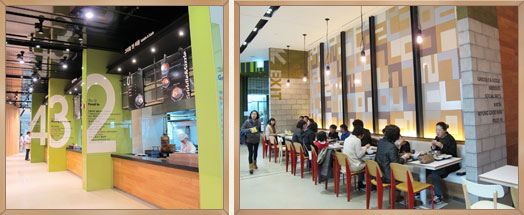 "Dachaeum" is the food court located on the first floor of the National Museum of Korea, a convenient location for a meal before or after a museum tour. In Korean, "Dachaeum" means a restaurant with a variety of dishes. With an international array of Korean, Chinese, Japanese, and Western cuisine, visitors can comfortably select and enjoy their meal in Dacheum. It consists of 6 restaurants: Noodles, Griddle & Sizzle, Food In, Myung ga So Ban, Katsu and Social Eat's. Korean traditional dishes are available at Myung Ga So Ban. Sanchae bibimbap (mixed rice with wild herbs and baby vegetables) is the most popular Korean dish at Dacheum. If you like Western food, you can eat a homemade bulgogi burger served at Social Eat's. It is made with the traditional Korean food, bulgogi, making this burger a Korean take on a Western classic.
Hours: Tue, Thur, Fri 10:00 – 18:00 / Wed, Sat 10:00 – 20:00 / Sun, Holidays 10:00- 19:00 (Closed on Mondays)
Menu: Mixed rice with wild herbs and baby vegetables 7,000 won, Pyongyang (Korean) cold noodles in broth 6,500 won, A bowl of rice topped with pork 7,500 won, Homemade bulgogi burger 6,500won
Tel: +82-2-796-0714

Traditional Tea House 'Sayu'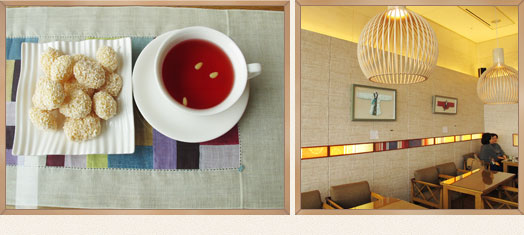 Sayu, a traditional Korean tea house located on the third floor of the National Museum of Korea, serves healthy and aromatic traditional beverages and snacks. Green tea grown on Jirisan Mountain, traditional tea made of flower petals blended with herbs, a ginseng shake, and tea with a rich citrus aroma from Jeju Island are served at affordable prices. The most well-known traditional tea at Sayu is the traditional Korean medicinal tea, "sipjeon-daebotang." It is a health tea made of extracts from ten herbs including angelica root, paeonia japonica, and ginseng, and has a slightly bitter taste. This café offers visitors an elegant and comfortable place to relax while exploring the National Museum of Korea.
Hours: Tue, Thur, Fri 09:00 – 18:00, Wed, Sat, Sun 09:00 – 17:00 (Closed on Mondays)
Menu: Magnolia Blossom Tea 5,000 won, Ginger Tea 4,000 won, Sipjeon-daebotang (traditional Korean medicinal tea) 5,000 won, Lemonade 4,000 won
Tel: +82-2-2077-9779
Nadeul-gil, Underground Path to NMK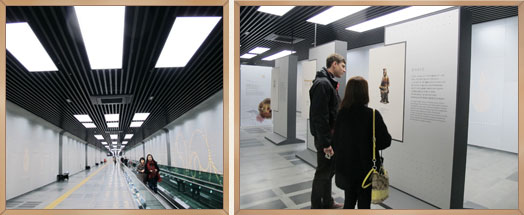 For the more than 60% of visitors who come to the National Museum of Korea by metro, the underpass connecting Ichon Station and the museum was transformed into a "moving museum" to provide a more pleasant experience as they make their way to the museum. It consists of 160m-long moving walkways and a 95m-long multi-purpose space for events like performances and exhibitions.

When constructing the pathway, "Korea" and "Korean cultural property" were the two main themes. These themes are represented well in this space, as it features the museum's historical collection and patterns of Taegeukgi (National Flag of Korea) displayed in a modern style along the wall. The peaceful sounds of the gayageum (a classical Korean 12-string wooden instrument) play in the background and a small exhibition on the way makes the short journey more enjoyable. In Korean, the underpass was named "Bangmulgwan Nadeulgil" (박물관나들길) in hopes of providing a two-way path for seeking and attaining a better cultural knowledge of Korea.
Getting there: Between Ichon Station (Seoul Subway Line 4) and the National Museum of Korea (Yongsan-gu, Seoul-si)
Hours: Tues, Thu, Fri 08:00 – 19:00 / Wed, Sat 08:00 – 22:00 / Sun 08:00 – 20:00
(Closed on Mondays)
Homepage: www.museum.go.kr (Korean, English, Japanese, Chinese, Russian, Germany, French)
Tel: +82-2-2077-9045~7 (Korean, English, Japanese, Chinese)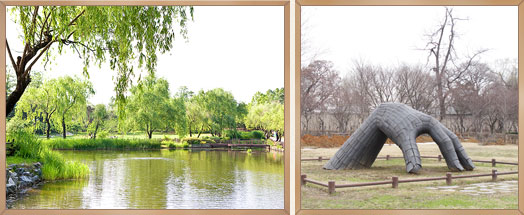 Connected to the National Museum of Korea, Yongsan Park was also built on the former golf course. Since becoming a public park in 1992, it has played an important role as an oasis in the city for citizens. As the weather warms up, families and couples come to enjoy a picnic on the large grass field next to the beautiful pond and willow trees. There are picnic tables and benches throughout the park and visitors can enjoy large sculptures by well-known international artists that are scattered across one of the grass fields. There is also an acupressure therapy walk at the barefoot park.
Address: 60, Itaewon-ro, Yongsan-gu, Seoul-si
Getting there: 60, Itaewon-ro, Yongsan-gu, Seoul-si
Ichon Station (Seoul Subway Line 1 or 4) Exit 2. Go straight for 700m.
Hours: 24 hours, Open all year round
Tel: +82-2-792-5661 (Korean)
Noeul Café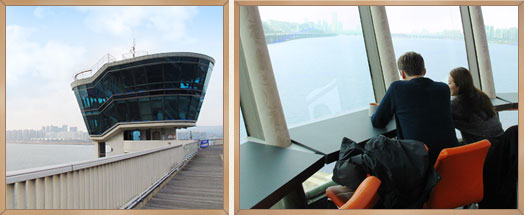 After spending time at the National Museum and Yongsan Family Park, it is time to enjoy the fresh breeze by the Hangang River. Being quite close, the Hangang River and Hangang River Park are easy to reach and are excellent places to take a walk or go for a bike ride.

One of the best views of the Hangang River is at Noeul Café on Dongjak Bridge. The café is less than a 5-minute taxi ride from Yongsan Family Park or just a 5-minute walk from Dongjak Station. This is the perfect place for a romantic date and offers a wide range of drinks including coffee, juice, cocktails and wine and fantastic views of the Hangang River and Seoul. During the day, visitors can appreciate a clear view of the river and buildings, while at night the skyscrapers and city lights glow brightly, reflecting off the river's waters. This futuristic-looking café features an elevator that connects directly to the Hangang Park, allowing easy access if you want to enjoy the river more closely. Gureum Café is located on the other side of the bridge, and offers a great view of Banpo Bridge's rainbow fountain.
Address: 316-3, Dongjak-dong, Dongjak-gu, Seoul-si
Getting there: Dongjak Station (Seoul Subway Line 4 or 9), Exit 2. Go up the stairs and walk for 3min.
Hours: 10:00 – 02:00 (Open all year round)
Tel: +82-2-3481-6555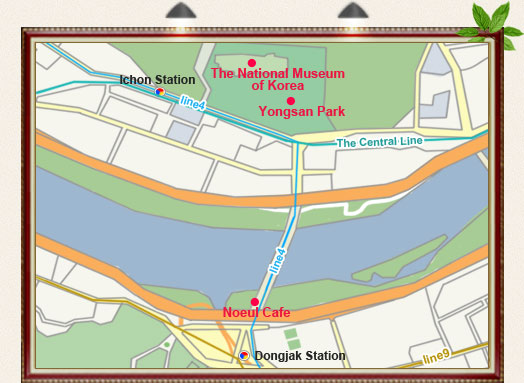 More Info

☞ Yongsan-gu Culture & Tourism: www.yongsan.go.kr (Korean, English, Japanese, Chinese)
☞ Nearby Attractions: The War Memorial of Korea, Kim Koo Museum & Library, Yongsan Electronics Market, Itaewon Street, N Seoul Tower, Ichon Hangang Park

☞ Related columns
Make Your Visit to the National Museum of Korea Even More Enjoyable
Killer Views from Lookout Cafés on 6 Hangang (Riv.) Bridges!
Public Parks: Family Getaways in the Heart of Seoul

☞ 1330 Korea Travel Hotline: +82-2-1330 (Korean, English, Japanese, Chinese)