As a romantic, flower-themed tourism promotional video for Korea, "Miss Flower - Spring" depicts the love of two young people set against the backdrop of Korea's spring flowers. The Miss Flower series shows the spring, summer, fall, and winter of Korea, inviting viewers to some of the best tourist attractions with vibrant flower images. Each episode shows a love story that takes place in a particular season. When taken together, the videos combine into one whole interconnected story. The video contains spectacular pictures of spring flowers taken by professional photographers along with information on the best times and places to visit. The background music was created by music director Han Ju-heon, who also created the OSTs of Korean movies Christmas in August and One Fine Spring Day .

"Miss Flower - Spring" features the azaleas of Hwangmaesan Mountain in Hapcheon, Gyeongsangnam-do Province, the persimmon trees of Naganeupseong Folk Village in Jeollanam-do Province, the cherry blossoms of Seosan's Gaesimsa Temple in Chungcheongnam-do Province, the green tea fields of Boseong in Jeollanam-do Province, the cole flowers of Cheongsando Island, Wando-gun in Jeollanam-do Province, the tulips of Taean in Chungcheongnam-do Province, and the green barleys of Gochang in Jeollanam-do Province.

The Miss Flower video series premiered with the release of the spring video, and was followed by three more installments – summer, fall, and winter. The videos are available on Youtube and can be accessed via the links below. For the first story, we present Cheongsando Island with its clear blue seas and vibrant yellow cole flowers.
Links to Miss Flower Videos
A Bed of Golden Cole Flowers
Mesmerizing views of the sky, sea, and mountains at Cheongsando Island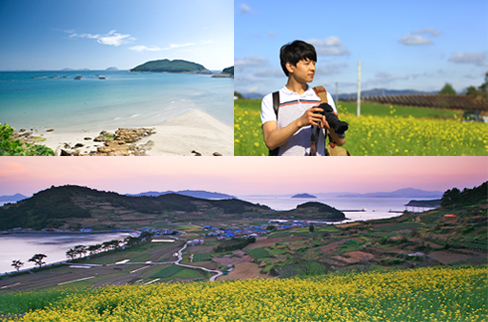 Spring has finally reached the shores of the southern coast. The sparkling blue sea is dotted with numerous islands that shine like jewels and at the center of Dadohaehaesang National Park in Wando-gun, Jeollanam-do Province is Cheongsando Island. The island is blessed with a fascinating natural landscape, azure skies, clear blue seas, and lush mountains, hence the name Cheongsando, which means 'blue mountain island'. Cheongsando has also been designated as a Slow City, joining Cittaslow's international network of Slow Cities that aim to improve the quality of life by slowing down its overall pace.

Take a ferry from Wando Yeonan Ferry Terminal in Jeollanamdo-Province. In about 50 minutes, you will be greeted by a red lighthouse and a white lighthouse in Cheongsando. From the stone signage that says 'Beautiful Cheongsando', visitors disperse and go their own way to explore the surroundings. Cheongsando began to receive crowds of tourists after it appeared in the movie Seopyeonje (1993) by Director Im Kwon-taek and the drama Spring Waltz . It was later designated as the first slow city in Korea in 2007. In the spring, the whole island is in full bloom with a variety of flowers. The most common ones are the cole flowers, which blossom on the mountain ridges or along the coastal roadside, creating a striking contrast of yellow flowers against the blue sea waters.
Warm sea winds and a striking landscape in Dangni Village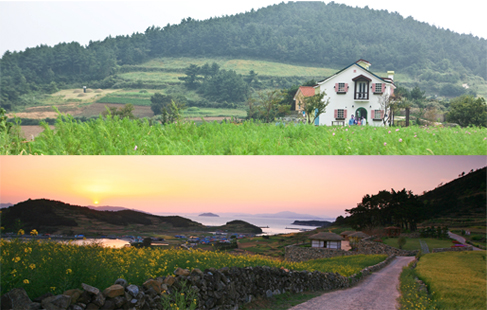 With the onset of spring, the budding cole flowers in abundant blossom make the blue color of the sea more intense. Dangni Village blends well with the overall landscape of the island, especially with its stone walls and rice terraces. In Cheongsando, you can enjoy a leisurely walk by the shore while taking in the invigorating sea breeze. Moreover, the open landscape and beautiful scenery have a calming effect on the mind the body. On this island, you can get away from the hustle and bustle that is common in other urban tourist sites. One can easily spend a tranquil day just by taking a comfortable and leisurely stroll around the island.

A 10-minute drive uphill from the Cheongsando Ferry Terminal takes you to a point where you can get a view of Dangni Village, the filming site of the movie Seopyeonje and the drama Spring Waltz . Here, you will find a white house on the hill, which was used as one of the filming sets. The background is filled with golden yellow cole flowers spread out all over the island, wide green fields, and the pristine waters of Dorakpogu Port.
Cheongsando Slow Roads

Slow Roads in Cheongsando Island are called as such because the mesmerizing and picturesque roadside scenery will make you slow down your walking pace. The roads connect the villages and are also used by the residents to move from place to another. The roads, 42km in total length, consist of 11 different sections which go round the whole island. These are Sarang-gil, Doldam-gil, Deulgukhwa-gil, Haemaji-gil, Danpung-gil and Noeul-gil – each has its own unique theme inspired by the scenery or the area's folktales.
Jiri Beach

Jiri Beach, one of the major beaches in Cheongsando Island, is a great place to enjoy the sunset. Around 500 bicentennial pine trees make up the forest behind the beach. The old pine trees that line the edge of the 1km sandy coastline make for cool and relaxing shelter. It is not uncommon to see people fishing from the rocks on the seashore as the area has plenty of sea breams and soft shell clams.
If you are an occasional angler, you may want to try this place. It is considered as one of the best fishing spots in Korea. During the summer months, the place makes for a great beach camping spot to hear the sound of beach waves and to take in the warmth of the summer breeze.
Buheung-ni gudeuljang Rice Fields

In the old days when rice was not abundant, people used to lay gudeuljang stones (flat slabs of stones originally used as floor tiles) on the ground and layer them with soil to create more farmland. The terrace walls that surround the stair-like paddies are made by piling rocks on top of one another. This is the famous gudeuljang rice fields in Cheongsando Island. During the farming season, you may often come across farmers growing and harvesting rice in the traditional way – by hand-carrying the crops or using jige (an wooden A-frame for carrying heavy bags of grain or bundles of firewood upon one's back) – without the help of agricultural machinery.
The Old Stone Walls of Sangseo Village

The entire village of Sangseo-ri on Cheongsando Island consists of long and winding stone walls, which give off a cozy pastoral atmosphere that blends in harmony with the simply built farmhouses. The traditional stone walls have been built high and strong only with stones and without using mud, to suit the windy environment of the island.
The fresh taste of Cheongsando's local delicacy, abalone

There are many ways to welcome spring. The different sounds, sights, and smells of springtime are all things that people look forward to with much anticipation. Wando County's local specialty, the abalone, and various dishes cooked with abalone, are sure to please the palates of its visitors and residents alike.
A leisurely tour of the slow city Cheongsando coupled with sampling the island's quality abalone, which are famous for their rich taste, is highly recommended.

The fish market at Cheongsando Island's Docheonghang Harbor not only sells farmed abalone, but also a variety of seafood such as fresh abalone, conch, sea cucumbers, and sea squirts caught at sea by Korean haenyeos (women divers). Local delicacies made with abalone include jeonbok-hoe , eaten raw like sashimi, Jeonbok-juk (abalone porridge), and jeonbok-hoe bibimbap, in which raw slices of abalone are mixed with other seafood, rice, vegetables, and tasty seasoning. Jeonbok-juk is a popular favorite among many and consists of chewy abalone served in savory rice porridge. It is known not only as a delicacy, but also as a nutritional supplement and digestive aid.
Travel Information
* Wando County Office: http://www.wando.go.kr (Korean, English, Japanese, Chinese)
* Cheongsando Island: http://www.cheongsando.net/ (Korean)
* Korea Travel Hotline: +82-2-1330 (Korean, English, Japanese, Chinese)
Transportation

- From Seoul Central City Terminal (Honam Line)
- Take a bus for Wando (bus runs 4 times day / first bus 08:10, last bus 17:20 / travel time approx. 5 hrs and 40 min / fare 35,100 won)
- Get off at Wando Bus Terminal
- Take a taxi from Wando Bus Terminal to Wando Passenger Ferry Terminal (it takes about 5 minutes by taxi and about 10 minutes on foot)
- Take a passenger ferry bound for Cheongsando Island from Wando Passenger Ferry Terminal (Ferry schedule varies every month so visitors are advised to check in advance by visiting the website or making a call)

Inquiries: Cheongsan Nonghyup +82-61-552-9385, www.cheongsannh.com(Korean)
Accommodation

- "Goodstay", reliable accommodations endorsed by the Korea Tourism Organization (Korean, English, Japanese, Chinese)
- Wando Hotel: Wando-eup, Gayong-ri / +82-61-552-3005 (Korean, English, Japanese)
- Cheongsando Gwangju Pension: Cheongsan-myeon, Ji-ri / +82-61-552-8500 (Korean)
- Cheongsan Village Pension: Cheongsan-myeon, Dorak-ri / +82-10-7589-1176 (Korean)
Travel Tips

If you are planning a trip to Cheongsando, make sure that you set at least three nights and four days aside. It takes a full day just to get there, so it would be wise to plan for one full day of sightseeing on Cheongsando Island and one full day of sightseeing on Wando Island. If you really want to get into the "Slow City" spirit, add a couple of more days to the trip. That way you don't have to make a fixed schedule.

Traveling in Cheongsando Island is usually done by foot or by public transit, so a light backpack, comfortable shoes and clothing will help you enjoy the trip. The best months to visit Cheongsando are April and May when the canola flowers are in bloom, the barley fields are green, and the abalone is at its most chewy and juicy state. So if you choose to visit Korea during these months, don't miss the chance to spend a fascinating vacation on the beautiful island Cheongsando.