The article courtesy of Seoul magazine
In January, the Korea Tourism Organization conducted a poll of Korean Internet users, asking them to choose the top 100 tourist sites in the country. Yeongdeok's Blue Road came in twelfth.

A 64 km hiking trail that runs along Korea's East Sea coast, the Yeongdeok Blue Road is about more than just fine scenery, although there's plenty of that, too. Like the famous Jeju Olle Trails, the Blue Road is about "healing": overcoming the pain and suffering we endure in our daily lives, very often through our own mistakes. Here on the Yeongdeok Blue Road, the hills, wind, and vast blue sea cleanse our souls, making us whole again.

Four paths to healing
The rural district of Yeongdeok is located in the southeastern province of Gyeongsangbuk-do. It's a place of fishing villages, beaches, and mountains, but Koreans best know it for its delicious snow crab. Until recently, it was something of a backwater, a charming but quiet town safely removed from the tourist trail.

That began to change in 2010. Inspired by Jejudo, where the Olle Trails became a national sensation, Yeongdeok decided to put its own spectacular—if underappreciated—scenery to good use. The town crafted a series of easily walkable paths linking the beautiful seashore with scenic overlooks and rustic fishing villages. To ease navigation, the paths were marked with distinctive signs.

All together, the Blue Road, as this new path was called, runs 64.6 km, from Daege Park (Snow Crab Park) in the south nearly to the county border with Uljin in the north. You needn't hike it all at once, though—the path is divided into four sections, each with their own theme.
Course A
(17.5 km, six hours)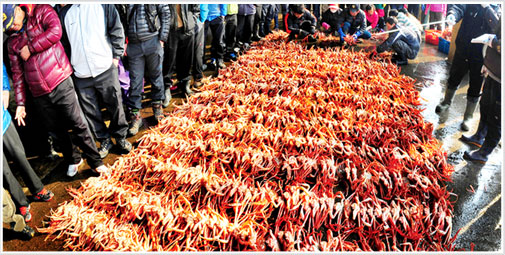 Snow crabs in Ganggu
This course, named the Light and Wind Path, takes you from the fishing port of Ganggu in the south to Sunrise Park in the north. Yeongdeok's main fishing port, Ganggu is packed with snow crab restaurants and is a great place to energize before your hike. One of the more scenic spots along this trail is the wind farm near the end of the hike. It's especially lovely at sunrise and sunset, when the wind turbines are silhouetted against the sky. If you're doing a multiday hike you can stay in one of the uniquely designed cylindrical trailers of Sunrise Campground and take in the next day's sunrise from the bluffs of Sunrise Park.
Course B
(15.5 km, 5 hours)
Course C
(17.5 km, 6 hours)
Course D
(15 km, 5 hours)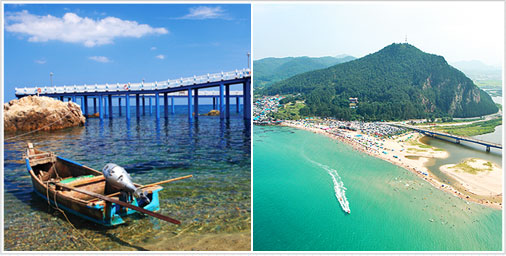 Pier on Course D Daejin Beach
The Indigo Wave path, as it is called, is a later addition to the trail and runs along the coastline south of Course A from Daege (Snow Crab) Park to Ganggu. This is a relaxing coastal walk, complete with parks and an exhibit hall where you can learn more about life in Korea's fishing villages. An especially nice stretch is a small pier built above the waves.
EAT
Yeongdeok is virtually synonymous with the snow crab. The port of Ganggu alone has about 300 snow crab restaurants. Yeongdeok snow crabs are sold throughout Korea, but the ones in Yeongdeok are both the freshest (naturally) and the cheapest. That doesn't make mean they're cheap, though. Ordinary snow crabs usually cost 10,000–20,000 won, but the really good crabs—the bakdal snow crab 박달대게—can run you over 100,000 won, depending on the weight. The crabs are usually steamed. While delicious, they don't make for the easiest eating, but many restaurants will teach you how to navigate the tasty crustacean.
STAY
One of the nicest spots to stay is Sunrise Park campground (T. 054-730-6337) with its cylindrical "capsule houses" for 70,000 won a night on peak weekends (July and August) and 56,000 won on off-peak weekends. The views are nice, and you're right next to Sunrise Park, one of Korea's top sunrise destinations. There are only 10 rooms, so be sure to reserve a place first! You can also find a number of reasonably priced hotels/motels in Ganggu, and there are a number of guesthouses, pensions, and homestays along the trails, too.
FYI
GO
There are nine buses a day to Yeongdeok from Dong Seoul Terminal (travel time: 4 hours, 20 minutes). The first one departs at 7am.
TIP
Yeongdeok Snow Crab Festival (Mar 28–Apr 1)
Yeongdeok's contribution to Korean cuisine is given its just due during the Yeongdeok Snow Crab Festival. Ganggu hosts a variety of snow crab-related events, including a public crab auction where you can buy crabs at especially low prices.


The article courtesy of Seoul magazine