Jegi-dong Station
Line 1—Station #125
The roots of Korean medicine
Written by Charles Usher
Photographed by Meagan Mastriani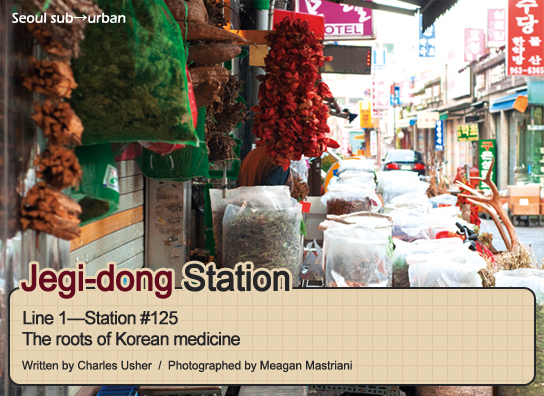 The article courtesy of Seoul magazine
From 1393 to 1895, medicine for the sick and free accommodation for travelers was provided at Bojewon, the Joseon royal hospital. Nowadays, the only physical sign of its 500-year existence is a plaque on its former site, now the southeast side of Anam Rotary; however, the tradition of Korean medicine that it carried is still thriving in Jegi-dong.
Formalized herbal medicine markets were first established in Korea in the mid-17th century and now exist in two cities: Seoul and Daegu. The capital's market, located in Jegi-dong, is the Korea's largest, covering 265,000m2; it holds over 1,000 clinics, wholesalers, and resale shops, and deals with 70% of the country's Oriental medicine. A walk through it is about the closest thing to a real-life Diagon Alley that you're likely to find anywhere. Tart-sweet odors fill the air; bundles of sticks and twigs dangle from metal grilles; foot-long dried fish bound together at their tails hang upside-down, their open mouths fanning out at angles to create a toothy bouquet; bags of roots, mosses, and dried flowers sit on tiers outside of shops; elk and deer horns rest on shelves; ginseng floats suspended in bulbous glass vases; centipedes are tied together in five-centimeter diameter bundles; and grand wood Chinese medicine chests segmented into dozens of identical drawers, each with one or two Chinese characters on them concealing the potions kept inside, nearly take up entire walls.

Considering the rather unique ingredients used in traditional medicine, it may behoove potential shoppers to pay a visit to the Seoul Yangnyeongsi Herb Medicine Museum across the street. Neatly arranged and informative, it's much more interesting than you'd expect a museum of its ilk to be. Inside there's a miniature recreation of Bojewon, old tools and medical tracts, information on famous Korean physicians, and the Dongindo, an anatomical chart for acupuncture. The most eye-catching display is the jars of all the various herbs and animal (parts) used in traditional Korean medicine, including, but not limited to, seahorses, frogs, geckos, and bats.
Should you prefer the idea of eating animals to medicating yourself with them, this neighborhood is where you'll also find Yongdu-dong Jjukkumi Specialty Street, located near the southeast corner of the Wangsan-ro—Muhak-ro intersection. Several restaurants here specialize in a baby octopus dish, one of Korea's spiciest; it has a heat that accumulates bite by bite and is sure to get rid of any winter congestion that the herbal remedies didn't.
Bojewon Site 보제원터
Exit 1
Right on Muhak-ro to Anam Rotary
Seoul Herbal Medicine Market 서울약령시장
Exit 2
Seoul Yangnyeongsi Herb Medicine Museum 한의학박물관
Exit 3
Straight on Wangsan-ro

FYI

Mar—Oct: 10am to 6pm; Nov—Feb: 10am to 5pm; Closed Mondays
Admission: Free
T. 02-3293-4900, 4901, 4902, 4903
museum.ddm.go.kr
Yongdu-dong Jjukkumi Specialty Street 용두동 쭈꾸미 골목
Exit 6
Straight on Wangsan-ro to Muhak-ro
The article courtesy of Seoul magazine
More Info
Seoul Medicine Market (Oriental Medicine Industry District)
Seoul Yangnyeongsi Herb Medicine Museum
Seoul Yangnyeongsi Herb Medicine Culture Festival
Seoul Gyeongdong Market