Mysterious Mt. Maisan
'Horse Ear Mountain' beguiles with the bizarre
Written and photographed by Robert Koehler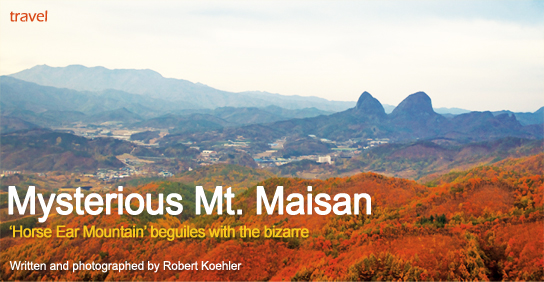 The article courtesy of Seoul magazine
Mt. Maisan is, in short, weird.
Everything about this odd piece of Korean topography gives off an odd, mysterious vibe, from the mountain itself—essentially two pillars of sedimentary rock thrust up by Earth's forces 600 meters into the sky from what was an ancient lake bed—to its primary Buddhist temple, where a lay hermit spent decades building over 100 stone towers. Even the water freezes strangely here—put out a bowl of water in winter, and it freezes into curious "ice spikes" reaching for the sky.
Admittedly, Mt. Maisan—now the centerpiece of Maisan Provincial Park—is not the easiest place to get to. The awe-inspiring beauty of this most unusual mountain and the mystery that surrounds it make the trip worth the time and effort, however. And by way of compensation, the mountain is also home to one of Korea's top spas—the perfect place to soak away any aches and pains from the trek.
Horse Ear Mountain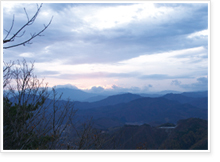 Your first visual encounter with Mt. Maisan leaves you with no doubt about how it earned its name, which means "Horse Ear Mountain." The mountain consists of two pointy peaks, Sutmaibong ("Male Horse Ear Peak," 680m) and Ammaibong ("Female Horse Ear Peak," 686m), which rise up dramatically from the plains below. According to legend, the mountains were originally gods who had been spotted by a human as they attempted to return to the heavens; trapped on Earth, they were turned into mountains. The geological explanation is no less inspiring. In the late Mesozoic Era, this area was a great fresh water lake. During a flood, the lake filled up with gravel, which water pressure transformed into sedimentary rock. Some 60—70 million years ago, the folding of the Earth's crust elevated the landscape, turning the lake bed into a mountain. The elements later eroded the sedimentary rock into the two peaks you see today.
Because of the unique geological history of the mountain, Mt. Maisan offers hikers unusual scenery. The peaks are riddled with tafoni, small cave-like holes that honeycomb the granular stone cliffs. The resulting landscape is primordial, almost alien.
There are a number of hiking courses available, but the most popular by far takes you from the north parking lot up through the pass between the two peaks and down again to the south parking lot via Tapsa Temple. It requires 2.7km of walking, taking about two hours.
Tapsa Temple 탑사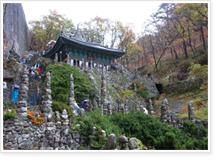 Mt. Maisan's otherworldly vibe is accentuated by its best known Buddhist temple, Tapsa. Tapsa translates as "Pagoda Temple," and in this case, there is truth in advertising. The temple, flanked by dramatic tafoni-riddled cliffs, is home to about 80 conically shaped stone pagodas, some as high as nine meters. The pagodas were erected by a lay hermit, Yi Gap-yong (1860—1957), who moved to the temple at the age of 25 and spent the next 30 years of his life building the pagodas as a means of self cultivation. He built the pagodas entirely by hand using a rigorous process of laying stones in layers of progressively smaller concentric circles, producing the towers' conical shape. This method also gave the towers strength—of the roughly 120 towers erected by Yi, most are still standing today. The bulk of the stone in the pagoda comes from Mt. Maisan itself, but some was collected by Yi from famous mountains throughout Korea.
The temple's aura of mystery makes it a very popular destination for local tourists. There's something of a carnival atmosphere in the courtyard in front of the temple, with restaurants, food tents, traders selling rock carvings, and even a bird cage with some splendid peacocks.
Ice Spikes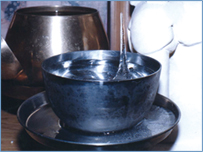 Photograph courtesy of
Tapsa Temple
Maisan's best known "mystery" is its ice spikes. Leave a bowl of water to freeze on the mountain, and pointy spikes of ice will form on the ice surface. Visit Tapsa or Eunsusa temples to see this in action. This "mystery" is in fact a scientifically explainable, albeit rare, natural phenomenon caused by climatic conditions specific to Mt. Maisan. Still, add it to the mountain's "weird" factor.
Photo Points
Thanks to Mt. Maisan's odd shape, it's a favorite of local photographers. The best place to photograph the peaks is from another nearby mountain, Mt. Bugwisan 부귀산. Come up here before dawn, and if the weather is right (most likely in autumn and spring), the clouds gather below you, with Mt. Maisan appearing like an island in a sea of white. Even on a cloudless day, it's worth coming up here. The only problem is you'll need a car, otherwise it's a taxi ride and a long walk down (as this writer did). Another good, albeit distant, point is Guksabong Peak, a scenic peak in the nearby town of Imsil. In addition to Mt. Maisan, Guksabong also overlooks beautiful Okjeong Lake.
Jinan Red Ginseng Spa 진안홍삼스파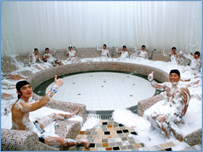 Photograph courtesy of
Jinan Red Ginseng Spa
Not far from the entrance to the park, on the road to "downtown" Jinan, is Jinan Red Ginseng Spa, yet another reason to come to this exceptionally rural corner of Jeollabuk-do. The smartly built spa offers a wide range of spa treatments, including a "bubble therapy" in which you massage yourself in a sea of bubbles made from red ginseng, a local specialty. The highlight, especially when it snows, is the outdoor rooftop hot tub with fantastic views of Mt. Maisan. The spa is unisex—there are bathing suits available for rent, but if you're, ahem, husky, you may wish to bring your own. Entry: 43,000 won. T. 063-433-0393.


The road leading from the south entrance of Maisan Provincial Park to Tapsa Temple is lined with eateries. One specialty is heukdwaeji deung galbi gui 흑돼지 등갈비 구이, back ribs smoked over oak wood in a clay barbecue pit. Chogajeongdam 초가정담 (T. 063-432-2469), near the park's southern parking lot, is a good place to try it, as is Beotkkot Maeul 벚꽃마을 (T. 063-432-2007) and Mongnyeonkkot Sikdang 목련꽃 식당 (T. 063-432-8060). If you don't do meat, plenty of places also serve sanchae bibimbap 산채비빔밥, a bowl of rice mixed with wild greens.

You probably won't have to stay at Mt. Maisan, but if you do, the best place is the Jinan Red Ginseng Spa's hotel (T. 063-433-0396), with very pleasant rooms for 80,000 won. Guests also get discounts at the spa. Also nice, with pleasant views of the mountain, is Maisan Motel 마이산모텔 (T. 063-432-4201), with rooms starting at 30,000 won.

The town of Jinan, the gateway to Maisan Provincial Park, is not the best connected place in Korea. From Seoul, you'll first need to go to the provincial capital of Jeonju, either by bus or train. KTX trains to Jeonju depart from Seoul's Yongsan Station (travel time: about 2 hrs). From Jeonju, you'll need to take a bus to Jinan (travel time: about 40 min). From Jinan, you can take a bus (or taxi) to the park. There are frequent buses to the north entrance, but only a handful of buses to the south entrance.
The article courtesy of Seoul magazine