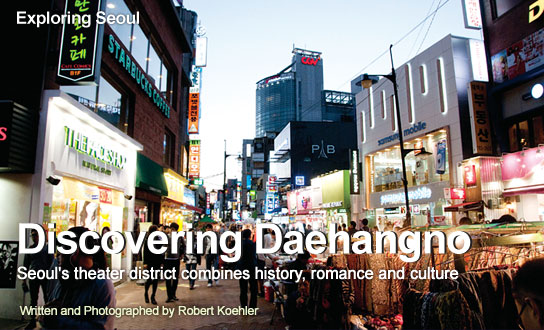 The article courtesy of Seoul magazine
Daehangno ("University Street") is at its best in autumn.
Seoul National University, Korea's top university and the institution from which the neighborhood takes its name, was relocated long ago, but several universities still remain. Come on a fall weekend and you'll find yourself tripping over the countless young couples who fill the streets and cafés, all here to take in the neighborhood's romance and youthful energy.
What really gives Daehangno its spirit, however, is its culture. This is Seoul's "theater district," home to about 40 theaters, mostly small and medium-sized spaces that make up with warmth what they lack in size. Even the streets transform into open-air theaters—pop by landmark Maronnier Park, for instance, and you're likely to find some performance going on, whether it be buskers or break dancers.
There's plenty of history here, too. Overlooking the neighborhood is Mt. Naksan with its medieval city walls. Munmyo Shrine, hidden on the campus of venerable Sungkyunkwan University, was an important Confucian shrine and is one of Seoul's most overlooked gems. Various other reminders of Korea's past, including colonial-era hospitals, the home of Korea's first president, and even a hanok district office are hidden in the alleys, beckoning to be found by the industrious urban explorer.

History
Daehangno's history as a center of learning stretches back all the way to the Joseon Dynasty. In 1398, the Seonggyungwan—old Korea's top center of Confucian learning—was founded here (it lives on today in the form of Sungkyunkwan University, where you can find the old school's Confucian shrine). During the colonial era, the Japanese founded Keijo Imperial University, which was rechristened Seoul National University (SNU) after Korea regained its independence in 1945. Thanks to SNU, cafés and teahouses flooded in, and the youthful vibe even survived the school's move to its current location south of the Hangang River in 1975.
Maronnier Park was built in the heart of the former campus right after SNU's departure, and the school's old main hall became home to what is now Arts Council Korea. Theaters, museums and galleries soon followed. As a result, Daehangno developed a reputation as a place of free artistic expression.
In 2004, Seoul Metropolitan Government designated Daehangno its second "culture street," after Insa-dong.