Geumsan in Chungcheongnam-do Province is the birthplace of Goryeo (Korean) ginseng and the nation's hub for ginseng distribution where more than 80% of the total ginseng produced nationally is collected and traded.

In Korea, ginseng has long been treated as a rare but excellent medicinal food, so much so that some say it is the "best gift that god has given man." The production of ginseng must meet certain environmental conditions for it to grow properly. This is why Geumsan's pristine natural environment preserved from pollutants has long been the center for ginseng production.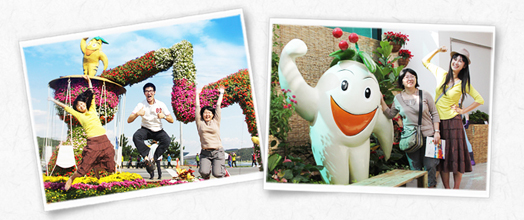 Starting with the Samjangjae ritual that began in 1981, Geumsan has organized the Geumsan Insam Festival every autumn to promote unity among local residents. Growing both in content and in size, the festival was selected as a cultural and tourism festival by the Ministry of Culture, Tourism, and Sports in 1996 and became established as a national festival. With the rising popularity of the festival, the marvelous effects of Geumsan ginseng have become known throughout the nation, drawing an increasing number of local and foreign tourists every year.

Held for the 33rd time this year, the Geumsan Insam (Ginseng) Festival 2013 organized various programs to promote the superb quality of this ginseng, a special product of Geumsan-gun County. The festival features the Ginseng Folk Village where visitors can get a hands-on experience of planting ginseng seeds, and peeling, binding, and drying ginseng. The festival also hosts the International Ginseng Exchange Exhibition where visitors can find various ginseng products made in the region, as well as numerous interactive programs such as harvesting your own ginseng. Alongside these events, a various traditional Korean music performances and folk games are organized.

Over the years, as a stable production and harvest of ginseng became possible, more and more people have consumed ginseng on a regular basis to maintain their health rather than eating it only when they fall ill. This has led to a wider variety of ways ginseng is consumed, which includes extracts, food, and ginseng tea. Ginseng is also gaining more popularity overseas for its medicinal benefits.

So, on a clear autumn day, let's hit the road and head to the Geumsan Insam Festival, the most unique health festival in Korea.
Recommended Programs
Hands-on ginseng programs
Harvesting Ginseng

The 'harvesting ginseng' event is one of the festival's most popular programs. Sign up to visit a designated ginseng field and unearth some real Geumsan ginseng. The program gives participants not only the pleasure of harvesting ginseng, but also a chance to buy ginseng at a discounted price, making it quite popular every year. As the ginseng field is located at a distance from the festival venue (Geumsan Ginseng Museum square area), there is the inconvenience of having to travel to and from the field, but there is a shuttle bus running between the festival venue and the field. If you plan to participate on weekends, when there are throngs of participants, make sure to make a reservation by phone in advance. Participation is free of charge.

Sampling of Ginseng Tea

Ginseng tea can be sampled at the Festival Information Center and various other locations inside the venue. The 'Health Experience Pavilion' and other outdoor event booths also offer teas made with various medicinal herbs. Sampling of ginseng teas and medicinal herb teas is free of charge. A Korean proverb goes, "good medicine tastes bitter." The teas may be bitter but let's drink to our health!

Red Ginseng Foot Bath

The red ginseng foot bath uses water infused with red ginseng extract and other medicinal herbs. More than any other foot bath, the red ginseng foot bath has remarkable effects on enhancing immunity and relieving stress and fatigue as the remedial benefits of red ginseng and the medicinal herbs are absorbed through the skin. The program is operated on a first-come, first-served basis and the participation fee is 1,000 won. So get there early, as this highly satisfying, low priced event is usually packed!

Gingseng Folk Village

Together with the 'harvesting ginseng' program, the Ginseng Folk Village is one of the most popular interactive events at the festival. Visitors can plant ginseng seeds, and peel, bind, and dry ginseng, all for free. The program is organized outdoors and is open to everyone. It is especially popular among families.

Tip. Activities relating to ginseng cultivation

• Peeling: Ginseng is peeled and wiped with a hemp cloth.
• Binding: Half-dried ginseng is bound together with a flat sedge cord.
• Drying: After binding, the ginseng is left under the sun to dry completely.

Making Organic Ginseng Health Products

Various hands-on programs will be offered during the festival such as using ginseng and medicinal herbs to make all natural soap and lip balm. The participation fee is around 2,000 won and the program takes between 15 and 20 minutes. After the program, it takes about 40 minutes to an hour for the soap to harden, so be sure you have enough time to participate.

Tip. Origin of Geumsan Ginseng

About 1,500 years ago, a good-hearted person by the name Kang lived in a village in Geumsan County. Kang was offering a one hundred day prayer to the gods of Mount Jinaksan in the hope that his ailing mother would be cured. One night, a mountain god appeared in Kang's dream and said, "Climb up to the top of Mount Jinaksan and you will find a plant bearing red-colored fruit. Take its root and boil it down to an extract and give it to your mother." As soon as he woke up, Kang followed the mountain god's instructions, and his mother soon regained her energy.

Because of the resemblance of the plant's roots to a human being, Kang named it insam ("in" meaning person). He took the seeds of the plant and planted them in his field. From then on, the ginseng grown in the area has become known as Geumsan Insam.
Permanent exhibitions and hands-on programs
International Ginseng Exchange Exhibition

The International Ginseng Exchange Exhibition is another one of the major events of the Geumsan Insam (Ginseng) Festival. In its 15th year, the exhibition displays and sells products made with ginseng and other medicinal herbs produced by approximately 50 companies from the region. This is a great chance for tourists to buy quality ginseng products at inexpensive prices. The event also features an IR forum attended by overseas buyers to expand the worldwide market for Geumsan ginseng.

Health Experience Center

The Health Experience Center is one of the major events of the Geumsan Insam (Ginseng) Festival. It is particularly popular among senior aged tourists. Here visitors can check their health status through blood pressure, blood sugar, and osteoporosis tests. They can also try various East Asian medical practices, including a hand, foot, and facial massage, hand acupuncture, and sampling of medicinal herb tea.
Food
There is a food market inside the festival venue where visitors can choose from a number of traditional Korean foods like bibimbap, Korean pancakes, gukbap, and banquet noodles, all made with some ginseng. Meals range between 5,000 won and 7,000 won, and they come in large servings.
Ginseng Bibimbap and Deep-Fried Ginseng

The ginseneg bibimbap and deep-fried ginseng are the most popular menu items at the venue. The ginseng bibimbap comes with fresh wild greens and thinly sliced ginseng on top of rice, while the deep-fried ginseng is eaten in a dip of red ginseng extract and tastes delicious. This is what 'food like medicine' is all about.

Traditional Korean Pancakes and Ginseng Makgeolli

The unique ginseng makgeolli of Geumsan has a mild ginseng flavor and taste. There is nothing like a nice glass of fresh makgeolli to quench your thirst while you are looking around the venue. The best snack pairing for makgeolli is the ginseng, seafood, and spring onion pancake. Try a piece of pancake with some refreshing ginseng makgeolli for a taste that is out of this world.
Others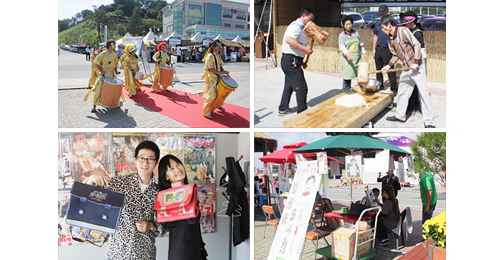 Other unique programs like face painting, caricature painting, and ginseng food making are organized at the venue. The main stage of the venue hosts various performances starting at 7 p.m. every day, including Korean traditional music and dance, a percussion music performance, and a K-pop concert. There is also an igloo area so visitors can beat the summer heat and a free shuttle service runs from one end of the venue to the other, so hop on the shuttle if you feel like you need a free ride!
Nearby Attractions

Great for history enthusiasts, the Geumsan Ginseng Museum is where visitors can learn all about the story of Geumsan ginseng, which has been produced in the area for over 1,500 years. The center is located inside the festival venue. Information on the history, production, and effects of Geumsan ginseng are on exhibit together with photos and models.

Near the main gate of the festival venue, the area around the Geumsan Fresh Ginseng Center and International Ginseng Market is called the 'Geumsan Ginseng and Medicinal Herb Market,' or the 'Geumsan Ginseng Yakryeong Market.' The area features a cluster of retail and wholesale ginseng shops where 80% of the nation's total ginseng production is traded. Quality ginseng and medicinal herbs can be purchased at the market, which is always bustling with people even during non-festival periods.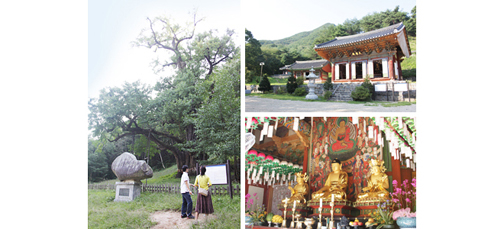 The temple was built in 866 during the Silla Kingdom (BC557-AD935). Though it is small, it is famous for its Main Buddha Hall (tangible cultural asset no. 143) and 1,100 year-old ginkgo tree (natural monument no. 365). The road from the one pillar gate of the temple to the ginkgo tree is lined with groves of fir trees, allowing for a tranquil walk in the forest.
Other Tourist Sites
Jeokbyeokgang River, Daedunsan Provincial Park, Nami Recreational Forest, Daedunsan Recreational Forest, etc
More Info
☞

☞ Geumsan-gun County:

http://www.geumsan.go.kr (Korean, English, Japanese, Chinese)

☞ Geumsan Tourism:

http://tour.geumsan.go.kr/html/tour (Korean)

☞ Geumsan Insam Festival:

*You may see the festival leaflet (English, Japanese, Chinese) at the bottom left side of the website.
Festival leaflet (English, Japanese, Chinese)

☞ Geumsan Tourism Travel Phone:

+82-41-751-2484 (Korean, English, Japanese, Chinese)

☞ 1330 Korea Travel Phone:

+82-2-1330 (Korean, English, Japanese, Chinese)
Last Updated, August 20, 2013