Every year at the Gangjin Celadon Festival, the fascinating world of Goryeo Dynasty celadon unfolds at the Goryeo celadon kiln sites in Gangjin-gun, Jeollanam-do. With flying crane decorations, beautiful curves, and blue colors, Goryeo celadon has long been celebrated as a symbol of the beauty and craftsmanship of Korean ceramics. In 2014, the 41st Gangjin Celadon Festival will take place from July 26 through August 3.

Gangjin is called the "home of celadon" as it not only produced thousands of celadon works for nearly 600 years between the 9th and 14th centuries, but also invented Sanggam* Cheongja, which is considered the finest example of Goryeo celadon. Today, 80% of celadon designated as national treasures and valuables comes from Gangjin.

*Sanggam: The method of engraving the surface of ceramics or wood with intricate patterns, and inlaying them with gold or silver materials. The Gangjin Celadon Festival venue has special facilities built for the convenience and enjoyment of visitors. First, there is a stream formed by drawing water that runs through the Jeongsusa Valley, a popular resting spot for Goryeo Dynasty potters. Second, there is a vine tunnel, shaded tent area, and fountain. Next, the Celadon Museum holds daily celadon workshops where visitors can learn about the Sanggam Cheongja method, daily uses of celadon, and celadon production. Visitors can also get language assistance from volunteers speaking English, Japanese or Chinese.
Recommended Hands-on Programs
The festival offers diverse hands-on programs, including celadon pattern printing on hanji paper, t-shirt painting, and making a mosaic using broken celadon pieces. The most popular program, though, is making pottery with the help of a professional potter.
Pottery

The pottery program is the most popular with festival visitors. Spin the wheel, and make a cup, jar, flower vase or anything you desire with the help of a trained potter. Then, add decorations and inscribe your name. Leave the pottery to dry for 2-3 hours before taking it home.
* Fee: 5,000 won per person
Celadon Mosaic

Glue broken celadon pieces onto a paper plate in the shape of a celadon. Use a hammer provided at the site to break the pieces into even smaller pieces.
* Fee: 3,000 won
T-Shirt Painting

Place celadon pattern stickers on a white t-shirt. Paint inside or outside the stickers using a small brush. Take the stickers off, and you have a t-shirt with colorful celadon patterns.
* Fee: 5,000 won
Celadon Pattern Printing

Choose a celadon pattern block, and apply black ink on the pattern using a sponge. Then, press the block on a piece of hanji paper, and gently rub the surface of the paper. Write your name and date on the same paper before laminating it to take home.
* Fee: 1,000 won
Permanent Exhibition
Gangjin Celadon Museum

Highlighting the beauty of Goryeo celadon, the Gangjin Celadon Museum holds approximately 30,000 artifacts, including 100 pieces of original, intact celadon. In addition, the museum's library and exhibition hall have audio materials and visual displays that show the history, production methods, and other distinct features of Goryeo celadon.
☞ Click for more on
Gangjin Celadon Museum
Nearby Tourist Sites
Dasan Chodang (Dasan's House of Exile)

Dasan Chodang is where Dasan*, a silhak (practical learning) scholar of the Joseon Dynasty, was exiled. Here, Dasan compiled his thoughts on silhak, and published about 500 books, including Mokminsimseo (Guidelines for Local Governors).
* Dasan is the pen name of Jeong Yak-yong (1762-1836). He gave himself the pen name, which was also the name of a mountain he lived on during his exile.
☞ More on
Dasan Chodang
Birthplace of Yeongnang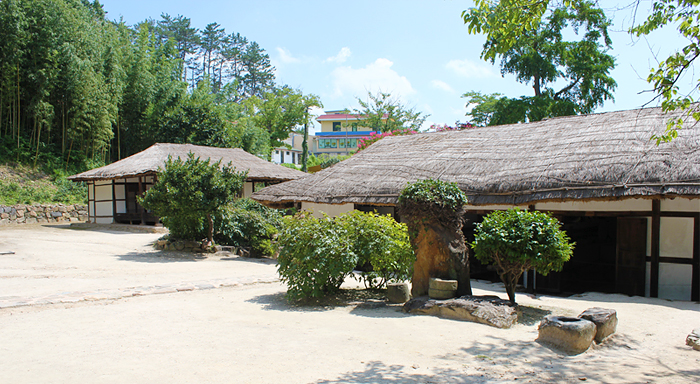 Kim Yeong-rang (1903-1950) was a leading lyric poet most well-known for the poem titled "Till the Peony Blooms." Before moving to Seoul with his family in September 1948, Kim had lived in this house for 45 years. Today, only the bonchae (main building) and sarangchae (guest quarters) remain. In the courtyard, there is a grove of peonies that bloom every May, creating a beautiful scene.
☞ More on the
Birthplace of Yeongnang
Maryang Port
Located at the tip of Gangjinman Bay, Maryang Port was once the main port of Gangjin-gun County and a pit stop for horses shipped from Jeju Island. Thanks to the seafood restaurants nearby, the port remains a popular destination for tourists seeking fresh fish.
☞ More on
Maryang Port
<More Info>
Gangjin Celadon Festival 2014
☞ Period:
July 26 - August 3, 2014
☞ Venue:
Gangjin Goryeo Celadon Kiln Site (33, Cheongjachon-gil, Daegu-myeon, Gangjin-gun, Jeollanam-do)
☞ Homepage:
http://www.gangjinfes.or.kr
(Korean)
☞ Gangjin-gun County Office Homepage:
http://en.gangjin.go.kr/02en/
(Korean, English, Japanese, Chinese)
☞ Gangjin Culture & Tourism Homepage:
http://en.gangjin.go.kr/02en/
(Korean, English, Japanese, Chinese)
☞ Transportation
*
Express Bus
Seoul Express Bus Terminal (Honam line)
->
Gangjin Bus Terminal
(Schedule: 6 times daily /07:30, 09:30, 11:25, 13:30, 15:25, 17:40/ Estimated travel time: 5 hours)
From Gangjin Bus Terminal, take a taxi to the festival venue (Estimated travel time: 15-20 minutes)
☞ Nearby Attractions
Baengnyeonsa Temple
Muwisa Temple
Gangjin Dawon
<Last updated: July 2014>