Tour of Jeollabuk-do Province: Jeonju Hanok Village & the Byeonsanbando Peninsula
Jeollabuk-do Province in the southwest of Korea is a region known for its unique traditional culture, well-preserved natural environment, and tantalizing local cuisine. Home to 14 cities and counties, Jeollabuk-do offers an almost limitless number of things to see and do! If you're interested in the traditional architecture and lifestyle of Koreans long ago, take a trip to the Hanok Village in Jeonju. To commune with nature and experience the wonders of the Korean coast, head to the Byeonsanbando Peninsula in Buan.

Both Buan and Jeonju counties in Jeollabuk-do are well worth the trip from Seoul. The city of Jeonju has a history of more than a thousand years, reflected in its robust local cuisine, hanok (traditional Korean homes), hanji (mulberry paper), and rich cultural heritage. One of the most popular destinations in Jeonju is the Jeonju Hanok Village, a designated Slow City (2010) that was also named a three-star travel destination by the Michelin Green Guide. Buan County's claim to fame, on the other hand, rests more on the natural beauty of the popular Byeonsanbando National Park and its awe-inspiring coastal landscape.

Though each county could warrant its own separate trip, we recommend the following three-day itinerary to Jeonju, Buan, Gunsan, and Iksan. Keep reading for more on the local foods, accommodations, and must-visit sites of these fascinating regions!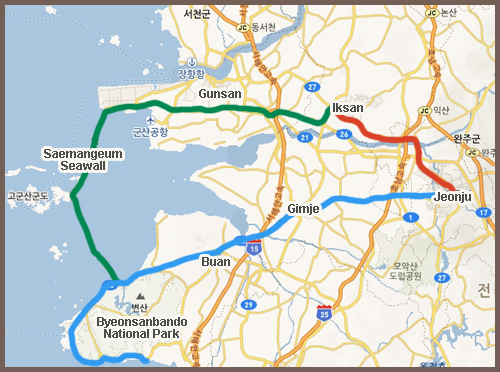 Recommended 3-day, 2-night tour of Jeonju & Buan in Jeollabuk-do Province
Day 1:

KTX from Yongsan Station (Seoul)

→

Iksan Station (rent a car)

→

half-day tour in Jeonju Hanok Village (lodging in Hanok Village)

Day 2:

Jeonju City

→

Byeonsanbando Coastal Tour in Buan (lodging in Buan)

Day 3:

Byeonsanbando Peninsula

→

Saemangeum Seawall

→

Gunsan City

→

Iksan City (return rental car)

→

KTX to Yongsan Station (Seoul)