Gyeongju is worth the visit whether you are coming for the history or to relax in some of the best hotels the area has to offer.
The primary reason most people head to Gyeongju is the history. There is just nothing like it—the city feels like a living museum. With tombs resembling grassy hills scattered throughout the city and structures both epic and beautiful, this city is a great place to spend an autumn weekend.
Historic sights
Bulguksa Temple has to rank number one for the most popular historical attraction in Gyeongju. With a touristy area built around the temple, this area sees hordes of people each day. The grounds are nice to walk through in the spring and fall and the temple itself it amazing year round.
Further up the winding road past Bulguksa Temple is Seokguram Grotto ranking number two on the tourist hit list. With its massive bell and carved Buddha, it is everything a tourist wants in a Korean temple site, except the fact that you can't take pictures inside the grotto.
However, if you want to learn more about the historical sites you should head straight down the highway to Gyeongju National Museum. It is a great way to brush up on some history and get an idea of what you are about to feast your eyes on.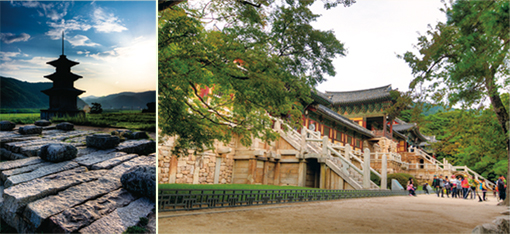 Ruins of Gameunsa Temple
Bulguksa Temple
You should then cross the street to Anapji Pond. This man-made pond built during the Silla Dynasty is a sight to behold, especially at night with it is lit up. Typically photographers hover around the far side of the pond to get that standard "Anapji shot" that you see everywhere.
After taking a relaxing walk around the pond, head across to the park towards Cheomseongdae Observatory. It is a short 10 minute walk from Anapji Pond and will take you through a beautiful little pond and flower field. From there you can head across the street to Tumuli Park which is a dense cluster of royal tombs. Particularly on sunny days this is a beautiful and interesting walk.
Off the beaten path
If you are looking for something more unique for your visit in Gyeongju, Sherwin Jones from the outstanding Gyeongju Blog (sherwinvjones.com) offered this short list of places generally over looked by Western travelers.
• The Four-sided Buddha of Gulbulsaji and Baengnyulsa Temple
• Bunhwangsa Temple and the ruins of Hwanyongsaji Temple and its nine-storied pagoda
• Mt. Nangsan (with Queen Seondeok's, King Munmu's cremation pagoda, and the ruins of Sacheonhwangsa Temple)
• The ancient carvings of Bucheo Bawi of Ongnyongam Hermitage on Mt. Namsan
• The Village of Namsan-dong and the hike to Chilbulam on Mt. Namsan
• The hike up Samneung Valley on Mt. Namsan
• The hike to the ancient grotto temple of Mireukgol on Mt. Danseoksan
• King Munmu's underwater tomb and the ruins of Gameunsa Temple on the coast
• The Oksanseowon Confucian Academy north of Angang
• Gwaereung Tomb, near Bulguksa Temple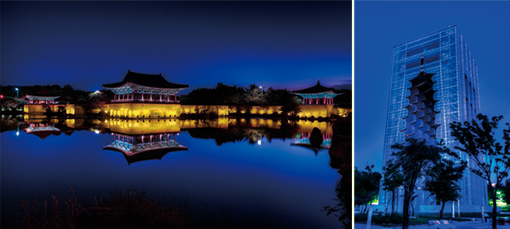 Anapji Pond
Gyeongju Tower
The writer's favorite spot is Gumeunsa Temple. The area is located near the coast and is a great drive from Bulguksa Temple, if you have a vehicle. Another great spot would be Seochulji. This little known spot on the tourist map is located off Highway 7 between the Gyeongju National Museum and the turnoff to Bulguksa Temple. It is a quiet spot with a tradition house on a lily pond.
Luxury and more at Bomun Lake
If history is not your thing then Gyeongju is still a great place to visit. The Bomun Resort area is situated around the picturesque Bomun Lake. It features high-end hotels, restaurants and three golf courses. This area has more of an international tourist in mind but still caters to a lot Korean tourists.
For visitors with families, Gyeongju World amusement park and Blue One Resort's California Beach Water Park are the main draws. The Gyeongju World Expo site should not be overlooked as well—it offers regular performances as well as an up-close view of Gyeongju Tower as an added bonus. The Bomun Resort area is full activities but the real gem is the hot air balloon (15,000 won, www.skyworld.co.kr). Giving you a birds-eye view of the city that you probably won't find in too many other places in Korea.
For those much more adult, there is also the Gyeongju "Love Castle" near Blue One Water Park. Not for the faint of heart or anyone under the age of 19, this offers a taste of the infamous "Jeju Love Land" right in Gyeongsangbuk-do with its plethora of erotic statuary and art.
eat
While you are in the area, pick up some Gyeongju Bread (경주빵), a pastry stuffed with sweet red bean and served pretty much everywhere.
For restaurants, there is no shortage of good places to find but this writer's choice would have to be Gosaekchangyeon (T. (054) 748-0952) located near the Love Castle. This makes a great pit-stop between Bulguksa Temple and Bomun Resort. They offer 7,000 won tteokgalbi and it is really good. Weekends are the busiest and there is always a line.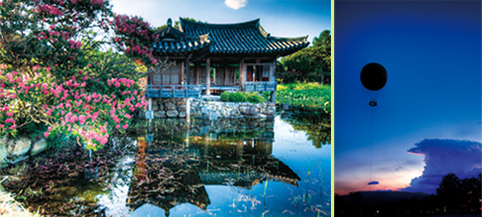 Hot air balloon rideSeochulji Pond
go
The easiest way to get to Gyeongju is by KTX from Seoul and by bus from pretty much any major city in the area. The bus will take an hour from Busan and about 45 minutes to an hour from Ulsan. The KTX will take around 2 hours and 20 minutes to get into Singyeongju Station from Seoul Station.
Getting around Gyeongju is fairly simple. Many of the historic sites are within walking distance (or a short taxi ride) from the city center. Sites further afield like Bulguksa require a local bus from the city bus terminal (a short walk from the intercity bus terminal). One thing to note, however, is that Singyeongju Station (where the KTX stops) is about 40 minutes outside of town by bus.
Stay
The Baramgot Guesthouse (T. (054) 771-2589) is a great budget option for the weary traveler. Located about 3 minutes from Gyeongju Station, the prices range from around 15,000 won to 20,000 won for hostel-like rooms. Reservation are done through their Naver cafe (http://cafe.naver.com/baramgot) but be warned it is all in Korean.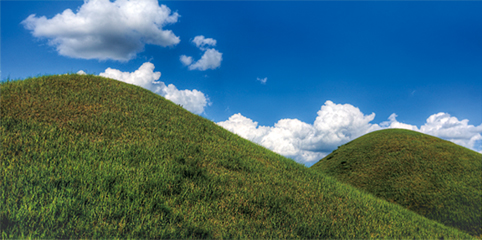 Tumuli Park
High end travelers have numerous choices but the Gyeongju Hilton (T. (054) 745-7788, www.kyongjuhilton.co.kr) is a top choice. Located in the heart of the Bomun Resort area, you will find plenty to do. Rooms range from 216,000 won a night and up depending on the style of room or suite you'd like.
If you'd really like to splurge, try the hanok hotel Ragung (T. (054) 778-2100) in Bomun. The beautiful Korean traditional accomodations with private outdoor hot tubs start at 300,000 won a night.
see
Experience the most of Korea at the annual Hallyu Dream Festival (Sep 21—23). This fun, fun event features a family concert, K-pop cover dance festival and, best of all, the Hallyu Dream Concert with acts like Beast, Infinite, 4Minute, MBLAQ, Sistar, Secret, Kara, After School and B1A4. There will be moonlight tours of Gyeongju and other cultural pograms, too.
www.hallyudreamfestival.or.kr,
http://english.visitkoreayear.com
FYI
www.gyeongju.go.kr/english
http://english.visitkorea.or.kr
The article courtesy of Seoul magazine