Bingsu (shaved ice with toppings) is a popular snack food found almost everywhere in Korea during the summer months. Believed to date back all the way to the Joseon Dynasty, the original bingsu was simple, served as finely broken ice chips topped with sweetened red bean porridge. In the years following its debut, the popularity of bingsu exploded across the nation, bringing with it an almost endless variety of bingsu types and flavor combinations. Today, many bingsus shy away from the predominantly bean taste and some even omit the red beans altogether. From the traditional red beans and ice "patbingsu" to complex mixes of ice cream and fruit, bingsus can easily be found in almost any coffee shop or bakery in Korea. Here, we'll introduce you to the best of both worlds, giving you plenty of places where you can indulge in a sweet and delicious bingsu treat.
Patbingsu (shaved ice with sweetened red beans)
➊
Patbingsu with locally grown flavor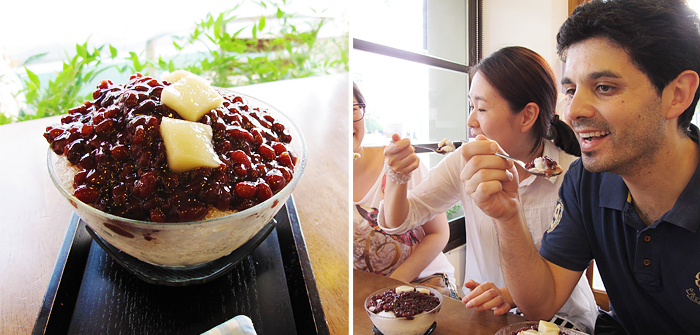 Dongbinggo in Ichon-dong, Yongsan-gu serves up a delicious version of the original patbingsu. This small establishment has just 8 tables and is so popular that you'll have to take a number and wait to be seated. What sets Dongbinggo's patbingsu apart from its competition is its use of locally-grown beans, which have a soft and pleasant texture without being mushy. The beans sit aloft a mound of thinly shaved ice chips flavored with a mixture of milk and condensed milk. Add generous slices of chewy rice cake and you've got a flavorful taste sensation! Other popular varieties served here are the Misutgaru (roasted rice and grain powder) Bingsu, Coffee Bingsu (made of aromatic coffee), and the Royal Milk Tea Bingsu (beloved for its rich tea flavor).
☞ Dongbinggo: 319, Ichon-ro, Yongsan-gu, Seoul
* Directions: Ichon Station (Subway Line 4), Exit 3-1.
- Take an immediate right out of the exit, and take the first left at the end of the street. You will pass a school and when the street ends take a right. Walk straight to the main street and take a left. Dongbinggo is about 600 meters ahead on your left. (Total: 15 min/900m)
☞ Hours: 10:30-23:00
☞ Menu: Patbingsu: 6,500 won / Misutgaru Bingsu: 6,500 won / Coffee Bingsu: 7,000 won / Royal Milk Tea Bingsu: 7,000 won
☞ Phone: +82-2-794-7171 (Korean)
➋
Autumn Squash Bingsu, bursting with natural flavor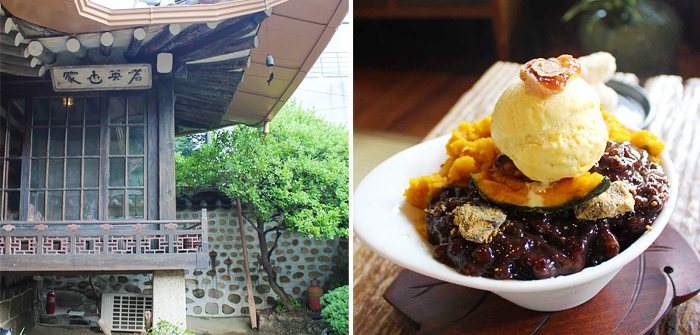 Located in Seongbuk-dong, Seongbuk-gu, Suyeonsanbang (former house of novelist Lee Taek-jun) is a hanok café that sells traditional Korean teas and rice cakes. An all-around authentic experience, everything sold at the café is made by the café owner using natural ingredients. In the summer, the café is bustling with people who come from far and wide for the Autumn Squash Bingsu, a shaved ice dish topped with cooked autumn squash pulp, vanilla ice cream, jujube preserves, and injeolmi rice cake. As healthy as it is delicious, a bowl of Autumn Squash Bingsu is filling enough to be had as a light meal.
☞ Suyeonsanbang: 8, Seongbuk-ro 26-gil, Seongbuk-gu, Seoul
* Directions: Hanseong University Station (Subway Line 4) Exit 6.
- 50m in front of the exit is a bus stop. Take Bus 1111 or 2112 and get off at Dongbang Graduate School Bus Stop. Walk in the opposite direction of the bus, and take your second left. Suyeonsanbang is located next to the Seongbuk Museum of Art.
☞ Hours: 11:30-22:00
☞ Menu: Autumn Squash Bingsu: 19,500 won (for 2 people), 10,500 won (for 1 person) / Suyeonsanbang Injeolmi Rice Cake: 6,500 won / Jujube Tea: 10,500 won
☞ Phone: +82-2-764-1736 (Korean)
➌
Chestnut and Jujube Patbingsu, served up in a traditional brass bowl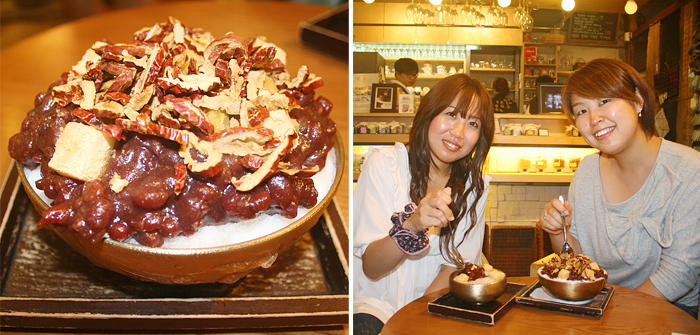 Damjang Yeope Gukhwakkot (Chrysanthemum by the Fence) in Seorae Village in Banpo-dong, Seocho-gu is famous for its Chestnut and Jujube Patbingsu, which comes out in a stunningly crafted brass bowl. The dish is made of a mountain of ice, home cooked red beans, fresh homemade rice cakes, and milk, all garnished with a generous helping of freeze-dried jujubes that are so crispy they almost taste like potato chips! Another popular dish is the Sujeonggwa Bingsu where sujeonggwa (traditional persimmon punch) is poured over the shaved ice. Dishes are served in brass bowls, which not only add an extra bit of flair to the dish, but also help keep the dessert cool and stop the ice from melting. Complement your bingsu with one of the café's traditional rice cakes or a cup of hand-drip coffee.

* Seorae Village: Located in the Seocho-gu area of Seoul, Seorae Village is largely inhabited by French residents. As a result, there are many French-style restaurants, cafes, and specialty wine stores.

☞ Damjang Yeope Gukhwakkot: 10, Seoraero-gil, Seocho-gu, Seoul
* Directions: Gangnam Express Bus Terminal Station (Subway Line 3, 7, 9), Exit 4.
- Take a taxi to the Seorae Village entrance (10min) and walk about 50m.
- Turn down the alley to the left of Starbucks.
- Damjang Yeope Gukhwakkot is located on the right.
☞ Hours: Weekdays 9:00-22:50 / Weekends 10:00 – 22:50
☞ Menu: Chestnut & Jujube Patbingsu: 8,000 won (14,000 won for two servings) / Sujeonggwa Bingsu: 9,000 won
☞ Phone: +82-2-517-1157 (Korean)

❹
Hanbang Patbingsu in a hanbang café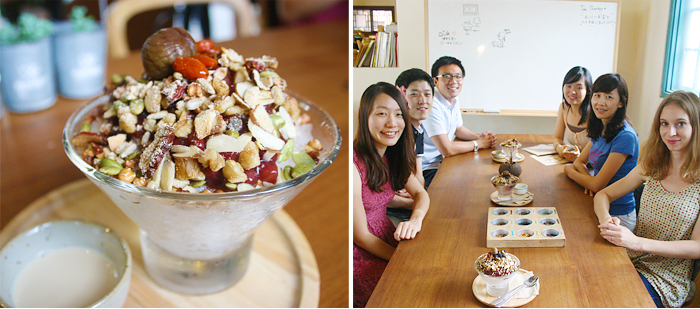 Tea Therapy in Anguk-dong, Jongno-gu is a unique café that incorporates the principles of hanbang (Eastern medicine) in its tasty treats. The café's signature Hanbang Patbingsu is a healthy concoction of shaved ice, delicious red beans, walnuts, sunflowers seeds, boxthorn, jujubes, adlay, mulberry, and almonds served with a side of soymilk. For an even more intensive hanbang experience, fill out the café's short survey to find out which hanbang tea best suits your body type. An order of the hanbang tea entitles you to a free 15-20 minute soak in the foot bath outside the café.
☞ Tea Therapy Haengnang: 74, Yunboseon-gil, Jongno-gu, Seoul
* Directions: Anguk Station (Subway line 3) Exit 1.
- Take your first right and follow the alley.
- Veer right at the fork in the road, and the café will be on your right.
☞ Hours: 10:00-22:00
☞ Menu: Hanbang Patbingsu (Tea Therapy Bingsu) - 6,000 won / Hanbang Tea - 8,000 won
☞ Phone: +82-2-730-7507 (Korean)
➎
Hangari Patbingsu with opuntia (cactus)
Located right in the heart of Seoul in the popular shopping district of Myeong-dong, Sicily is known for its Hangari (jar) Patbingsu and its exotic Optunia (paddle cactus) Fruit Bingsu. The Hangari Patbingsu, which is big enough to feed two, comes out in an earthenware pot of shaved ice and milk loaded with red beans, cereal, almonds, and walnuts. The Hangari Patbingsu is also made with extract of opuntia, which gives the dish its unique color and taste. If you're not a big fan of beans, opt for the Opuntia Fruit Bingsu, which comes topped with cherry tomatoes, kiwi and banana slices, cereal, and almonds.
☞ Sicily: 15-1, Myeongdong 4-gil, Jung-gu, Seoul
* Directions: Euljiro 1-ga Station (Subway Line 2) Exit 6.
- Take the fourth left after exiting to enter a main thoroughfare of Myeong-dong.
- Passing Noon Square to your right, take the first right.
- Sicily will be on your left 70m ahead (2F).
☞ Hours: 10:00-23:30 (open all year round)
☞ Menu: Hangari (Jar) Patbingsu - 9,000 won / Opuntia Fruit Bingsu - 9,800 won / Green Tea Bingsu - 9,800 won
☞ Phone: +82-2-779-1343 (Korean)
Unique Bingsus (Beanless bingsus with non-traditional ingredients)
➊
Melon Bingsu served in a whole melon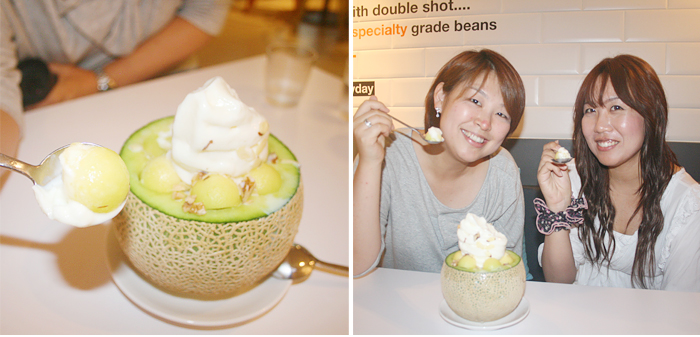 Located on the basement floor of the Nature Poem building in Cheongdam-dong, Gangnam-gu, Café I'm C (also known as I'm Coffee) offers a summertime Melon Bingsu that's out of this world! Unlike other fruit bingsus that only come topped with fruit, this melon bingsu comes out as a whole melon. The flesh of the melon is scooped out and formed into balls while the emptied melon is filled with shaved ice and used as the serving bowl. The ice is then topped with the melon balls and a scoop of ice cream, resulting in a healthy snack with just the right amount of sweet.
☞ Café I'm C: 461, Apgujeong-ro, Gangnam-gu, Seoul)
* Directions: Cheongdam Station (Subway Line 7) Exit 9.
- Walk straight 600m and pass Cheongdam Intersection.
- The Nature Poem Building is located 70m ahead on the right
- Café I'm C is located on the basement level of the Nature Poem Building
(Total travel time: 10-15 min on foot).
☞ Hours: 09:00–23:00 (Friday & Saturday: 09:00–24:00)
☞ Menu: Melon Patbingsu - 19,000 won / Mango Bingsu -17,000 won /
Coffee Cookie Bingsu -15,000 won
☞ Phone: +82-2-511-5512 (Korean)
➋
Sweet and mild Cacao Bingsu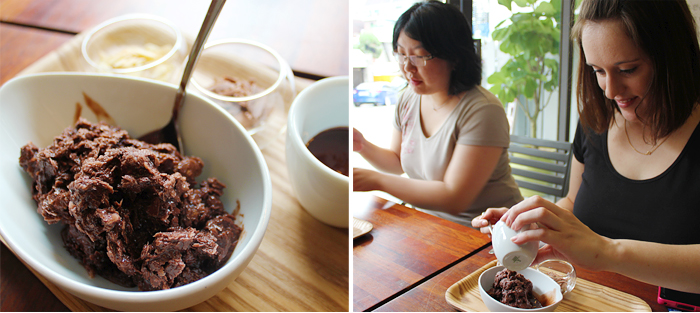 Located in Seogyo-dong, Mapo-gu, Cacaobom is a chocolate café serving up only the finest handmade chocolates. Famed for its handmade Belgium chocolates and chocolate-infused beverages, in summer the café rolls out another sweet surprise: Cacao Bingsu. Served from July to September, this summertime treat is made using chocolate that has been frozen and melted several times to create a thin ice, which is then shaved to make the bingsu base. The sweet flavor of the chocolate ice is further enhanced by a warm cacao sauce drizzled on top. Garnished with crisp almond slivers and pieces of chocolate, this dark chocolate delight offers a mildly sweet taste full of deep chocolate undertones.
☞ Cacaobom: 6, Wausan-ro 27-gil, Mapo-gu, Seoul
* Directions: Hongik Univ. Station (Subway Line 2) Exit 9.
- Take a left out of Exit 9 and at the second four-way cross and turn left.
- Take your first right (at the 7-Eleven) and the café will be 500m ahead on your left.
☞ Hours: 09:00-22:00
☞ Menu: Cacao Bingsu - 8,000 won / Iced Chocolate Drink - 6,000 won
☞ Phone: +82-2-3141-4663 (Korean)
❸
Refreshing Watermelon Bingsu and sweet and sour Strawberry Bingsu
Come summer, Gami in Daehyeon-dong, Seodaemun-gu is crowded with fruit lovers eager to chow down on the café's famous Watermelon Bingsu and Strawberry Bingsu. The reason why this café is so popular is that at Gami, fruit takes center stage. Both bingsus are made with ice flakes made of milk topped with generous scoops of juicy fruit and drizzled with condensed milk. Strawberries used in the Strawberry Bingsu are picked in the spring and sweetened with sugar, making for the perfect blend of tart and sweet.
☞ Gami: 2, Ewhayeodae 8-gil, Seodaemun-gu, Seoul
* Directions: Ewha Womans Univ. Station (Subway Line 2) Exit 3.
- Exit walking straight for 100m towards the main gate of Ewha Womans University.
- Take your third right and Gami will be on your right.
☞ Hours: 10:00-21:30
☞ Menu: Patbingsu: 5,000 won / Watermelon Bingsu: 5,000 won / Strawberry Bingsu: 5,000 won
☞ Phone: +82-2-364-3948 (Korean)
➍
The healthy Jangdokdae Bingsu!
A uniquely named bingsu is attracting a lot of attention on Jeju Island. This bingsu is called Jangdokdae (an area for pots of sauces and condiments) bingsu which is also often known as Cheonggukjang (quickly-fermented bean paste) bingsu. It comes with toppings such as sweet cheonggukjang gangjeong (fried glutinous rice crackers with sesame or beans), cheonggukjang powder and nuts. Since cheonggukjang is served in a fried cracker form, people tend to like it compared to the way it is normally served. Looking at this bingsu filled up to the brim of a jangdok, traditional Korean pottery, pot makes eating this bingsu much more fun! The main ingredients for jangdokdae bingsu are red beans, sliced almonds, various kinds of nuts, rice cake, cheonggukjang fried crackers, cheonggukjang powder and a secret snow bean sauce.
☞ Snow Bean: 702-41, Bijarim-ro, Jocheon-eup, Jeju-si, Jeju-do
☞ Hours: 10:00-20:00
☞ Menu: Jangdokdae Bingsu - 15,000 won (medium), 18,000 won (large)
☞ Phone: +82-64-784-8708 (Korean)
❺
Dark cacao flavored Oreo Bingsu
Located in Sinchon, Pop Container Café is crowded with customers every summer. The best item of this café is the tall, tower-like Oreo Bingsu. The bingsu extends high out of the bowl and is packed with shaved pieces of frozen milk and ice. It is decorated with cocoa powder and sugar powder making it look like a snow-covered mountain with an Oreo cookie peak!
☞ Pop Container: 70, Myeongmul-gil, Seodaemun-gu, Seoul
* Directions: Sinchon Station (Subway Line 2) Exit 2 or 3.
- Exit heading straight along Yonsei-ro.
- Take a right down the main thoroughfare about 200m ahead.
- Continue walking down this street for about 350m and the café will be on your right.
☞ Hours: Sunday to Friday 11:00–23:00 / Saturday 12:00–24:00
☞ Menu: Oreo Bingsu - 13,000 won / Original Pancake - 5,500 won
☞ Phone: +82-2-313-9979 (Korean)
*1330 Korea Travel Hotline: +82-2-1330 (Korean, English, Japanese, Chinese)

<Last updated, June, 2014>