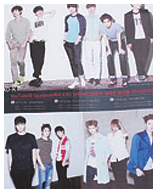 The Korean Wave has been heavily touted by the Korean government and press in the last few years as an influential cultural phenomenon both in Korea and largely across Asia. Yes, K-pop music blares from practically every source imaginable, celebrity faces are plastered on nearly every advertisement and whenever you spot a TV it's either broadcasting a drama or a music show. But is this force nearly as powerful as the entities involved in its creation and promotion would like us to believe? Is it really responsible for bringing people from across the globe to Korea? One visit to hallyu ground zero in Cheongdam-dong answers that question: absolutely.
Cheongdam-dong is an affluent area nestled between the river and Apgujeong Station, home to most of Seoul's high-end designer flagships. If you've got a loaded wallet or are carrying heavy plastic, it's a shopper's paradise. It's also the base of many of the major entertainment companies responsible for churning out all the K-pop. If you are a fan, it should be the first stop on any hallyu itinerary. And if you aren't, it is worth the trip just to see the unfolding of an intense cultural craze and get a glimpse into the curious and slightly absurd world of Asian fandom.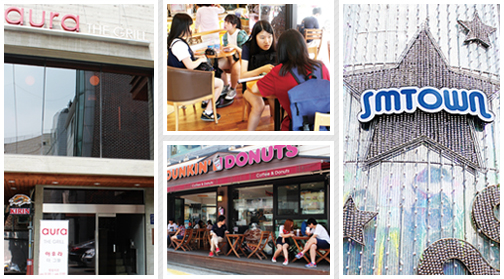 1—East Wing of Galleria Department store
This is the best place to start. Walk east for about six minutes toward Cheongdam Junction to find SM Entertainment on the left.
2—SM Entertainment
The largest entertainment company in Korea is home to K-pop heavyweights Super Junior, Girl's Generation, TVXQ, SHINee, BoA, f(x) and newbies EXO. Because of the global success of these artists, this is where the most international fans can be found parked outside the door or lining the concrete wall on the side of the building hoping to get a glimpse of their favorite stars. Befriend a Japanese girl armed with star-stalking maps to get more "intimate" with the area.
Continue east for about four minutes and turn left on Apgujeong-ro 79 gil, the street between Opera Gallery and Donna Karan. Past some eateries and wedding shops, on the right, is a Dunkin Donuts.
3—Dunkin Donuts
This is the hub of all visitor activity taking place in the area. Teenage fangirls occupy every available spot inside the establishment while fanboys hang out more nonchalantly on the terrace. It's probably the only place in the area where constant meandering in and out is tolerated, even if you don't buy anything. Manager Mun Young Su is incredibly friendly to the fans, often giving personalized tours of the interior that is lined with fan messages and autographed posters from the likes of 2PM, Miss A and 4Minute.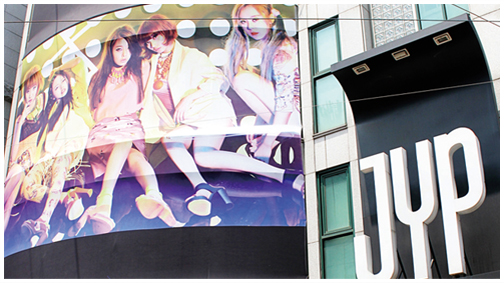 4—JYP Entertainment
Directly across the street from Dunkin Donuts is JYP Entertainment. This company became a force in K-pop as the home of Rain. He's since left the company but, with a roster that includes Wonder Girls, 2AM, 2PM, Miss A and newcomers JJ Project, is now more influential than ever. The garage walls include a massive post-it note collage begging for the return of Sunmi, who is on a hiatus from Wonder Girls while she attends university.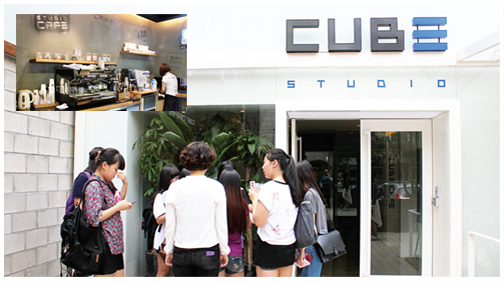 5—Cube Studio/Cube Café
Just up the block on the right is Cube Entertainment's newly opened practice studio space. The building is hard to miss, with a flock of Korean middle schoolers huddled outside staring at the giant screen displaying music videos. The first floor is a café with idol poster-lined walls and shelves of official merchandise. Stock up on sugary frappes, lattes and essentials like mugs imprinted with BEAST's lips before braving the pandemonium outside.
Cube Studio is the best place for interaction between artists and fans, so visitors make the café terraces and patio into temporary camping grounds. This is where the K-pop fury is truly unleashed. Any black vehicle that could potentially contain an idol sends a stampede of female fans hurling down the street. The scene is akin to something out of a zombie movie, and absolutely should not be missed.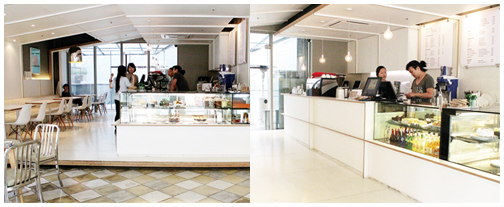 6—Cube Entertainment
The second floor of this building is the actual HQ of the company home to idols BEAST, A Pink, 4Minute and G.NA. It's one of the newer players on the block, but if the percentage of BEAST fans in the area is any indication, it's rising in prominence.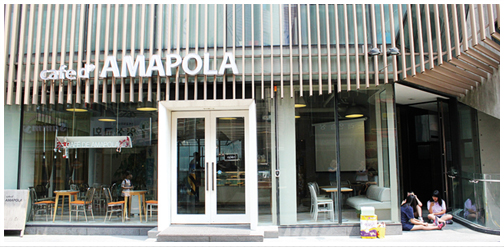 7—Amapola
This western-style café is an oasis in this K-pop land, offering relief from the intensity of the area. It's a very relaxed environment, with a bright, airy interior and a menu full of coffee and fruit beverages. Favorites include the patbingsu (crushed ice with milk, red bean paste etc), crème puffs and American-style shakes. Many executives and artists from the entertainment companies stop here for a pick-me-up, so fans are mostly kept outside.
Eat
► Cheapest: Gimbap Cheonguk, across from Amapola. Aside from the filling ramyeon and bibimbap, this is an ideal place for chatting up many of the fans.
► Classy: Aura The Grill—head back to Dunkin Donuts, hang a left and immediately find this Korean-style beef restaurant, owned by KARA member Nicole's mother, on the right. It's a bit more upscale than some of its neighbors and a preferred dining spot by the groups themselves, so don't expect to get in unless you make a reservation.
School Food is further up the street, on the left. It serves dishes traditionally found in school cafeterias like gimbap, tteokbokki, dumplings and soups but with upscale flair. It's also a 2PM favorite.

Buy
Head to Cheongdam-dong's nearby "Luxury Street" if high-end designer shopping is your thing.

See
Take a short taxi ride to nearby Horim Art Center (호림박물관) to enjoy its stunning architecture and current 30th anniversary pottery exhibition.

FYI
► http://global.gangnam.go.kr

More info. K-pop Singers
Shopping in Apgujeong & Cheongdam
Recommended Destinations in Seoul (Gangnam-gu)
Popular Snacks
Horim Art Center (Horim Museum Sinsa)