In Korea, the summer season brings to mind generous helpings of noodles served in chilled broths or topped with handfuls of ice cubes. Chilled noodle dishes like naengmyeon, kong-guksu, bibim-guksu, and memil-guksu are enjoyed all year round, but are particularly sought after during the sultry summer months. Keep reading to find out more about the best cold noodle restaurants in Seoul that serve up refreshing chilled broths, tender and chewy noodles, and mouthfuls of flavor.
Naengmyeon, a traditional Korean summer dish
Naengmyeon is a unique Korean noodle dish that springs up everywhere as people seek relief from the summer heat. Naengmyeon is largely divided into mul-naengmyeon and bibim-naengmyeon. Mul-naengmyeon consists of noodles served in a chilled broth with ice, while bibim-naengmyeon has noodles mixed with a spicy red chili sauce. Naengmyeon is so popular that practically everyone has a bowl during the hot summer months!

The most well-known type of mul-naengmyeon is Pyongyang naengmyeon and the most well-known type of bibim-naengmyeon is Hamheung naengmyeon, both of which are named after the North Korean cities where they originated. Pyongyang naengmyeon (buckwheat noodles served in a chilled meat broth) and Hamheung naengmyeon (noodles made of sweet potato starch mixed with a red chili sauce) have both become all-time summer favorites in South Korea.
Est. 1953
Heungnamjip in Ojang-dong
Specialty: Hamheung naengmyeon

Found along Naengmyeon Street in Ojang-dong (near the Jung-gu office district in Seoul) stands a popular Hamheung naengmyeon restaurant called Heungnamjip. In business since 1953, Heungnamjip is famed for its hoe-naengmyeon. In this unique sweet and sour dish, the noodles are topped with slices of raw and seasoned stingray and flavored with a mixture of sesame oil, vinegar, mustard, and sugar.

Stingray meat aside, what makes this restaurant stand out is its chewy noodles (made from 100% sweet potato starch) and its special soy sauce made from scratch at the restaurant. Don't let the raw fish deter you, the restaurant also offers other menu items such as bibim-naengmyeon topped with beef and a boiled egg. For the best of both worlds, try the seokkim (combination) naengmyeon, which comes topped with both beef and raw stingray.
☞ Menu: Hoe-naengmyeon, Bibim-naengmyeon, Seokkim-naengmyeon: 8,000 won
☞ Hours: 11:00-21:00 (Closed on the second and fourth Wednesday of each month)
☞ Direction: Euljiro 4-ga Station (Subway Line 2 or 5), Exit 8  Turn left at the Jung-gu district office and walk straight for about 100 meters
☞ 1330 Korea Travel Hotline: +82-2-1330 (Korean, English, Japanese, Chinese)
☞ Heungnamjip: +82-2-2266-0735 (Korean)


* Go to Ojangdong Heungnamjip (오장동 흥남집)
Est.1946
Woolaeoak
Specialty: Pyeongyang naengmyeon

Woolaeoak has been in business since 1946, preserving its original flavor for the past three generations. The broth of Pyongyang naengmyeon is usually flavored with beef or pheasant meat, but at Uraeok, the broth is made using only prime Hanu beef. A large piece of hanu is boiled for four to five hours and seasoned with only salt and soy sauce, giving the broth a hearty, yet simple taste. Those used to more complex flavors may find the broth plain at first, but are sure to come around to its rich flavor. It is this taste of consistent quality that brings people back for more.

Another popular dish at Woolaeok is the sunmyeon noodles. Made of 100% buckwheat flour, sunmyeon noodles have a rough texture and unique flavor. Surprisingly enough, sunmyeon noodles are not on the menu, but are readily provided by request.
☞ Menu: Pyongyang naengmyeon: 11,000 won (12,000 won if ordering with sunmyeon noodles)
☞ Hours: 11:30-21:30 (Closed on Mondays)
☞ Directions: Euljiro 4-ga Station (Subway Line 2 or 5), Exit 4  Turn right down the first alley
☞ 1330 Korea Travel Hotline: +82-2-1330 (Korean, English, Japanese, Chinese)
☞ Woolaeoak: +82-2-2265-0151~2 (Korean)

* Go to Woolaeoak (우래옥)
Est. 1939
Hanilkwan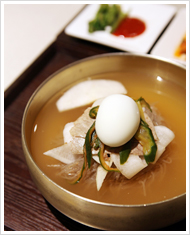 Specialty: Seoul-style naengmyeon

In business since 1939, Hanilkwan in Jongno remained a well-kept secret until the 1970s. The eatery's most popular item, bulgogi, has been a favorite of celebrities and even former presidents. Since the restaurant's mul-naengmyeon and bibim-naengmyeon are enjoyed with bulgogi, these items have also become big hits. The mul-naengmyeon in particular is unique since it is topped with seasoned cucumber and minced beef, a deviation from the standard mul-naengmyeon recipe.
☞ Menu
* Seoul naengmyeon: 10,000 won (available as mul-naengmyeon or bibim-naengmyeon)
* Lunch special: 18,000 ~ 19,000 won (orders taken from 11:00 to 15:00)
☞ Hours: 11:30-21:00 (Closed on holidays)
☞ Directions: Euljiro 1-ga Station (Subway Line 2), Exit 3 or 4, B1 of Ferum Tower
☞ 1330 Korea Travel Hotline: +82-2-1330 (Korean, English, Japanese, Chinese)
☞ Hanilkwan: +82-2-735-2002 (Korean)

* Go to Hanilkwan (한일관)
Kong-guksu, a nutritious and refreshing summer dish
Kong-guksu is one of the most nutritious summer dishes since it is it made largely of soybeans, which are nicknamed "the meat of the fields" thanks to their high protein content. To make kong-guksu, soybeans are soaked in water and then ground with a millstone to create a thick broth. Noodles are added and seasoned with salt resulting in an energy-packed dish that is as delicious as it is healthy. For an even more refreshing taste, kong-guksu is often topped with slices of cucumber and a handful of ice cubes.
Est. 1962
Jinju Hall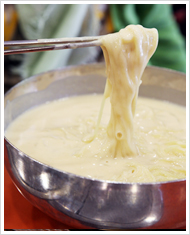 Specialty: Rich and nutty kong-guksu

Located near City Hall Station in Seoul, Jinju Hall is one of the most famous kong-guksu restaurants around. Served in a big stainless steel bowl, Jinju Hall's kong-guksu is unusually rich and has a deep yellow in color. The broth is made from soybeans grown in the pristine Gangwon-do Province and are without any artificial additives. The beans are soaked and ground using a special grinding machine.

Just like the broth itself, the noodles served at Jinju Hall also boast a savory, nutty taste. Made of flour, potato starch, buckwheat flour, peanuts, and pine nuts, the noodles are rinsed with cold water right after they're boiled to add an extra bit of chewiness.

Diners can order extra soybean broth at no additional charge. The broth can also be purchased separately for take-out.
☞ Menu: kong-guksu: 9,500 won, Kimchi jjigae: 7,000 won
☞ Hours: 11:00-21:30 (Opened year round)
☞ Directions: City Hall Station (Subway Line 2), Exit 9  Located about 50m away from the station behind the Samsung building
☞ 1330 Korea Travel Hotline: +82-2-1330 (Korean, English, Japanese, Chinese)
☞ Jinju Hall: +82-2-753-5388 (Korean)

* Go to Jinju Hall (진주회관)
Bibim-guksu, a spicy ,sweet , and chewy summer dish
This dish is great to have in the summer as it helps revive your appetite in the sweltering summer heat. Mainly made with a traditional Korean spicy sauce, sliced cucumbers, cabbages, and a cooked egg, bibim-guksu has a sweet, sour and spicy taste.
Est. 1964
Yurimmyeon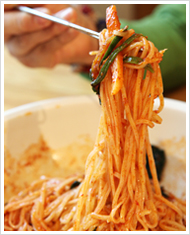 Specialty: Bibim-guksu topped with seven-grain powder

Located in Seosomun-dong, Yurimmyeon is one of the best bibim guksu restaurants in Seoul. This beloved restaurant continues to serve its famous recipe that has remained unchanged for the past 50 years. Noodles are made in-house and boiled to bring out a chewy texture. The main dish, which is particularly popular among the ladies, is bibim guksu, a dish topped with cucumbers, carrots, and julienned eggs and seasoned with a dressing sweetened with honey and sprinkled with seven-grain powder. The noodles are served with leeks, pickled radishes, mustard, broth, and sauce.
☞ Menu: Bibim guksu: 7,000 won / bibim memil: 8,000 won
☞ Hours: 11:00-20:30 (Open year round)
☞ Directions: City Hall Station (Subway Line 2), Exit 12  Hoa Binh Alley
☞ 1330 Korea Travel Hotline: +82-2-1330 (Korean, English, Japanese, Chinese)
☞ Yurimmyeon: +82-2-755-0659 (Korean)

* Go to Yurimmyeon (유림면)
Memil-Guksu
The last dish on our list of cold noodle dishes is memil-guksu (or memil soba), which is a type of buckwheat noodle dish served with a chilled dipping sauce made mainly of soy sauce. To complement the clean and nutty taste of the buckwheat, the dipping sauce is topped with grated radish, shredded dried laver (seaweed), and sliced leek for a more complex mix of flavors.
Est. 1954 Mijin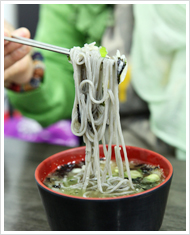 Specialty: Cool buckwheat noodles with ice

The tried and true recipe of Mijin's buckwheat noodles has remained unchanged ever since the restaurant opened nearly 60 years ago and still draws lines of customers every day during lunch and dinner. The restaurant's signature memil soba (buckwheat soba) is served with a dipping sauce made with dried anchovies, kelp, and bonito flakes and flavored with sliced leek, grated radish, shredded dried laver, and horseradish. The chilled sauce has such a deep flavor that you may find yourself running out of sauce before you finish your noodles. But have no fear, refills are unlimited. For a less salty version of this mouth-watering delight, simply remove the dried laver (seaweed) out of the sauce.
☞ Menu: Memil soba: 7,000 won, Bibim memil: 7,000 won, Hot memil soba: 7,000 won
☞ Hours: 10:00-22:00 (Open all year round)
☞ Directions: Jonggak Station (Subway Line 1), Exit 1, 1F of Le Meilleur Jongno Town
☞ 1330 Korea Travel Hotline: +82-2-1330 (Korean, English, Japanese, Chinese)
☞ Mijin: +82-2-732-1954 (Korean)

* Go to Minjin (미진)