The ultimate slow food, Korea's Buddhist dishes are a healthy—and spiritual—experience
Written and photographed by Robert Koehler
Temple food expert Ven. Dae Ahn, head of Balwoo Gongyang
The article courtesy of Seoul magazine
What is temple cuisine?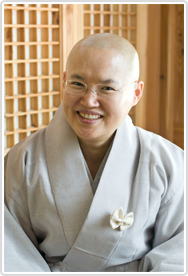 Quite simply, "temple cuisine" refers to all the food and drink consumed at temples where Buddhist monks and laity practice.
From the cultivation of individual ingredients to making the food itself, the entire preparation process can be seen as a part of Buddhist practice.
Temple cuisine is prepared with full sincerity, much like the foods that are offered in sacrifice to the Buddha. All dishes are shared and eaten equally.
With public interest in Buddhist cuisine on the rise, restaurants specializing in temple cuisine are opening across Korea, and there are now a variety of cooking classes where ordinary folk can learn to prepare Buddhist dishes on their own. Accordingly, it is now easier to experience Buddhist temple cuisine than ever before, although for the full experience, there's still nothing quite like eating it in a proper temple environment.
Balwoo Gongyang
Located on the fifth floor of the landmark Templestay Information Center across from Jogyesa Temple, Balwoo Gongyang offers the urban diner a superb chance to experience first-class Buddhist temple without having to trek to a temple on some distant mountainside. The restaurant takes its name from the meals eaten by Buddhist monks (and the Buddhist laity) at temples throughout the country. Overseeing the kitchen is Buddhist nun Ven. Dae Ahn, the founder of the Geumdang Temple Cuisine Culture Center, who has worked tirelessly to popularize Korean temple cuisine.
The minute you step inside, you know you're in for something special. The decor is appropriately Zen, creating a bright, simple atmosphere. If you're lucky enough to be sat in the Korean-style floor sitting section, you're treated to a panoramic view of the Jogyesa area through the plate glass windows.
The food here is, simultaneously, a work of art, an act of religious devotion and a gastronomical delight. Diners can choose from three menus: one consisting of 10 dishes, one of 12 and one of 15. In accordance with Buddhist tradition, all dishes are vegetarian; some ingredients change according to the season. The heart of the meal is the gongyang—for which the restaurant is named—which consists of rice, soup and side dishes (on a cultural note, at temples, the gongyang usually consists of four bowls—a rice bowl, soup bowl, side dish bowl and water bowl). Some of the dishes served are truly spectacular—particularly aesthetic is the yeongwachae (which comes with the 15-dish "Enlightenment" meal), an entire lotus blossom topped with a variety of vegetarian goodies. The rice, too, is served wrapped in a lotus leaf—a very nice touch.

T. (02) 2031-2081
Hours: 11am—2:30pm, 5:30pm—9pm
Prices: 25,000—50,000 won
Getting there: Exit 2, Jonggak Station, Line 1. Walk 70m to Jogyesa Temple. The Temple Stay Information Center is across the street. On the fifth floor of the Temple Stay Information Center. Serves Buddhist temple cuisine.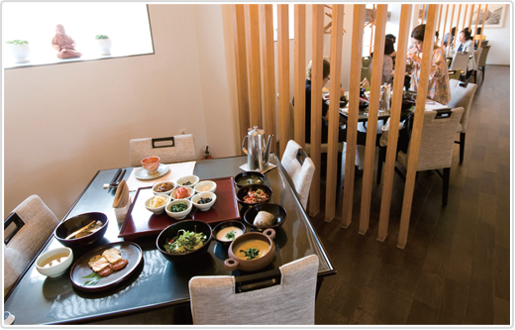 Ven. Dae Ahn
Born in the Korean culinary mecca of Jeonju, Ven. Dae Ahn entered the monastic life in 1986. She took an interest in the unique food culture of Korea's Buddhist temples, and was soon deepening her understanding through research and study. In addition to running Balwoo Gongyang, she is also the director of the Geumdang Temple Cuisine Culture Center in Sancheong, Gyeongsangnam-do, and the author of several books on Buddhist cuisine and healthy eating.
What's the secret to healthy cooking? According to Dae Ahn, there is no secret. "More than a secret, it's doing things as we had always done for a long time. We've been making food at temples for 1,700 years," she says. Especially important is knowing your ingredients. "Some vegetables have roots that spread without limit underground, while others flower aboveground," she explains. "This is to say, you need to look at the examine the characteristics of the vegetables and cook them; you just can't cut them all up with a knife. There are some you tear apart with your hands; others you steam whole and let dry. We try as much as we can to go with the flow of the vegetable energy instead of going against it. We accept the energy through the process of cooking."
As with all forms of religious devotion, sincerity and reflection are key. Dae Ahn says, "Rather than going to the market to buy already prepared ingredients, we take vegetables grown in our garden or picked from the mountains and prepare them with sincerity. Even while we are cooking the food, we should have a sufficiently merciful heart, we should make the food whole so that the person who eats it is fully happy. All of this is connected. Like if you pull on a net's cord, everything follows, we are all connected—animals, plants and people. In Buddhism, just because we are human doesn't mean we eat both animals and plants like prey in the food chain. What makes temple food different is that we have a boundary, background, fundamental of examining the fundamentals of the ingredients."
The article courtesy of Seoul magazine