Winter has arrived in Korea, and with it comes frequent forecasts of snow and freezing nighttime temperatures that make it is easy to see why people tend to spend more time indoors. However, Korea's winter activities offer plenty of great reasons to go outside. Ice skating and sledding are two of the most popular and affordable winter leisure activities and are loved by people of all ages. The winter cold will be a distant memory as you zoom down snowy hilltops or glide gracefully across the ice. So brave the cold this winter and visit an ice skating rink or sledding park to make some unforgettable winter memories in Korea.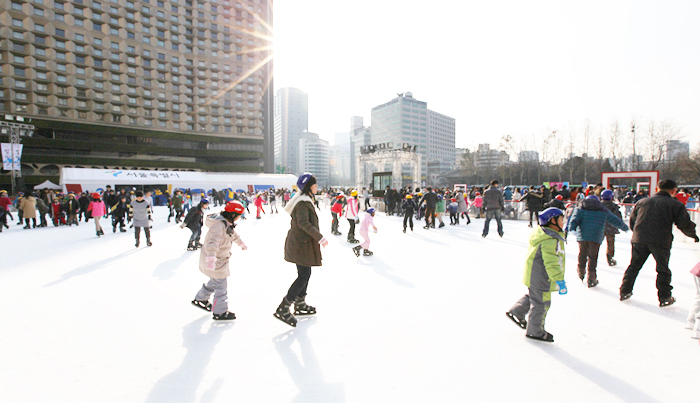 At Seoul Plaza, you can ice skate in the heart of Seoul's bustling downtown. The best reasons to go here are its central location, as it is easily accessible by public transportation, and the low admission price. And after skating, it is just a short walk to Gwanghwamun Square and the Insa-dong neighborhood, where one can enjoy a variety of other tourist attractions. The rink opens at 10:00 a.m. and the surface of the rink is cleaned and resurfaced for 30 minutes after every hour of skating. Skate rentals are included with admission.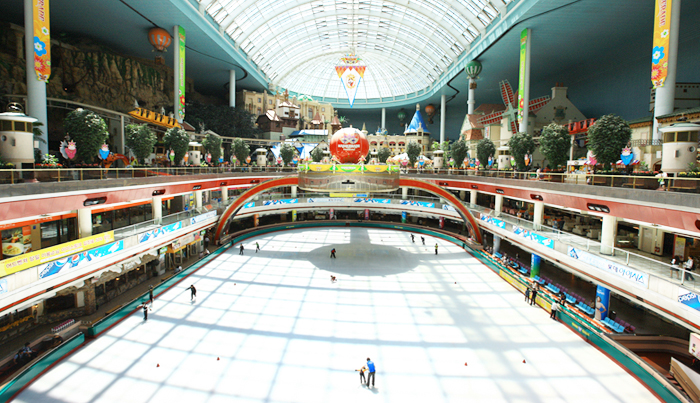 An indoor ice rink is located on the 3rd basement floor of Lotte World, one of the major amusement parks in Korea. A giant glass ceiling lets in natural sunlight while protecting skaters from the elements. At night, moving laser lights help create an even more exciting atmosphere. Around the ice rink are family restaurants and cafés where you can enjoy a nice cup of coffee or a pleasant dinner while enjoying the view of the rink. Upon presenting your ice rink ticket, you can get a 2,000 won discount if you also choose to purchase a Lotte World all-day ticket, so don't forget to enjoy all the other fun rides at Lotte World.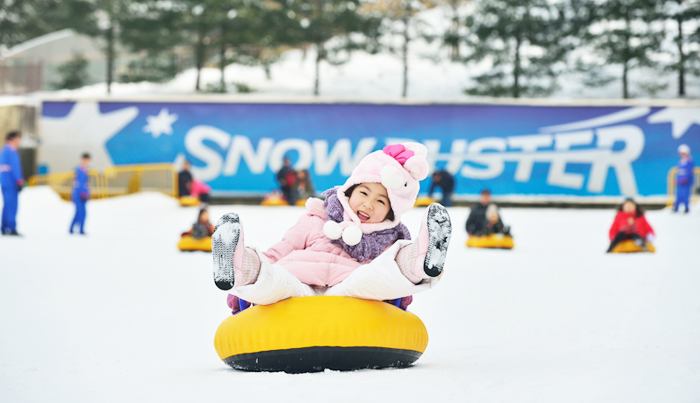 Photo credit: Everland
Everland Snow Buster, located in Yongin, Gyeonggi-do, has a wide variety of high-speed sledding runs. There are three slopes according to difficulty: Jungfrau, Eiger, and Monch Kid's Sled. Eiger, in particular, offers twice the exhilaration with its 200-meter curved slope. Family visitors can share a two-person sled or fly down the slopes solo in one-person sleds. The lift then tows riders back to the top of the run while they sit comfortably on their tube sleds, giving a relaxing ride to the top of the hill. Heaters are placed around the area for riders to warm up when needed.

As the Everland all-day ticket covers the Snow Buster, you may also want to enjoy the other fun rides of the amusement park after enjoying your sled ride. At night, fantastic light displays help create a unique evening atmosphere throughout Everland.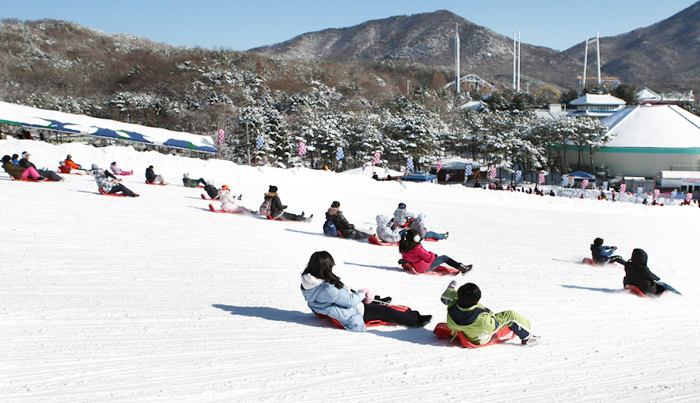 Photo credit: Seoulland
The Santa Sledding Hills at Seoulland, located in Gwacheon, Gyeonggi-do, is the ultimate experience for a family winter outing. This year's concept is focused around a cartoon character called Larva. Flat plastic snow sleds provide high-speed fun. For safety, separate courses have been created for adults and children. The children's slope, where parents may ride sleds with their children, is the most popular among families. Without an automated lift to take you up the hill, you may bring your own sled and walk up to the top for another run.

At the playground adjacent to the slope, you can enjoy winter fun while making a snowman or having a snowball fight. The playground also has a snow sledding ride area exclusively for toddlers and young children. The all-day pass for Seoulland covers the Santa Sledding Hills, but the general admission ticket does not. In this case, an additional 5,000 won (4,000 won for children) must be paid to enter the Santa Sledding Hills.
Other Skating & Sledding Facilities
<Skating Rinks>
Skating Rink
Period
Hours
Fees
Garden 5
Ice Rink
Dec 15, 2014 – Feb 22, 2015
Hosted by Seoul Foundation for Arts and Culture
Mon - Fri
12:40 - 21:00
Sat - Sun
10:00 - 22:00
*Admission
Children: 2,000 won
Youth: 2,500 won
Adults: 3,000 won
*Rental: 1,000 won
Olympic Park Ice Skating Rink
Dec 29, 2014 – Feb 8, 2015 (subject to change)
Mon - Fri
09:00 – 20:30
*Admission: 1,500 won
*Rental: 500 won (for 1 hour 30 minutes)
Mokdong Ice Rink
Open year round (closed on Seollal and Chuseok Holidays)
Mon - Fri
14:00 - 18:00
Weekends & National Holidays
12:00 – 18:00
*Admission (Weekdays / Weekends)
Children: 3,000 won / 3,900 won
Youth: 3,500 won / 4,500 won
Adults: 4,000 won / 5,200 won
*Rental: 3,000 won (for 2 hours), 1,000 won per extra hour
Grand Hyatt Seoul Ice Skating Rink
Dec 6, 2014 – Feb, 2015
Mon - Fri
12:00 - 21:00
Weekends & National Holidays
10:00 – 21:00
*December 20 to January 25 10:00 - 22:00
*Admission
Weekday: 26,000 won
Weekends & National Holidays: 30,000 won
*Rental: 20,000 won
(includes tax, 2-hour rate)
Korea University Ice Skating Rink
Open year round
(Closed on Seollal and Chuseok Holidays)
Mon - Fri
14:00 - 16:50
Sat - Sun
14:00 - 17:50

*Summer / Winter Vacation Period
Mon - Sat: 13:00 - 17:50
Sun: 14:00 – 17:50
*Admission
Adults: 6,000 won
Youth: 5,500 won
Children: 5,000 won
*Rental: 3,000 won
I' Park Mall Ice Rink
Dec 5, 2014 – Feb, 2015
(closing day yet to be determined)
Sun – Thu
10:00 - 21:00
Fri - Sat
10:00 - 22:00
*Admission
2,000 won (including rental fee)
* Make sure to wear gloves.
* Periods and hours may vary in the event of unexpected circumstances or conditions.

Last updated on December 16, 2014