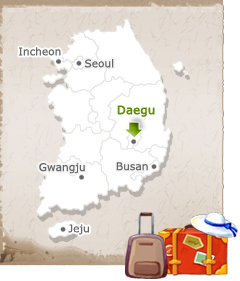 Daegu is a metropolitan city in Gyeongsangbuk-do (southeastern part of Korea) close to the cities of Gyeongju and Andong. Nestled into a valley with mountains on practically every side, Daegu was once notorious for its sultry summer weather. In an effort to rectify this naturally sticky situation, the city government planted numerous trees along the city streets, improved the river flow, and built parks and fountains throughout the area. Though still rather muggy in the summer, Daegu has the image of being a clean and environmentally-friendly city.

Though not as widely publicized as the capital city to the north, Daegu is a big city with a large population. With the exception of beaches, the city offers practically everything you could ever want in a Korean travel destination—mountains, temples, historical sites, and a beautiful natural landscape. The city has an advanced textile and fashion industry and is known for its medical tourism and Oriental medicine. Daegu's advanced textile and fashion industry has made the city a forerunner in fashion and its downtown commercial districts is filled with young fashionistas strutting their stuff and showing off in the latest fashion ensembles. The city is so well known for its fashion forward thinking that it is the first place fashion designers go to gauge consumer reactions to new styles and products.

Walking along the unique streets and alleyways of Daegu is an adventure in and of itself. Cultural relics are tucked between modern buildings and there's plenty to see and do. The modern culture tour that traces the city's last hundred years of history draws a large number of visitors every day.

Daegu offers so many attractions that it cannot be defined by one color or flavor. So if you're looking for a smorgasbord of sightseeing, head to Daegu for a rainbow of diversity.

* During the 2011 'Visit Daegu Year,' the IAAF World Championships will be held at the Daegu Stadium from August 27 to September 4, 2011.