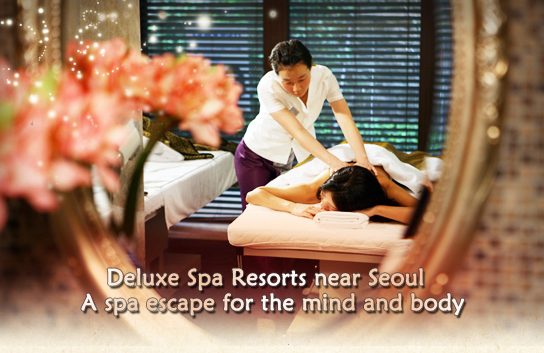 'Healthy living' is a popular discussion topic all over the globe and especially in Korea. One way (among many) that Koreans stay healthy is by taking plenty of trips to the spa to relax, unwind, and heal the body naturally through various treatments and long soaks in the tub. Spa services continue to gain in popularity and are popping up all over the nation; visitors to Korea can find luxury spas at almost every international hotel and major resort.

There are a variety of spa treatments and facilities available, including traditional indoor hot springs, open air hot springs, waterparks, hotel spas in downtown areas, and spa resorts. Resort and hotel spas offer the added benefit of convenience, providing guests with pampering throughout their entire stay. Keep reading to find out more about Seoul's deluxe resort spas.


Konjiam Resort's 'Spa la Spa' is a recreational spa with a focus on health. Along with a Family Spa, customizable Wellness Spa programs, an indoor pool, and an outdoor pool, the spa offers a variety of bade pools with different water levels and water jets. Visitors will also find a few unusual rooms at the spa such as the 'Hay Room,' where you can relax on a pile of hay while listening to music, and the 'Sahara Room,' a sand spa that simulates a desert environment.

Wellness Spa programs aim to balance the body and mind and are customized for each visitor. Programs are categorized by program duration (three, six, or twelve hours) and include nutrition, exercise, and stress management therapies. Designed for those who are new to the spa experience or want deep relaxation in a short period of time, the three-hour program features stretching in warm water, stone and aroma oil healing therapy, a healthy snack offered by Spa Cuisine (the special restaurant at the spa), and therapy using colored lights.

Konjiam Resort
Located in Gwangju-si in Gyeonggi-do, Konjiam Resort has one of the largest ski courses in the metropolitan area, 476 guestrooms, and a variety of facilities such as a spa and a golf course spanning 1.5 million square meters. Konjiam is only an hour away by car from Gangnam in Seoul and is packed with skiers in the winter. If you're looking for a great spa destination, visit the resort in the off-season for hiking, forest bathing, a visit to the cave wine cellar, and luxury dining. State-of-the-art banquet halls are also available for conferences and special events.

Related Columns:
- Spa Trips in Korea
- Ski Resorts in Korea - Near Seoul
- Spas - A luxurious treat for your body and mind

Location: Gyeonggi-do Gwangju-si Docheok-myeon Doung-ri San 23-1
Tel: +82-31-8026-5600
1330 tt call center: +82-31-1330 (Korean, English, Chinese, Japanese)
Click here for Spa la Spa [Konjiam Resort]
Click here for Konjiam Resort
Directions:
Seoul → Konjiam Terminal
- Gangbyeon Station (Subway Line 2), Exit #4 >> Take bus No.1113-1
- Jamsil Station (Subway Line 2, 8), Exit #6 >> Take bus No. 500-1
*The bus stop is located along the median in the middle of road
- Gangnam Station (Subway Line 2), Exit #3 >> Take bus No. 500-2
Konjiam Terminal → Konjiam Resort
Take the shuttle bus (every hour, on the hour from 9:30 am) or a taxi (10 to 15-min. ride)
Homepage: www.konjiamresort.co.kr (Korean, English)