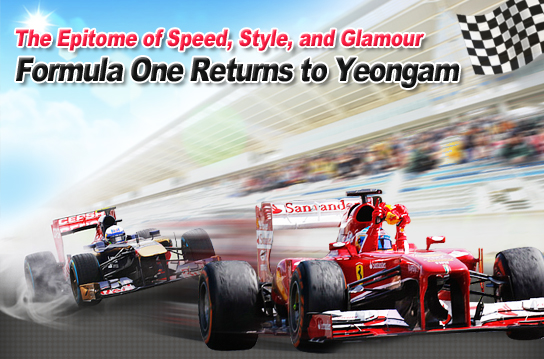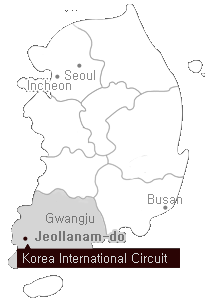 Photo courtesy of F1 Korean Grand Prix Organizing Committee



The Formula One (F1) Korean Grand Prix will return to the Korea International Circuit (KIC) in Yeongam, Jeollanam-do Province from October 4-6.

Formula One is a large-scale auto racing event that holds races all over the world. F1 is recognized as one of the major global sporting event. The F1 Korean Grand Prix, now in its fourth year, is scheduled to be held for three days. On October 4, 2013, racers will conduct morning and afternoon practice sessions. Through the practice laps, competitors check racing conditions, the circuit, and their vehicle. On Day 2 (October 5), there is another practice session in the morning and a qualifying race in the afternoon. The qualifying lap is split into three sessions where the top 24 racers get assigned their grid positions. October 6 is the day of the big race.

The cars assemble on the starting grid in the order they qualified, ready to race 55 laps on the 5.6km circuit for a total race distance of 308 kilometers. Tensions rise as the race unfolds. With the cars racing at speeds exceeding 200 kilometers per hour, it is hard to take your eyes off the action. The top ten finishers will have points added to their overall championship rankings. The top three finishers are celebrated at the winner's podium, and their national flags are raised.

Following PSY's passionate performance last year, the 2013 F1 Korean Grand Prix will welcome visitors with an abundance of colorful events including K-pop performances and a spectacular air show by the international air show winning "Black Eagles," a flight demonstration squadron of the Korean Air Force. Other planned performances include the Korean TV channel MBC's "Show! Music Core", a K-pop music show, on October 5, and performances from 2PM and SISTAR on October 6. Also, the nearby city of Mokpo will hold some events such as the "F1 Korea Rock Festival" and a performance of "Barbiere di Siviglia" by the Korea National Opera.

With performances aplenty and the autumn foliage and serene Yeongamho Lake providing a scenic background for the KIC, there is no reason to miss the thrilling auto races at the 2013 F1 Korean Grand Prix!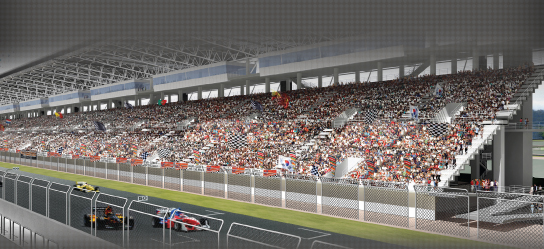 ▶ High Stakes at F1 Korean Grand Prix
The F1 Korea Grand Prix is the 14th round in the 19-race F1 World Championships. At the end of the championships, results from each race will be tallied to determine the winners of the Drivers' Championship as well as the Constructors' Championship.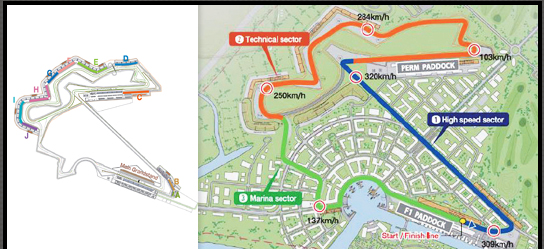 ▶ About the Korea International Circuit (KIC)
Race circuits, comprised of several sections as diverse as the cars that race them, serve as a testing ground for the ultimate speed challenge. At 5.615km in length, the Korea International Circuit (KIC) poses unique challenges to the world championship racers and their crews and provides exciting entertainment for thousands of spectators.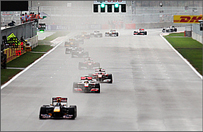 1. Longest Straightaway
The KIC is comprised of two sections: a temporary street circuit used for major races like the Grand Prix, and a 3.045km permanent track, which is open all year round. It also features Asia's longest straightaway, where a recent F1 practice simulation run reached top speeds of 320km/h.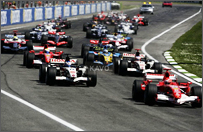 2. Unconventional Track
Unlike the majority of the F1 circuits, the KIC is a counter-clockwise track, which brings additional challenges to the racers. Other counter-clockwise circuits include the Istanbul Circuit in Turkey, Singapore Circuit, Yas Marina Circuit in the United Arab Emirates, and Sao Paulo Circuit in Brazil.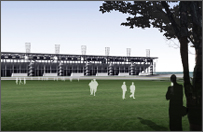 3. Modern Facilities with a Touch of Tradition
The KIC is one of the most highly advanced circuits in the world. Its track was built in a dual, hybrid structure to allow its length to change according to the race. At the same time, it incorporates elements of Korean traditional architecture in its design. For instance, the main grandstand of the circuit features a roof that resembles the eaves of a hanok (a traditional Korean house). These traditional touches do not hinder the facility's pr acticality as the large venue ground can accommodate up to 120,000 spectators.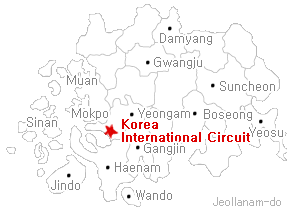 ▶ Nearby Tourist Attractions
Yeongam is home to a number of cultural and natural attractions, including Wolchulsan National Park, the Historical Site of Dr. Wangin (Baekje Dynasty scholar), Gurim Maeul (2,200-year-old village), Dogapsa Temple on Wolchulsan Mountain, and a pottery museum. For more sightseeing you can visit other major cities in Jeollanam-do Province such as Mokpo, Jindo, Suncheon, Boseong, and Gwangju, which are all located within one to three hours by car from Yeongnam. The nearby city of Gwangju will be hosting a kimchi festival on October 5-9, and a design biennale from September 6 to November 3.


Recommended Tourist Attractions
Yeongam – Wolchulsan National Park, Historical Site of Dr. Wangin, Yeongam Gurim Maeul (Village), Yeongam Pottery Museum, Dogapsa Temple

Mokpo – National Maritime Museum – Home to the nation's only institute for underwater archeological research & maritime cultural heritage, Mokpo Gatbawi Rock

Jindo - Dorisan Mountain Observatory - Offers panoramic views of the Dadohae islands, Jindo Bridge

Suncheon - Suncheonman Bay - Coastal wetland area of incredible beauty and ecological value Suncheonman Bay Ecological Park, Naganeupseong Folk Village

Boseong - Daehan Dawon (Daehan Daeop Tourist Tea Plantation) - Views of expansive mountainside green tea fields

Slow Cities – Jeungdo Island, Cheongsando Island, and Samjicheon Village in Damyang – Take a breather from modern life in Korea's relaxing "slow cities."

Gwangju – Gwangju World Kimchi Culture Festival - Experience over 100 types of Korean kimchi, Gwangju Design Biennale


Related Tour Websites of Jeollanam-do:
Mokpo City Tour
Slow City - Jeungdo Island
Jeollanam-do Tour Website (Korean, English, Japanese, Chinese)



Related Columns:
Suggested Tour of Yeongam-Mokpo area of Jeollanam-do Province
Jeollado's coastal jewel, Suncheon City
Suncheon, unwind amongst nature
Wonders of nature: Incredible Biodiversity at Suncheonman Bay!
DAMYANG - A garden without bamboo is like a day without sunshine

More Info
2013 F1 (Formula One) World Championship Korean Grand Prix
☞ Period: October 4 - 6, 2013
☞ Venue: Korea International Circuit (KIC) (Jeollanam-do Yeongam-gun)
* * Race Schedule

October 4, 2013
October 5, 2013
October 6, 2013
Practice 1 10:00-11:30
Practice 2 14:00-15:30
Practice 3 11:00-12:00
Qualifying 14:00-15:00
Race 15:00-17:00

☞ Ticket Sales
* Online
1. Auction (Korean, English, Chinese, Japanese)
2. Gmarket (Korean, English, Chinese, Japanese)
*Phone: +82-61-288-5152 (Korean, English) / Auction: +82-1566-1369 (Korean)

☞ How to book: http://ticket.auction.co.kr (Korean, English, Chinese, Japanese)
☞ Inquiries: +82-1588-3448 (Korean, English)
☞ Transportation & Accommodation: http://f1lod.koreangp.kr/ (Korean, English, Japanese, Chinese)
☞ 1330 Korea Travel Hotline: +82-2-1330 (Korean, English, Japanese, Chinese)
☞ Official homepage: http://www.koreangp.kr (Korean, English)





** What is F1? **
The Formula One World Championship is the premier single-seater auto racing competition sanctioned by the Federation Internationale de l'Automobile (FIA). Simply called Formula One or F1, the championship consists of 17 to 20 Grand Prix events held every year at select circuits around the world. "Formula" refers to the set of rules that participating cars must comply to. Modern F1 cars are single-seat, open-wheel race cars constructed by the racing teams themselves. At the end of a championship, results from each grand prix are tallied up to determine the winners of the Drivers' Championship and the Constructors' Championship.

Last updated in September, 2013