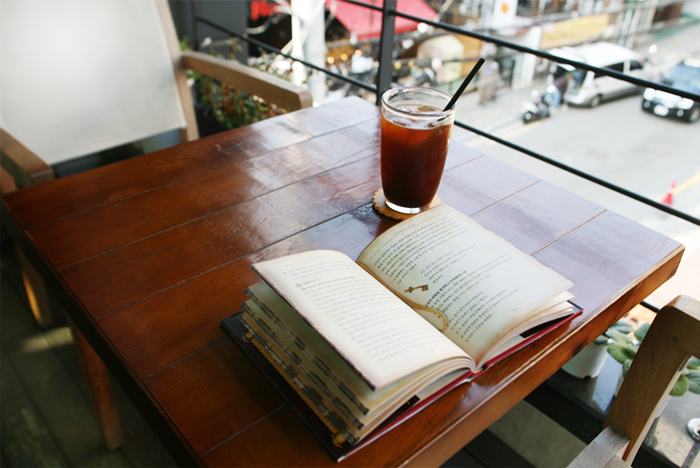 While heading for famous vacation spots bustling with people might be some people's cup of tea, why not make this summer special by finding unique getaways in the city far away from the army of parasols along the coast? Keep reading for some Seoul summer spots filled with cool entertainment, chilling air-conditioning, and iced coffee drinks!
A cultural space pushing the boundaries of art, SJ Kunsthalle

Photo credit: SJ.Kunsthalle
Uniquely built out of 28 ISO cargo containers, SJ.Kunsthalle serves as a culture hub for non-mainstream artists and other sub-cultural campaigns. The exterior, made of construction materials, aptly expresses the philosophy of the group to break stereotyped ideas for a more open line of communication. In that sense, SJ.Kunsthall is a special cultural space that values exhibition itself rather than space.
Since its opening, this unique cultural space has drawn visitors of all backgrounds as it often hosts events that cross cultural barriers, turning and shifting its functions into a gallery, bar, café, workshop, party venue, club, performance space, or even library. To give back for all the popularity it has received, the exhibition spaces from floor 1 to 4, which were previously limited to artists, have now combined and opened for the public's viewing. Its walls are painted white, which offers up a cool effect and even a futuristic aura at some points, giving visitors a unique experience while inside of SJ.Kunsthall.
Besides the cool galleries, cultural programs and impressive works of young up-and-coming artists to browse, the space is also known for quality eatery choices. Lots of unique dining brands from the Itaewon area are introduced here, adding more reason for you to pay a visit.
Combining art and Hongdae's youthful vibe, Sangsangmadang Hongdae

Located in Hongdae, Sangsangmadang is a multi-cultural space run by KT&G. KT&G Sangsangmadang Hongdae is housed in an eleven-floor building with seven above ground floors and four below ground. The building features a theater, performance hall, design shops, galleries, studios, and cafes.
Come and enjoy exhibitions, performances, movies, and other activities in this cultural space that radiates creative ideas. Visiting Hongdae's Sangsangmadang is a great way to escape the sizzling summer heat of Seoul. Note that the cafes, galleries, and design shops do not open until noon.

The Design Square on the first floor shines with unusual style and original ideas. All the design products on exhibit are for sale. The gallery on the second and third floors features special exhibitions with a different theme each time, such as media art, illustration, or calligraphy. Most works are from emerging artists. The exhibitions are organized in tandem with performances, seminars, or concerts to further engage the public into the exhibitions.
The theater on the fourth floor of the basement level is dedicated to independent artistic films from various countries. Visitors can enjoy rare movies with a unique theme in a cozy environment that is very different from the average, large and impersonal multiplex theaters.
Landmark of Seoul, 63 Square

Photo credit: Seoul 63 Square
Seoul 63 Square offers a variety of entertainment choices under one roof. Proudly known as a landmark of Seoul, the building has become an indoor theme park in the busy bustling city offering the convenience of strolling through the various leisure and entertainment outlets along with restaurants. An added bonus is the nearby Hangang River Ferry Cruise. Make a plan to finish your active day of entertainment at the square on a relaxing note, by watching the beautiful night view of Seoul on a cruise.
63 Wax Museum, located in the basement level, presents a total of 70 wax models in 10 different sections. Also, stop by 63 SeaWorld for a visit to the more than 20,000 marine lives of 400 different species, coexisting in the water tanks. The aquarium has gained popularity with "Go Go Adventures," where guests can see playful otters in a three-dimensional aquarium, and the "touch pool" area, a semi-open enclosure perfect for observing penguins directly in front of visitors' eyes.
63 Sky Art Museum, at the height of 240m, is the only place in the city to appreciate art exhibitions and the beautiful night scenery of the Hangang River at the same time. Sipping a cup of tea while gazing at the city's beautiful nightscape and appreciating art pieces will truly make for a perfect getaway from the hectic lives of city dwellers.
Big city underground, COEX Mall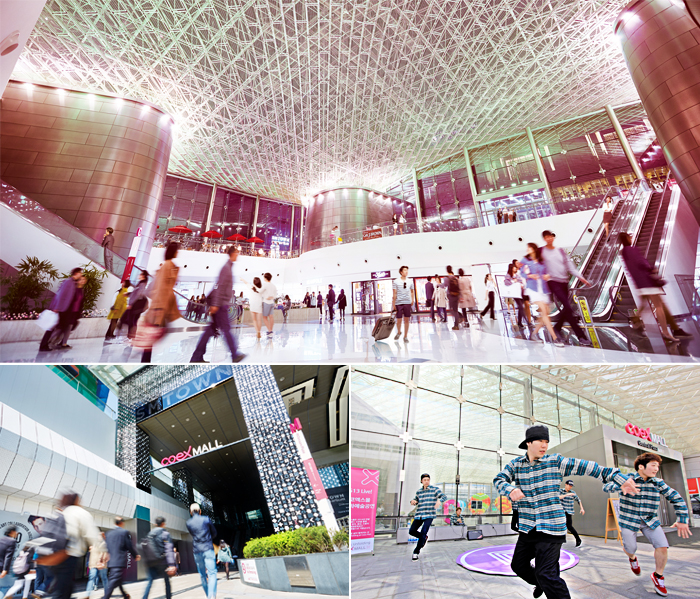 Photo credit: COEX Mall
COEX Mall is the largest underground shopping mall in Asia and is also a culture platform mixed with art, business, shopping, and sightseeing. The place is comprised of 5 plazas of different themes, offering global and domestic fashion brands, electronic goods stores, gift shops featuring popular cartoon characters, kid's cafés and more. Visitors can take a break between shopping and partake in a variety of street and guerilla (pop-up) performances as well as exotic exhibitions throughout the center's grounds.
Hallyu stars await your visit to SM Town, which is located next to the main entrance of Parnas Mall. You may even get to have a surprise meet and greet session with your favorite idol stars of SM Town, such as TVXQ, SHINee or EXO, as they frequent the place to record songs and have profile shootings for upcoming album releases. Don't feel too disappointed if you miss the chance! Meet them through vivid hologram concerts, showing real concert footage with amazing music in the background. In addition to the concert, pictures of SM's talented artists line the walls of this building, so there are plenty of photo ops anywhere you go.
Exploration of COEX Mall is not complete without trying the plethora of drinks and munchies available! The variety of food options this mall has is perhaps what makes visiting here even more tempting. From 300 outlets in total, 90 of them are gourmet stores coming from hot places in Itaewon and Sinsadong's Garosu-gil areas, all tested for great tastes.
A landmark of Korean design, Dongdaemun Design Plaza (DDP)

Dongdaemun Design Plaza (DDP) opened its doors to the public in March 2014. The acronym DDP also stands for "Dream, Design, Play," and represents the plaza's function as a multi-purpose design center that aims to foster innovation, creativity and talent. Designed by renowned Iraqi-British architect Zaha Hadid, the building is characterized by the lack of straight lines, a curved shape, and a three-dimensional atypical architecture that makes everything in sight blend seamlessly.
From the curved windows to the coiling staircase, the absence of angles gives the impression that there is no beginning or end. The interior is divided into five themed areas that serve as an international meeting venue, a concert hall, and a learning space supporting children's creativity and imagination. At the Design Market, visitors can find restaurants, cafes, and multi-brand shops.
Escape the heatwave on ice, Lotte World Indoor Ice Skating Rink

Located on the third basement level of Lotte World Theme Park, the indoor ice skating rink is open year-round. This rink is popular both in winter as well as in summer, when the ice provides a refreshing retreat from the heat. Seats are available around the rink and the rink-side restaurants serve up delicious international cuisine. A trip to Lotte World Indoor Ice Skating Rink is a great one-day getaway for all.
Last updated on June 22, 2015
* This column was last updated in June 2015, and therefore information may differ from what is presented here. We advise you to check details from the official websites before visiting.