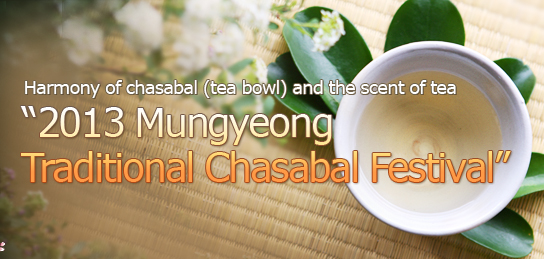 Spring in Korea is the season of flowers, mild weather, and plenty of unique and interesting festivals. Among them is the Mungyeong Traditional Chasabal Festival, held from April 27 to May 5, 2013 in the Mungyeongsaejae area of Mungyeong city.
The 2013 Mungyeong Traditional Chasabal Festival program features exhibits including "International Exchange Exhibition for Chasabal," the "Excellent Mungyeong Traditional Ceramic Ware Exhibition," and the "National Grand Chasabal Contest." At the festival, visitors will be met with rows upon rows of tea bowls (locally called "chasabal" / "찻사발") produced by the nation's leading ceramic masters, as well as prizewinning tea bowls from local ceramic contests. In addition to the surprising diversity of forms and functions of the chasabals on display and at the market, visitors will be able to make their own ceramics pieces, participate in tea programs, and take part in a range of other experience programs.
The festival venue, " Mungyeongsaejae," is an area near an ancient road through a mountain pass built during the Joseon Dynasty (15th century). The pass once connected Gyeongsangbuk-do Province and Hanyang (old name of Seoul) and was the fastest and most traveled route across the mountain during the Joseon Dynasty. It was often traveled by seonbis (Confucian scholars of the Joseon Dynasty) on their way to Hanyang (Seoul) to take gwageo (the highest-level state examination to recruit ranking officials during the Joseon Dynasty). Today, the area from Gate 1 to Gate 3 of the pass is a provincial park.




From the second your hands touch the clay on the potter's wheel, you will begin to see how much skill and care is needed to make even the simplest of clay forms. Every move of your hands and spin of the potter's wheel helps transform your lump of clay into a finished piece. After your piece is done, leave it at the pottery experience area to dry and stop back to pick it up on your way home. The participation fee for this activity is only 3,000 won (cash only), so it's a great opportunity for visitors to enjoy a unique experience and take home a handcrafted souvenir.




This is an opportunity to decorate and take home your own chasabal. Using glazes and a brush, paint or write letters on a chasabal. Don't forget to put your name or initials on the bottom to indentify your piece. Once the painting is done, the bowl will be set out to dry and will be fired later in the kiln. The final product will be sent to the mailing address you provide. The participation fee for this activity is 10,000 won, plus an additional 5,000 won for shipping.




Dado (traditional tea ceremony) is held on a drama filming set in Mungyeongsaejae, in traditional hanok houses. Take a seat on the floor and relax as volunteers wearing hanbok (traditional Korean costumes) brew tea and serve you in accordance with traditional etiquette. Choose from a variety of Korean teas: omija (five-taste) tea, dandelion tea, green tea, or lotus leaf tea. Enjoy your complimentary tea with tteok, traditional Korean rice cake, once the nation's favorite snack. The omija tea comes highly recommended, as it is a specialty of the Mungyeong region. Visitors can also sample makgeolli (traditional rice wine) and rice cakes made with omija.




Locally, the process of roasting tea leaves is called "deokki." Leaves are roasted in a heated cauldron and flipped over to ensure they are roasted evenly on both sides. This process is said to be the key to making delicious tea since the roasting releases the full, rich taste of the leaves. Of course, leaves in the kettle are extremely hot so it's always necessary to wear gloves when turning over the tea leaves. After roasting the leaves, enjoy the fruits of your labor with a cup of wild green tea. Participation in this program is free of charge.




Although the festival is held mainly at the area around Gate 1 of Mungyeongsaejae Provincial Park and the park's drama filming set, visitors who enjoy trekking are strongly encouraged to take the trail up to Gate 3. Along the trail, visitors will see pavilions, a waterfall, a spring, and a jumak (small taverns serving food, liquor and place to sleep) that was once used by seonbis (Confucian scholars of the Joseon Dynasty) on their way to the capital. The trail takes about five hours roundtrip, so be sure to start early in the morning (Gate 1 - Gate 2 - Gate 3: 13km roundtrip).

More info

2013 Mungyeong Traditional Chasabal Festival
Date: April 27 (Sat.) - May 5 (Sun.), 2013


Place: Mungyeongsaejae KBS Drama Studio and Mungyeong Ceramic Museum in Mungyeong-si, Gyeongsangbuk-do


Admission fee: 5,000 won
- A 3,000 won coupon will be given with each purchased admission ticket. The coupon can be used for the festival (experience programs, food and beverage purchases etc.)
- Tickets are available on site. Cash only.


Transportation:
Seoul → Mungyeong
Dong Seoul Bus Terminal(Gangbyeon Station, Subway Line 2) → Mungyeong Intercity Bus Terminal (2-hour trip; first bus at 06:30; last bus at 20:00; buses run every 60 minutes; fare: 11,900 won / Fares and bus schedules are effective as of April 2013)


Accommodations: There are many accommodation facilities nearby, including the Mungyeong Tourist Hotel, STX Resort , and the
Mungyeongsaejae Youth Hostel.

List of accommodations in Mungyeong (English)


1330 Travel Hotline: +82-2-1330 (Korean, English, Japanese, Chinese)


Official website of the Mungyeong Traditional Chasabal Festival: http://www.sabal21.com/(Korean, English, Japanese, Chinese)

Official website of tourism in Mungyeong:http://tour.gbmg.go.kr
(Korean, English, Japanese, Chinese)


Related column: Mungyeong, Trails of History and Tradition

<Last updated on April 2, 2013 >