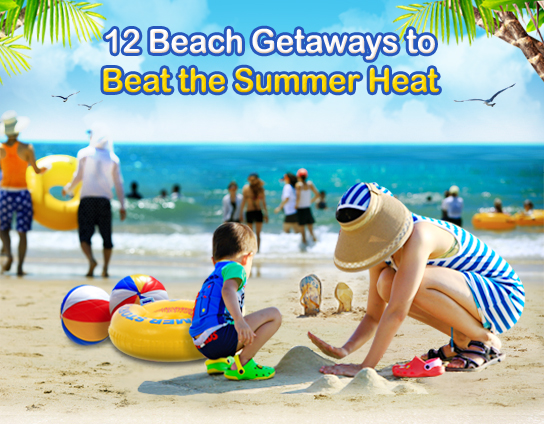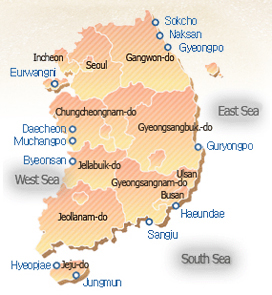 If you're planning on vacationing in Korea this summer, a visit to one of its many beaches is an absolute must! Korea is surrounded on three sides by water and has plenty of beaches in a variety of shapes and sizes that offer a welcome escape from the summer heat, which can reach temperatures of over 30 degrees Celsius. Since most beaches in Korea officially open in June or July and close towards the end of August, visitors have only a few months to splash around in the water and soak up Korea's beach culture. Don't worry though if you can't visit during the summer season—there are plenty of beachside festivals, water sports, and events all year round!

Donghae (East Sea – sea of beauty)
The East Sea (Donghae, 동해), known for its clear waters and expansive, white sandy beaches, is one of the most popular summer vacation spots in the nation. People come from far and wide to catch the stunning view of the sun rising over the East Sea and most beaches in the area even hold an annual Haedoji (해돋이, Sunrise) Festival. Though these festivals only take place in the wee hours of New Year's Day, the sight of the sun slowly peeking over the ocean's horizon is a mesmerizing sight any day of the year.


Sokcho Beach
in Sokcho, Gangwon-do Province
Sokcho Beach (속초해수욕장) is well known for the picturesque pine trees that stand proudly along its white sandy coast. One of the perks of this particular beach is that there are many tourist attractions in the surrounding area including Yeongnangho Lake and Mt. Seoraksan (설악산), one of Korea's most famous mountains.

Given the beach's range of facilities (parking lots, campsites, and accommodations), Sokcho Beach is a convenient place a weekend trip. Visitors can even rent a pole and go fishing at nearby Jodo Island or walk towards the pier to get some fresh sushi at one of the local fish markets. One of the biggest draws of Sokcho Beach is that it is located only 500 meters from the Express Bus Terminal, making it easy to find for even first-time visitors.

Festivals held at Sokcho Beach include the Haedoji (Sunrise) Festival on January 1 of every year and the Sokcho Beach Festival, held mid-July to early-August of every year.

☞ Opening Date: July 1, 2013
☞ Beach Stats: Sand: White / Length: 700m / Width: 50m / Area: 29,000㎡
☞ Visitor Facilities: Shower rooms (2) (max. occupancy: 240 each), locker room, RV campsite (about 12000㎡), volleyball court, small soccer field, jokgu (Korean foot volleyball) field, outdoor stage, parking lot (capacity: 300 small cars, 70 large cars), beachside walkway (1.2㎞), & information center (Korean, English, Japanese, Chinese)


Gyeongpo Beach
in Gangneung, Gangwon-do Province
Gyeongpo Beach (경포해수욕장) is the largest beach on the east coast and is only about a kilometer away from Gyeongpodae Pavilion (경포대), which is famous for its sunrise view. Perhaps the most striking characteristic of Gyeongpo Beach, however, is its fine powdery sand, which is perfect for romantic barefoot walks along the beach.

Beach activities include banana boating, jet skiing, and waterskiing. For a more relaxed pace, take the Gyeongpo tourism carriage (10,000 won for adults; cash only) around Gyeongpodae for some sightseeing. In addition to the annual Summer Beach Art Festival, held towards the end of July, there are also a number of cultural events and folk performances held throughout the year.
☞ Opening Date: July 13, 2013
☞ Beach Stats: Sand: White & Powdery / Length: 1.8km / Width: 80m / Area: 144,000㎡
☞ Visitor Facilities: Shower room (80 shower stalls), locker room, campgrounds (2,800 campsites), RV campsite (23000㎡), drinking fountain, & parking lot (capacity: 1,000 cars)


Naksan Beach
in Yangyang-gun, Gangwon-do Province
Naksan Beach (낙산해수욕장) is one of the top beaches of Gangwon-do, drawing more than a million visitors each summer. Its sandy beach runs besides clean waters and is bordered by rows of pine trees. In addition to its natural beauty, Naksan also has a variety of convenience facilities such as banana boats and water auto bikes, adding a little variety to the typical beach experience.

The beach is also a top pick for those who are interested in Korea's traditional culture as it is close to
Naksansa Temple
and Uisangdae Pavilion, which was built to commemorate Great Monk Uisang. As an added bonus, the pavilion is one of the best places in the area from which to view the rising sun.

☞ Opening Date: July 12, 2013
☞ Beach Stats: Sand: White / Length: 1.8km / Max. Occupancy: 60,000
☞ Visitor Facilities: Campgrounds, locker rooms (14), shower room (6 buildings), drinking fountain, & parking lot


Guryongpo Beach
in Pohang, Gyeongsangbuk-do Province
Guryongpo Beach (구룡포해수욕장) is about 24 kilometers away from Pohang and 1.5 kilometers from Guryongpo-eup County. The beach is edged by thick groves of pine trees on one side and affords a wide-open view of the coast out towards the sea. Thanks to the gentle slope of the ocean floor and the clean sea water, Guryongpo Beach is a favorite vacation spot for those who like to swim. The beach is also popular among fishermen, many of whom fish at Yeongilman Bay.

☞ Opening Date: June 29, 2013
☞ Beach Stats: Sand: White / Length: 400m / Width: 50m / Area: 20,000㎡ / Max. Occupancy: 10,000
☞ Visitor Facilities: Shower rooms (2) (max. occupancy: 24 each), locker room, public restroom, drinking fountain, & parking lot (2,200㎡)