During the Joseon Dynasty, the Hangang River's frequent floods relegated Yeouido Island to pasture land and peanut fields; indeed, the name Yeouido means "useless island." Japanese colonial authorities built Korea's first airport there in 1929, but it, too, succumbed to the Hangang. It wasn't until a bridge linking Yeouido to the mainland was built in 1970 that development began in earnest. Fast-forward to today and Yeouido is the home of Seoul's financial, political and broadcasting worlds.
Although the so-called "Manhattan of Seoul" is no longer useless, what happens inside its sturdy towers may be of little consequence to most visitors. The businesspeople who work there walk on wide s idewalks that lack the spi r i t of many Seoul neighborhoods. Nevertheless, tucked here and there are delicious places to eat, worthwhile attractions, and some of the city's best green spaces.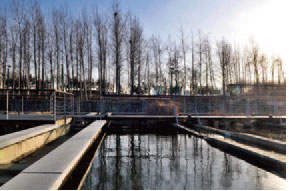 Touring 3 Parks on 2 Wheels

Yeouido's oval-shaped perimeter is all park. The Saetgang Ecological Park lines its south bank, while its north side is part of the Hangang Park network. There's even more green in between. Yeouido Park is an attractive 23 hectare plot situated where airplanes once landed. A large blacktop remains, but these days, bicycles and roller blades are cruising the tarmac. If you didn't bring your own bicycle, don't worry—for 3,000 won you can rent one.
Before setting off on a bicycle tour, however, I'd recommend lunch. Jinju Jip is renowned for Seoul's best kongguksu, or noodles served in a chilled soybean broth. Located beneath the Yeouido Department Store, the restaurant's unremarkable interior won't distract you from devouring a summertime favorite. For the carnivores, there's Changgo 43. The restaurant specializes in a 180g slab of succulent Korean beef so tender it's easily sliced with a plastic spatula. Once your hunger is satisfied, I'd recommend picking up that bike and riding northward. The Hangang Park's Yeouido section was completely redone in 2009 as part of the Hangang Renaissance project. The 25-year plan is to rehabilitate the river and transform it into a worldclass attraction. For Yeouido, that meant building a floating amphitheater and a large water fountain. Even more surprising is what's underneath the Mapodaegyo Bridge—a "Color Park" depicting Seoul's official color palette.

Pretty in Pink

Pink is not among Seoul's official colors, but the curving pink tower on Yeouido's eastern tip is one of the city's signature buildings. Briefly the tallest outside North America, the 63 Building—named for its 60 aboveground plus three belowground stories—is a popular destination that holds Korea's first public aquarium, Seoul's first wax museum, and the Sky Café, whose top floor location affords some of the city's best views.
From up on high, you would be forgiven if the words "This is an island?" came to mind. Yeouido fits snugly against the Hangang's southern bank; in fact, only a narrow stream separates it from the mainland. But these wetlands, known as the Saetgang Ecological Park, are an attractive setting to continue your tour. Large willow trees and reeds camouflage various fish, fowl and even rabbits. Under construction is an ultra-modern 354-meter footbridge that will cross the marsh and connect the island's growing number of skyscrapers to Yeongdeungpo.

As you pedal toward Yeouido's west end, the green copper dome of South Korea's National Assembly comes into view. You could take a guided tour of the country's parliament, but the real attraction occurs outside each spring, when 1,400 flowering cherry trees cover Yeouiseo-ro Street in pink petals.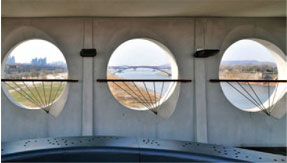 Staying Focused on a Wandering Isle

Having reached Yeouido's western tip, you can turn your handlebars to the left, and after about 1.5 kilometers, you'll arrive at the Rainbow Bridge. Designed by Rudy Ricciotti and presented as a gift to South Korea from France in 2000, the bridge leads to Seonyudo, another island with a compelling story. During the Joseon Dynasty, Seonyudo was a favorite destination for wandering Confucian scholars called seonbi, who went there to paint and compose poetry.
During the Japanese colonial period, however, its picturesque cliffs were flattened, and in 1978 the island was turned into a sewage treatment plant.
In 2003, as part of the Hangang Renaissance proj e c t , the i s land was r eopened as an e coconsciousness park. Described by the city as a "postmodern space," the award-winning park integrates the old treatment plant's structures into a series of waterthemed gardens. For example, bygone settling basins for chemicals are now home to small fish and species of aquatic plants that naturally purify water.
In addition to the botanical gardens, the Hangang History Museum, a 200-seat amphitheater and Naru Café are also located on Seonyudo. The café offers simple snacks and a great place to relax and watch the river. As you wonder how so much nature could be found amidst a huge city like Seoul, just don't forget to return that bicycle.

Around Yeouido

• 63 City
T. (02) 789-5663
Website: www.63.co.kr
Open daily 10am—10pm (last entry by 9:30pm)
- Sky Art
Prices: 12,000 won for adults, 11,000 for teens, 10,000 for children
- Sea World
15,000 won for adults, 13,000 for teens, 11,000 for children
- Wax Museum
14,000 won for adults, 13,000 for teens, 12,000 for children
Note: Special discounts are available for entry into two or more venues.

• Saetgang Ec ological Park
T. (02) 3780-0570
Open 24 hours; admission free.
Website: http://hangang.seoul.go.kr/eng/

• Yeouido Hangang River Park
Open 24 hours; admission free.
T. (02) 3780-0561
Website: http://hangang.seoul.go.kr/eng/

Places to Eat

Changgo 43
T. (02) 783-4557
Mon—Fri, 11:30am—10pm. Closed weekends and holidays.
Jinju Jip
Yeouido-dong 36-2, B1 fl. (Yeouido Department Store)
T. (02) 780-6108
Mon—Sat, 10am—8pm. Closed Sundays.
Ola!
Yeouido-dong 17, 1st fl. (The Sharp Island Park)
T. (02) 2090-7220
Daily, 11am—3pm, 5:30pm—11pm. Closed on holidays.
Paul
Yeouido-dong 28-3, 1st fl. (Marriott Executive Apartments)
T. (02) 2070-3000
Daily: 7am—10 pm. Closed on holidays.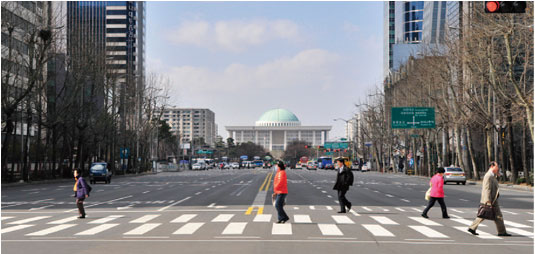 Seonyudo Park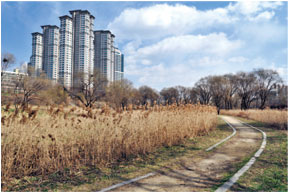 Hours: Daily, 6am—midnight; admission free.
T. (02) 3780-0590
Website: http://hangang.seoul.go.kr/eng/
Getting There
Get off at Seonyudo Station, Line 9, Exit 1. At the intersection, turn right and walk 350 meters until you reach the pedestrian overpass that links to Seonyudo Park.
Naru Café
Seonyudo Park
Open 9:30am—midnight


Yeouido Spring Flowers Festival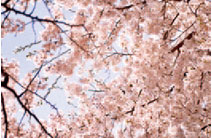 April 7—11, 2010 Yeouido Park and Yeouiseo-ro (a.k.a. Yunjung-ro) behind the National Assembly building
The annual Yeouido Spring Flowers Festival is one of Seoul's most popular events. For just a few days each spring, the 1,400 cherry trees on the island erupt into ephemeral clouds of pink. The area along Yeouiseo-ro Street behind the National Assembly building is regarded as especially beautiful. During the five-day festival, streets will be closed to vehicles to accommodate an expected four million visitors at festival sites at Yeouido Park and along Yeouiseo-ro.
In addition to admiring Yeouido's gorgeous specimens of Prunus yedoensis, visitors can watch dozens of street performances, an opening parade and art exhibitions. Thanks to special illumination systems, the trees will be beautiful day and night.

More Info

Hours: N/A
T. (02) 1330
Website: http://english.ydp.go.kr
Getting There
Get off at Yeouido Station, Lines 5 and 9, Exit 2; Yeouinaru Station, Line 5, Exits 1—3, National Assembly Station, Line 9, Exit 1; or Dangsan Station, Line 2, Exit 4.
Note: Due to closed streets and crowds, it is highly advised that you take public transportation.
for chemicals are now home to small fish and species of aquatic plants that naturally purify water.
In addition to the botanical gardens, the Hangang History Museum, a 200-seat amphitheater and Naru Café are also located on Seonyudo. The café offers simple snacks and a great place to relax and watch the river. As you wonder how so much nature could be found amidst a huge city like Seoul, just don't forget to return that bicycle.
Saetgang Ecological Park



- The article courtesy of Seoul magazine