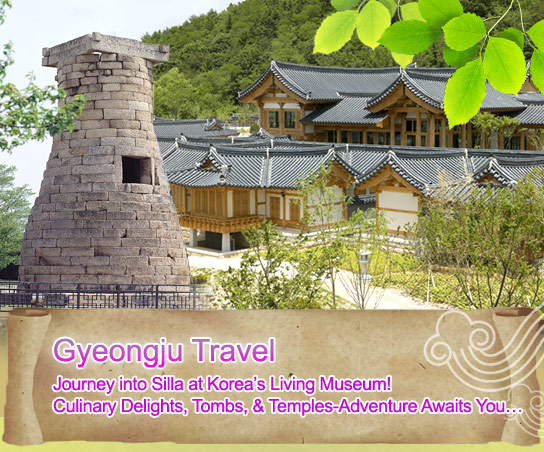 Go back to the main page of this article
2. Recommended tourist sites related to the TV series

Shilla Millennium Park, a theme park and TV set
The Shilla Millennium Park is a place where visitors can learn about the history and culture of Silla kingdom. Inside the park, some of the filming set of the TV series Queen Seondeok of Silla are preserved. The park is quite expansive and takes about 4 hours to walk around, so make sure to get a map at the entrance.




Recommended tour 1> Super large-scale outdoor performance
Be sure to see the super large-scale outdoor performance of the Secret of Heavenly Chest in the afternoon. Featuring 60 actors, the show is packed with special effects and stunts. On weekend evenings, Tears of the Queen is staged, telling the sad love story of Queen Seondeok. This performance features a fabulous light show.

Recommended tour 2> Craftia
Craftia is home to more than 10 independent craft workshops for glass art, lacquerware, metalcraft, dyeing, earthenware, wooden craft, and soap making. At the cost of materials, visitors can learn how to make crafts from professional craftspeople. Some crafts like glass art need to be put in a kiln, so look around the park and return to the workshop to find your work completed.


Address: Gyeongsangbuk-do Gyeongju-si Sinpyeong-dong 719-70
Tel: + 82-54-778-2000 (Korean ARS)
Admission: 1-day pass over 19: 18,000 won / ages 13-18: 13,000 won / ages 12 or less: 11,000 won
☞ Click here for more on Shilla Millennium Park
☞ Related column: TV series Queen Seondeok of Silla
☞ Official site: http://www.smpark.co.kr (Korean, English, Japanese, Chinese)

Lasonjae (라선재), hands-on programs on Silla royal cuisine

The Culinary School of Korea History and Culture is the only institution in Korea to conduct research on the royal culinary traditions of Silla. The institution also operates Lasonjae, a restaurant that serves dishes with unique flavors of Silla. Lasonjae not only offers course meals of Silla's royal cuisine, but it also operates the Food Academy programs to teach Silla's culinary tradition and how to cook them. Dr. Cha Eun-jeong, the head of Raseonje, served as a consultant on food, rituals, and medicinal herbs while filming the TV series Queen Seondeok of Silla.

The most notable characteristic of Silla's royal cuisine lies in the prevalence of medicinal foods called yakseon. During that period in history, food was the most important means for treating or preventing sickness of the royal family and promote their health. Even from a modern perspective, a Silla traditional meal is considered to be perfectly balanced, consisting of vegetable nutrition from herbal side dishes and animal protein that could easily be hunted in the forest, for example, deer, pheasant, wild boar, duck, and goose meat. By far, Raseonje is the best place to taste the best of Silla royal cuisine.

* Food Academy Tour (3 hours)
Jangdokdae displays the process of making preserves like Doenjang that have been used in cooking since long ago (outdoor yard) → Mini museum with exhibits of cooking utensils and paintings deplicting culinary scenes from long ago (hall) → Introductory lecture and video on Silla cuisine (kitchen) → Dessert-making (kitchen) → Full Course Silla Meal (restaurant)
=> The set menu starts with gaeamjuk porridge (made of gaeam nut, which resembles an acorn) and ends with dessert. The variety of dishes will offer a unique and pleasant experience. The basic composition of a Korean meal is rice, soup, and 5 or 6 side dishes. After the main dish, you will be treated to the dessert that you helped make prior to the meal.
Tour price: 55,000 won per person (all inclusive) or 33,000 won for meal only


Address: Gyeongsangbuk-do Gyeongju-si Sinpyeong-dong 375-3
Tel: +82-54-771-6040
Silla royal cuisine course: 22,000 - 120,000 won (Reservation is required at least one day in advance)
☞ Click here for Lasonjae
☞ Official site: http://www.culinaryschool.co.kr (Korean only)


Ragung (라궁), a hanok hotel like a royal palace

Modeled after a Silla royal palace, Ragung is a hotel constructed according to traditional hanok architecture. It offers the quiet and cozy ambience of a hanok with all the modern conveniences and comfort of a luxury hotel. Ragung has 16 rooms of independent units along a 100 meter-long square-shaped corridor. All rooms are equipped with an outdoor hot spring tub. The Korean restaurant on the second floor of the lobby is exclusively reserved for hotel guests; it offers dinner and breakfast, all included in the room rate. Ragung is located inside the Silla Millennium Park, so hotel guests have free access to the park.


Address: Gyeongsangbuk-do Gyeongju-si Sinpyeong-dong 719-70
Tel: +82-54-778-2100
☞ Click here for more on Ragung
☞ Official site http://www.smpark.co.kr/ (Korean, English, Japanese, Chinese)