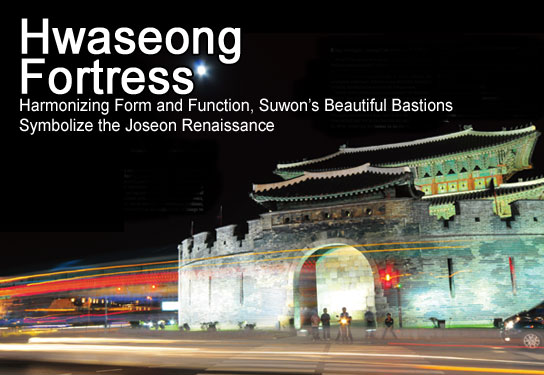 Well, it appears good things really do come after your grandfather has your insane dad locked in a rice chest and starved to death.
Built at the end of the 18th century by the brilliant King Jeongjo to house the remains of the mad Prince Sado, Suwon's Hwaseong Fortress is the crown jewel of Joseon Korea's silhak movement, an intellectual movement within Korean Confucianism to focus on "real world" issues, including science and technology.
Adopting in its design and construction the latest advances in engineering technologies and military science, including concepts imported from overseas, the bastion—designated a UNESCO World Heritage Site in 1997—emanates a feel that is both distinctly Korean and yet vaguely Western. Its six kilometers of walls are studded with imposing gates, watchtowers, sentry points, secret portals and command pavilions, providing visitors with an endless list of things to explore.

King Jeongjo, Jeong Yak-yong and Silhak
Despite the massive scale of the project, Hwaseong Fortress was completed in just two years between 1794 and 1796, impressive even by today's standards. It was the brainchild of King Jeongjo (r. 1776—1800), an energetic reformer whose reign marked Joseon's cultural, intellectual and scientific renaissance.
There were several reasons behind the fortress.
Firstly, the fortress would serve as a memorial to Jeongjo's father, Prince Sado, an allegedly sadistic man who would have become king had his father, King Yeongjo, not ordered him into a rice chest that was then locked and left in the hot sun for eight days until he died. Believing his father to be the victim of the Joseon Kingdom's endemic factional strife, Jeongjo ordered the fortress built to house the late prince's tomb.
Behind this act of filial piety, however, lay some more practical concerns. Korea had been invaded by the Japanese in the 16th century and the Manchus in the 17th century; both times, Korea's system of mountain fortresses failed. Clearly, more advanced defensive facilities were needed. Perhaps more importantly, however, Jeongjo hoped to relocate the royal capital to the new fortress, away from the bitter infighting and factional struggle of Seoul. He failed in this latter objective, and the capital would remain in Seoul.
Construction of the new fortress was entrusted to Jeong Yak-yong, better known by his pen name of "Dasan." Something of a Renaissance Man, Jeong was a brilliant scholar, philosopher and architect closely associated with the silhak ("practical learning") movement within Korean Confucianism. Silhak emphasized the practical over the metaphysical, focusing on temporal matters such as social science, industry and technology. Hwaseong Fortress was its crowning achievement. Jeong's blue prints incorporated the strengths of Korean, Chinese and Japanese design to produce a fortress that could serve in both defensive and offensive operations. It even drew upon elements of Western castle architecture and construction, such as the use of brick. The building process made use of an ingenious series of pulleys and cranes, operated by paid workers rather than corvée labor. The result was a fortress that was both functional and a work of art in its own right.

Hiking Hwaseong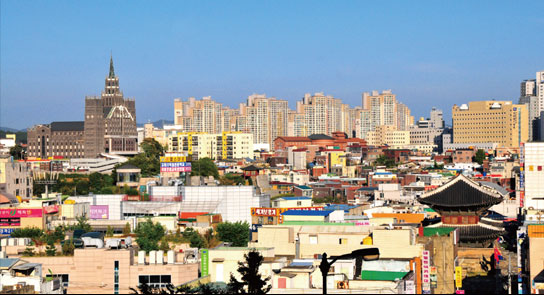 Hwaseong Fortress forms a nearly complete ring around Suwon's old downtown. At one time, the entire city was contained within its walls, but urban development in the modern era has led to much of the city spilling out beyond the gates. Unusually for Korean fortresses, which typically surround either a town or a mountain top, Hwaseong does both, running along both flat lowlands and steep hillsides. You can walk the whole thing in about three hours, although you'll probably want to spend an entire day exploring.
What to Eat
Suwon is quite famous for its galbi (barbecued ribs).
Yeonpo Galbi (02 255-1337), near Hwaseomun Gate, is especially well known, but there are about 100 restaurants specializing in this dish throughout Suwon.

Admission
Hwaseong Fortress: 1,000 won. Hwaseong Haenggung:
1,500 won

Getting There
The fortress (Paldalmun Gate) is a 20-minute walk from Suwon Station, Line 1.

Hwaseong Fortress Highlights

• Janganmun Gate: The old north gate of the fortress, this massive portal with a two-story pavilion is Korea's largest gate, even larger than Seoul's Sungnyemun. Note the crescent demilune that offers the gate even further protection from enemies. The gate is beautiful both day and night.

• Hwaseomun Gate: Not only is Hwaseong's western gate beautiful in its own right, but it's also protected by an imposing brick watchtower the likes of which can be found nowhere else in Korea.

• Hwahongmun Gate: More of a bridge than a gate, this section of the wall was built with seven arches, through which flows the Suwoncheon Stream. Nearby is a pond and, on the hill overlooking it, a command pavilion. This is one of the most picturesque stretches of the wall.

• Paldalmun Gate and Seojangdae Pavilion: Now a traffic island surrounded by modern Suwon, the grand old south gate offers a dramatic contrast between the old and new. From the gate, follow the wall as it ascends Mt. Paldalsan until you reach Seojangdae Pavilion. Located on the highest point of the wall, this command post offers breathtaking views of the fortress, city and hills beyond.

• Secret Gates: Called ammun in Korean, these hidden entrances were used to sneak supplies into the fortress and, if need be, let troops sally outside the fortress to attack a besieging enemy. The one in the southwest, on the slope of Mt. Paldalsan, is particularly interesting.

• Hwaseong Haenggung: Built by Jeongjo as a royal residence to use when he visited his father's tomb, this beautiful temporary palace was restored in 2003, the original having been destroyed during the Japanese colonial era.

• Traditional Archery: There's a range in the fortress where you can try your hand at the Korean martial tradition of archery. Fee: 10,000 won for 10 arrows.

• Filial Piety Bell: Hwaseong was built as an act of filial piety; to celebrate this, the city hung a big Korean-style bell for visitors to ring. You ring it thrice: once for your parents' health, once for your family's health, and once for your own personal development. Fee: 1,000 for singles and doubles, 2,000 for groups of three or four.


- The article courtesy of Seoul magazine