2013 Seollal Traditional Events
Seollal, also known as Lunar New Year, is a national holiday celebrated throughout Korea. Seollal takes place on the first day of the lunar calendar, which is February 10 this year on the Gregorian calendar. The official holiday is a three-day period from February 9 - 11. During this time, Koreans observe several special customs like wearing a Hanbok (Korean traditional clothes), bowing to family elders, exchanging well wishes, and eating Tteokguk (rice cake soup).
Many traditional cultural events and performances are held at tourist areas in Seoul. The Namsangol Hanok Village, Korean Folk Village, and the National Folk Museum of Korea will hold a number of hands-on programs. At several historical palaces, such as Gyeongbokgung Palace, visitors are welcome to try traditional Korean folk games. In addition to these great activities, visitors can also watch traditional performances in various locations throughout Korea. Make the most of the Seollal holidays and have an unforgettable experience by immersing yourself in traditional Korean culture.
[Special Events]
● Namsangol Hanok Village – Experience Traditional Seollal Customs

Photo courtesy of Seoul Metropolitan Government
During Seollal, the Namsangol Hanok Village in Seoul holds a variety of events, such as traditional performances, folk games, and traditional experience programs. Visitors can take part in traditional Seollal customs like making a Korean kite (Yeon), Charyesang demonstrations (table setting for ancestor worshiping ceremonies), fortune telling for the New Year, sampling traditional Korean snacks, making tteokuk (rice cake soup) and making traditional masks (tal).
● Korean Folk Village – 2013 New Year Good Fortune Festival

Photo courtesy of Korean Folk Village
In celebration of Seollal, the Korean Folk Village will host fun-filled events. Here visitors can enjoy traditional Korean games with family members and learn about Korean New Year traditions and customs. Visitors who come dressed in a hanbok will receive half off admission, and there are various free Lunar New Year events to enjoy. This is a great venue for families because of the family orientated events such as fortune sharing, pictures at the giant lucky pouch photo zone, and good fortune pattern face painting. You can also try pounding rice cake in the traditional manner and sampling warm, freshly made rice cake.
The Korean Folk Village offers visitors dressed in a hanbok 'Free Pass' tickets for 10,000 won, a 50% discount from the original price. In celebration of the year of the snake, a free Korean Folk Village calendar will be given to visitors born in the year of the snake.
● National Folk Museum of Korea – Year of the Snake 2013 Exhibition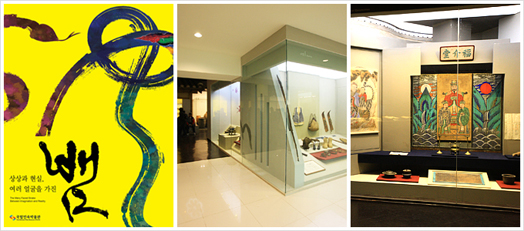 Poster courtesy of National Folk Museum of Korea
The National Folk Museum of Korea, located in Gyeongbokgung Palace, will hold a special exhibition titled 'The Many Faced Snake Between Imagination and Reality' from December 19, 2012 to February 25, 2013. The exhibition features 40 or so exhibits related to snakes, including paintings showing the various faces of snakes and 'Haesangmyeongbudo,' an eight-panel folding screen depicting life after death on the sea. Also on exhibit are various animated narratives showing various tales of snakes, both real and imaginary.
● Hanbok Discounts at the 5 Major Palaces, Jongmyo Shrine, Museums, and Royal Tombs
During the New Year holiday, visitors dressed in Hanboks will receive free admission to the five major historical palaces (Gyeongbokgung, Changdeokgung, Changgyeonggung, Deoksugung, Gyeonghuigung), the royal shrine (Jongmyo), and royal tombs, as well as discounts at several museums throughout Korea.
※ The above information is subject to change.
[Recommended Performances]
※ Please click the performance titles below for transportation information and details.
Performances
Location
Contacts
Dates

Korea House Folk Performance
The Korea House
10, Toegye-ro 36-gil, Jung-gu, Seoul
+82-2-2266-9101
(Korean, English, Japanese)
Open year round

NANTA
Gangbuk Jeongdong Nanta Theatre
1F, Kyunghyang Newspaper Building, 3, Jeongdong-gil, Jung-gu, Seoul-si
+82-2-739-8288
(Korean, Japanese)
Open year round

JUMP
Jump Theatre
13, Donhwamun-ro, Jongno-gu, Seoul-si
+82-2-722-3995
(Korean, English, Japanese)
Open year round

MISO
(Korean Traditional Stage)
Chongdong Theater
43, Jeongdong-gil, Jung-gu, Seoul
+82-2-751-1500
(Korean, English, Japanese)
Closed Mondays
Related Articles
Last updated on January 29, 2013