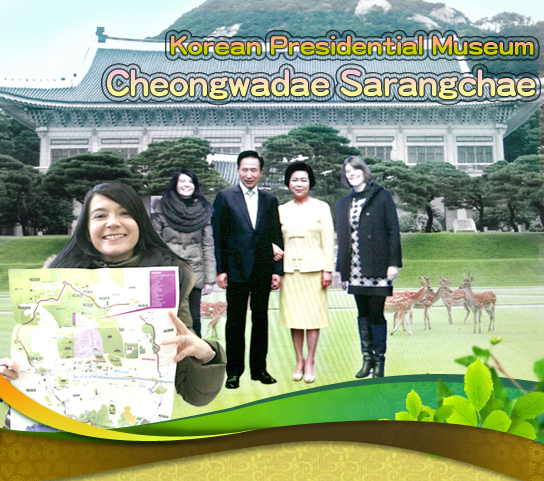 The Cheongwadae Sarangchae is a Korean presidential exhibition center, newly opened as of January 2010. The term Sarangchae refers to a place designated to receive guests in a traditional Korean home. Normally, 'Sarangchae' stands as a separate building from Anchae where owners of the house stay. As the name 'Cheongwadae Saranchae' indicates, it is a separate building located in front of Cheongwadae, Korea's White House. People may visit the center freely and enjoy a hands-on presidential office experience. If you are not sure what to do in Korea, or where to go for sightseeing in Seoul, Cheongwadae Sarangchae is surely worth visiting. The Korea Exhibition Center and Hi Seoul Center located on the 1st floor present both representative cultural heritage of the Korea, and famous tourist spots in Seoul.
Korea Exhibition Center
Korea Exhibition Center tells you about Korea and the culture of the nation. Korea Exhibition Center (F1), a starting point of Sarangchae tour, so to speak, clearly gives you the idea what are the things you must see in Korea. The center displays and introduces various aspects of Korea: Korean history, great figures in Korea, UNESCO World Cultural Heritage, the historic figures printed on banknotes, global Koreans, and creative culture of Korea.

Hi Seoul Center
Hi Seoul Center introduces everything about the Capital city of Seoul – from the history to the symbol, major tourist attraction sites, and things to enjoy. This can also be an excellent guide for those who are about to start exploring Seoul since all the items are categorized for easy access on touch screens allowing visitors to get detailed information on Seoul's many palaces, temples, art galleries, museums, performance halls, and restaurants.


** Things To Experience

1. Visit Seoul's famous places virtually as you take pictures in the photo zone.

2. Leave a message on the e-log. Write your name in front of a flat screen equipped with a camera, and take a picture of yourself. Instantly, your message and the picture will appear on the flat screen hanging on the wall.


Presidential Center
Going up to the 2nd floor, you will see The Presidential Center, a major exhibition place of Cheongwadae Sarangchae. The center displays scenes from the 60-year history of Korea. By viewing the photos, you can get an excellent sense of the modern history of the nation. The black-and-white photos of major events and historic moments of the modern days will help you gain a deep appreciation as to how dramatically the nation has grown. The center also introduces the Presidents of Korea since the start of the nation (Aug 15th, 1948) and transcripts of each of their inauguration speeches, from the First President Rhee Syng-man to the current 17th President Lee Myung-Bak. The place exhibits gifts received by the presidents from various international heads of state. It is interesting to see such invaluable and characteristic items symbolizing countries worldwide, including a special gift received from US President Barack Obama.


** Things to Experience

1. Take photos with Korean President Lee Myung Bak and the First Lady. On a touch screen in the chromakey photo studio, select a backdrop and the subject you would like to take a picture with. Take your photo and send them to your email account for safe keeping!.

2. What does Guksae, Korea's state seal look like? If you'd like to know, the Presidential Center is the place to visit. You may make your own stamp of Guksae with "Daehanminguk (Korea)" imprinted on.

3. It's also fun to sit on a Presidential chair in a mock Presidential Office and pretend to be a Korean President a moment.


Green Growth Center & G20 Lounge
Green Growth Center provides visitors an opportunity to learn about global climate change issues such as desertification, global warming and extreme weather events. The center also introduces Four River Restoration Project currently being conducted by the Korean government. At G20 Lounge, there's mock conference hall of the G20 Summit to be held in Korea this November. This allows visitors to have a little preview of the Summit. You may take pictures or have a seat at any of the delegation's spots.


Other facilities
1st Floor: Korean Traditional Art Craft Table (open from 13:00-18:00). A professional artist shows how to make traditional arts and crafts such as Hanji paper craft, woodcraft, metalwork, natural dyeing or embroidery. Daily program: http://www.cwdsarangchae.kr/info/gong.php (in Korean)

At The Bang souvenir shop, you may purchase a range of diverse Korean traditional items designed with modern sense. You may also want to visit café Charim and refresh yourself with a cup of tea. There are other beverages such as coffee or fresh juice.

2nd Floor: In the lobby, there's a special exhibition section displaying public campaign photos and children's work. The area is spacious enough to have tables and chairs for visitors. You may take a rest while appreciating the beautiful scenery of Bugaksan Mountain out the window. On the wall, there are computers with free Internet access for visitors.


●● Info
Location: Fountain Square in front of Cheongwadae, 152 Hyoja-dong, Jongno-gu, Seoul
Office Hour: 9:00~18:00 (closes on Mondays)
Admission Fee: Free
Foreign language commentator service: 4 times a day – 10:00, 12:00, 14:00 and 16:00
Available Languages: English, Japanese, Chinese
How to get there: Take subway line 1 or 2 to City Hall Station Exit #7 -> Take a bus #8000 at the bus stop in front of City Hall -> Take off at Cheongwadae Fountain
Or take a subway line 3 to Gyeongbokgung station Exit #4. Walk for about 15 min.
Contact Cheongwadae Sarangchae: +82-2-723-0300
Tourist Information Line: +82-2-1330
Página web: www.cwdsarangchae.kr (in Korean)
☞ Cheongwadae Sarangchae
☞ Nearby tourist attractions:
Gyeongbokgung Palace, National Palace Museum of Korea, The National Folk Museum of Korea, Bukchon Hanok Village