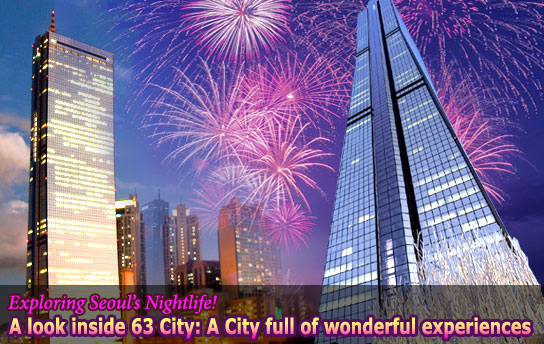 63 City is located in Yeouido overlooking the gently flowing Hangang River. On the outside, it's a simple skyscraper. On the inside, however, it's full of wonderful things for visitors to see. Attractions include Sea World, which is known for fun family outings and the observatory located on the 60th floor, which is a great place for a romantic date. Plus, the observatory added a gallery in 2008, a recent wax museum, and regular showings of <Fanta-Stick>, a string and percussion performance. As such, 63 City is constantly evolving as a great place to spend the day with diverse attractions for visitors to see, enjoy and taste all in one place. Moreover, 63 City offers splendid night views of Seoul and the Hangang River from the highest gallery observatory in the world. The following is a detailed description of what 63 City has to offer:
★ 63 City

Location: 63 building, 60 Yeouido-dong, Yeongdeungpo-gu, Seoul
Getting there: Subway line 5 to Yeouinaru Stn. Exit #4. 15 min walk. Free shuttle buses are also offered from nearby subway stations.
Shuttle Bus Schedule (available in Korean):
☞ From Yeouido Station (Sybway Line 5)
☞ From Yeouinaru Station (Subway Line 5)
☞ From Setgang Station (Subway Line 9)
☞ From Debang Station (Subway Line 1)

Admission Tip) Receive a discount by combining 3 or more attractions!
 - BIG 3 (select 3 from: Sky Art, Sea World, IMAX Theatre, Wax Museum)
  Adults (19 and over): 32,000 won / Children (3-18): 27,000 won
 - BIG 4 (includes Sky Art, Sea World, IMAX Theatre, Wax Museum)
  Adults (19 and over): 38,000 won / Children (3-18): 33,000 won
 - Annual Pass : 70,000 won

Contact: +82-2-789-5663
1330 tt call center: +82-2-1330 (Korean, English, Japanese, Chinese)
☞ 63 City Homepage (Korean, English, Japanese, Chinese)
☞ Detailed information of 63 City
☞ Related Column: Admire Seoul's Night Scenery on a Romantic Date at 63 City

Click on the boxes below to find out more about different attractions at 63 City!



63 Wax Museum - Meet World Famous Celebrities!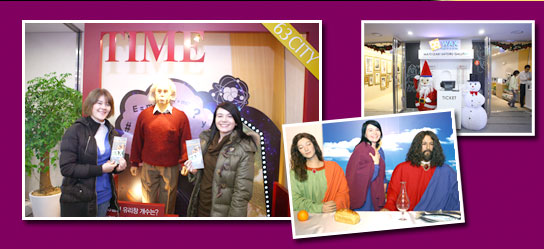 The 63 Wax Museum opened in 2008 and is a favorite amongst visitors to 63 City. Guests can tour the Museum and take photos with wax figures of historical personages including world-renowned musicians (Schubert, Bach, and Beethoven), painters (Salvador Dali, Picasso, Van Gogh, etc.), as well as a number of famous athletes. As many as 70 wax figures made by a renowned Japanese artist are 1.5 times larger than actual size to provide greater detailed and appear life-like in photos. 'The Last Supper' which took 3 years to complete, is one of the most popular pieces in the museum. Visitors are provided with costumes to wear while taking photos of themselves as Jesus' hypothetical 13th disciple. There are also wax figures of Hallyu Stars (Lee Byung-hun, Choi Ji-woo, Lee Young-ae and Bae Yong-joon) and figures of people featured on a number of banknotes as well. The museum offers visitors exciting hands-on programs, making this tour anything but a typical day at the museum.
Museum Experience
1. Chamber of Horror
Prepare yourself for wax figures that come to life! After you make your way through a myriad of horrifying, flesh-eating monsters, the Dracula or Wolf man that appears out of nowhere will surely catch you off guard. To survive this horror: just laugh, scream and enjoy. Visitors must be 12 years or older.
2. Mega 5D theatre
Visitors are seated at the center of the theater where they can enjoy a fantastic 360-degree 3-D presentation designed to stimulate all your senses. Images are categorized under three major themes that rotate throughout the year: Horror, Dinosaur, and Fantasy. Once inside the theater, a whole new world opens up through the amazing visual effects of this fantastic 3D experience.
3. Wax-Your-Hand Experience
Visitors can make a wax mold of their hands or fingers and paint them after they cool. The always enjoyable hands-on project makes a great souvenir. The process takes about 5 to 10 minutes and the fees are listed below:
Hand mold – adults: 9,000 KRW; teens: 7,000 KRW; children: 5,000 KRW
Finger mold – 2,000 KRW

Location: B3 level of 63 CITY building
Office Hours: 10:00~22:00 (year-around)
Admission Fee: Adults (Ages 19 & over) 14,000 KRW; Ages 3-18 13,000 KRW
Official Website: http://63waxmuseum.com/ (Korean)