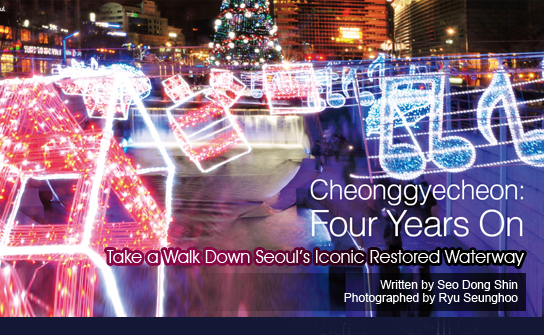 The Cheonggyecheon stream is said to carry history on its ripples as it bisects the heart of Seoul. From the time of the Joseon Dynasty, when the naturally formed watercourses began to be refurbished into streams, through the Japanese colonial period and the Korean War, when it became a sewage mill for shantytown dwellers, and on to its period as an entombed symbol of the rapid industrialization and economic development experienced by the nation in the 1970s and 1980s—this stream has been through it all.

Pavements and elevated motorways, however, encased the stream for over half a century until 2000, the result of sprouting commercial areas and a lack of urban planning amid hectic development. Many Seoul citizens still remember how the area looked before the Cheonggyecheon restoration project. Its aura at that time could perhaps best be compared to the atmosphere under the Nagwon Arcade in Jongno around midnight these days—crooked alleys and busy vendors dotting the dark corners, shadowed by shabby-looking buildings.

Four years have passed since the completion of the three-year, 386 billion won restoration project. Now the sun shines on Cheonggyecheon, and its surrounding paths have established themselves as a retreat for citizens seeking leisure or a picnicking spot in the summer. It has also drawn many foreign tourists, who marvel at the sight of the stream as it flows among the formidable office buildings and busy traffic of central Seoul. The city government has been developing hiking courses and event venues to entice even more visitors.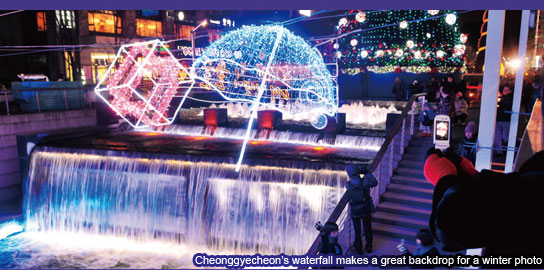 How does it actually feel to walk down the stream? As you begin your walk at the Cheonggye Plaza end of the stream, the first thing that greets you is American pop artists Claes Oldenburg and Coosje van Bruggen's highly controversial piece of artwork entitled "Spring," a small "turret" sea-shell set vertically on its wider end, and visualized as a rounded, colorful ribbon spiraling upwards some 20 meters and pulled apart to form a conical, open structure.

There is another sculpture along Cheonggyecheon that is worth checking out, one that is quite different from Oldenburg's. Korean artist Lim Ok-sang's aluminum sculpture is of Chon Tae-il, a 22-year-old garment worker at Pyeonghwa Market who set himself on fire in 1970 to protest against a government that did not enforce labor laws and to draw attention to the plight of his fellow garment workers. The sculpture—raised thanks to donations from citizens—is located in front of the market, facing the stream's Beodeul Bridge, near Dongdaemun Stadium Station.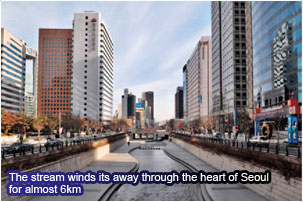 Gwangtonggyo Bridge
The Cheonggyecheon Stream is crossed by 22 bridges, some of which are quite interesting. The Gwangtonggyo Bridge, for instance, was originally built by King Taejong (r. 1400—1418) using stones from the tomb of his stepmother, Queen Sindeok, whom he hated for her ambition to put her own son (Taejong's half-brother) on the throne.
Walking along Cheonggyecheon on a cold, wintry day is certainly less enjoyable than in the summer, when many children and their families can be seen playing with the water and hopping on the stepping stones that lead across the stream. In the winter, few people can be spotted during the day, and the contrast between the natural landscapes and the city along the stream is stark.

On the one hand, there are thick reeds, a pair of wild ducks floating on the stream, ice frozen on willows, and wild berries of various colors. When you look up from the stream, though, there are high-rise office buildings, colorful neon signboards for shops and restaurants, buses and other traffic.

In an attempt to make Cheonggyecheon a more eventful place, more venues have been introduced in addition to the existing spots for light shows and digital arts performances. For example, the "Proposal Wall" is designed to give couples a chance to confess their love and propose marriage on a romantic bridge called Dumul, which means "the joining of two streams." You can find out more and submit a request for free at propose.seoul.go.kr.


Written by Gitte Zschoch
Photographed by Ryu Seunghoo
- The article courtesy of Seoul magazine