Lotte World's Christmas Festival
Period: November 2 - December 31, 2013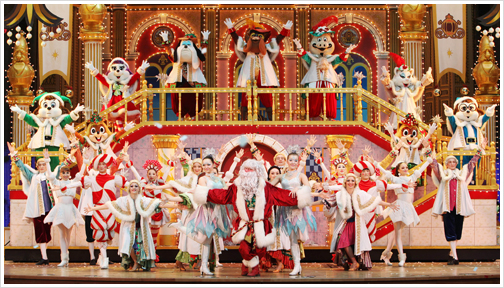 Lotte World, located in Jamsil, Seoul, will host holiday festivities up until December 31. During the Christmas Festival, the entire theme park is decorated with festive Christmas trees, displays, and ornaments.

To add to the holiday fun, a variety of Christmas performances and events are held each day. As with last year, Lotte World is presenting its Santa Village Tour, a parade that also invites visitor participation, as Santa and his elves deliver presents to people. The Happy Christmas Parade featuring artificial snow, festive music, and costume character performances is one of Lotte World's major events during the holiday season. At night, the parade takes on an even more magical feel as the energy of the parade is paired with the vibrant colors of decorative lightings and a special holiday fireworks show.

Special events for this year's holiday season include Cinderella's Christmas Party (a family musical show with Christmas carols and events), and Lotty's Christmas Music Show (featuring costume characters dancing to a medley of Christmas carols).
Happy Christmas Parade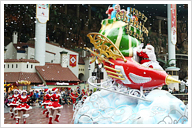 Actors and actresses playing a variety of well-known Christmas characters and figures such as a Christmas tree, a cookie, a snowman, Santa, Rudolph, and a stunning Mrs. Claus present a dazzling performance accompanied by a selection of Christmas carols. In particular, the night parade features a fantastic atmosphere created by artificial snow and fireworks show.

☞ Time: 14:00, 19:00 (2 shows daily)
☞ Venue: Parade Course
Santa Village Tour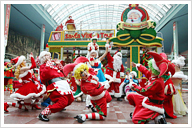 The Santa Village Tour is back once again after a successful showcase during last year's Christmas Festival. It is a parade that invites the participation of guests with a story of Santa and his elves preparing and delivering presents to the people.

☞ Time: 16:00 (1 show daily)
☞ Venue: Parade course
Cinderella's Christmas Party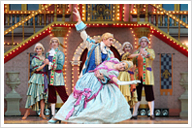 A musical including a variety of dances, songs, acrobatic performances, magic shows and other events based on a Christmas-themed version of Cinderella, one of the most beloved fairy tales of all time.

☞ Time: 17:00, 20:00 (2 shows daily)
☞ Venue: Garden Stage
Lotty's Christmas Music Show
Lotte World's main character Lotty, together with a band of animal characters, put on a joyful Christmas carol concert to spread holiday cheer.

☞ Time: 15:00 (1 show daily)
☞ Venue: Meeting Plaza
※ Notice: Performance schedules are subject to change without notice.
info

☞ Lotte World
☞ Period: November 2 – December 31, 2013
☞ Day-Pass Ticket: Adults 44,000 won / Youths 38,000 won / Children 34,000 won
☞ Tel: +82-2-411-2000 (Korean), +82-2-411-4926 (English), +82-2-411-4925 (Japanese), +82-2-411-4928 (Chinese)
☞ Homepage: http://www.lotteworld.com (Korean, English, Japanese, Chinese)
• Photo credit: Lotte World