The rugged agricultural town of Cheongsong is, well, off the beaten path. Trains don't run here. Buses from Seoul are infrequent, and travel time is long thanks to the high, verdant mountains that dominate this region of southeastern Korea. It is famous for its apples—which are about as big as a baby's head—and, more notoriously, for its prison, reputedly the most heavily guarded in Korea.
It is also famous for its autumn scenery, some of the most spectacular in all Korea. On your average autumn Saturday or Sunday, Mt. Juwangsan National Park is overrun with hikers who come to see the park's stunning foliage, fantastic rock format ions and enchanting waterfalls. The mysterious Jusanji Pond, meanwhile, mesmerizes visitors with its surreal imagery of snarled trees reaching from the misty lake like the claws of monster grabbing for the early morning sky. If you're willing to make the rugged four-and-a-half hour bus trek, you couldn't ask for a better autumn weekend getaway from Seoul.


Mt. Juwangsan National Park
Even if you're not the mountain-hiking type, Mt. Juwangsan is well worth your time. While peakbaggers are free to challenge the mountain's granite summits, most visitors opt for a leisurely stroll up the Jubang Valley, which cuts a path through the middle of the park. Along the way, you're treated to a breathtaking display of sheer canyons and crystalclear streams that have carved a variety of pools and waterfalls from the smooth granite. Above your head, craggy rock formations, cliffs and peaks add to the natural splendor.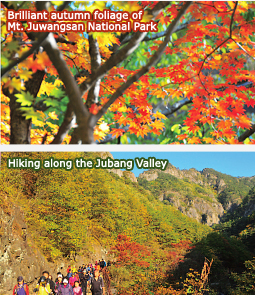 To enjoy Mt. Juwangsan at its very best, however, you have to visit in autumn. When the foliage is at its zenith, the mountainsides become a brilliant display of bright crimson and gold. Throw in the other colors—the aquamarine pools, silver rock walls, and gaudy but functional attire of a good portion of the hiking population—and you can suffer from sensory overload.
The main trail takes you past a couple of spots of historical interest, too. At the entrance of the Jubang Valley trail is the ancient Buddhist temple of Daejeonsa, famous for its stupendous setting, with the rock peaks of Mt. Juwangsan forming a folding screen-esque backdrop. Also of interest is Juwangam, a small hermitage where, it is said, Juwang—a nobleman from Tang China and the mountain's namesake—hid following a failed uprising against the Chinese emperor.
Hiking Course
Daejeonsa Temple > 1st Waterfall (and Juwangam Hermitage) > 2nd Waterfall > 3rd Waterfall > Return to Daejeonsa.
Hiking Time: About four hours

Getting There
There are 65 local buses a day from downtown Cheongsong to Juwangsan. The trip takes about 20 minutes.
Admission: 3,200 won

Travel Tips
• Morning Clouds: If you can get up early, visit the park at daybreak, when the clouds and fog accumulate at the base of the rocky peaks.
• Apple Dongdongju: Many of the restaurants in front of Daejeonsa sell dongdongju—a form of the favorite Korean rice beer makgeolli—infused with apple, jujube and Korean bellflower root (deodeok).
• Peak Foliage: In 2009, the colors should be at their peak in early November.



Getting to Cheongsong
You should look at Cheongsong as a two-day trip. Buses to Cheongsong depart from Seoul's Dong Seoul Terminal at 6:20am, 8:40am, 10:20am, 11:40am, 3pm and 4:30pm. Return buses depart at 8:50am, 10:57am, 1:25pm, 2:40pm, 4:15pm and 5:29pm. The trip takes about four hours. There are direct buses from Dong Seoul to Mt. Juwangsan National Park, too, which depart at the same time.


Jusanji Pond
Jusanji Pond is the very definition of "hidden treasure." Or, at least, it was. Just a few years ago, hardly anyone besides locals knew it even existed. Then Korean auteur Kim Ki-duk came to town to shoot his 2003 art house classic "Spring, Summer, Fall, Winter...and Spring." Using the pond as a film setting, Kim put it on tourist maps, although luckily, Cheongsong's (and the pond's!) general isolation prevent it from being overrun by visitors. Among the photographically oriented, it is considered one of Korea's most picturesque sites.

Technically speaking, Jusanj i Pond is an agricultural reservoir, constructed between 1720 and 1721. Located within the confines of Mt. Juwangsan National Park, the pond is ringed by dense forests and hillsides that enhance the atmosphere of otherworldliness. The banks are lined with gnarled willow trees, the roots of which are submerged beneath the pond's surface when water levels are high enough (as they are in spring and the summer rainy season). In the early morning hours, when fog covers the pond surface, the view is beyond surreal.
Getting There
To get to Jusanji Pond by bus, take a local bus from Cheongsong to Ijeon-ni. From there, take the trail to the pond—it's just over 1km.

Travel Tip
• Get There Early!
The best time to go is just prior to sunrise. This might require a relatively expensive 20-minute taxi ride, but if you've made it this far, you might as well splurge.

Where to Stay
Downtown Cheongsong and Mt. Juwangsan National Park are home to several inns and motels. The Mt. Juwang Spa Hotel Hotel (054-874-7000) is the nicest, but it's a bit pricey (standard rooms go for 80,000 won). The village in front of Daejeonsa Temple has many homestay facilities (minbak), too. The best option, however, is to stay in the Songso Gotaek (054-873-0234, www.songso.co.kr), a beautiful, 130-year-old aristocrat's home. It costs 50,000 won a night for two, but be sure to call first. Breakfast costs 6,000 won.

What to Eat
There are tons of restaurants serving standard Korean fare in front of Daejeonsa Temple, and this is probably where you'll eat. As a general rule, I look for which ones are busy when choosing, but if a particular place strikes your fancy, it's probably OK.

Written and Photographed by Robert Koehler
The article courtesy of Ryu Seunghoo