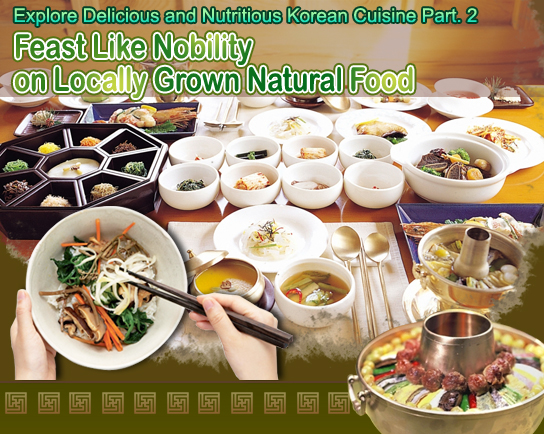 The Korean dinner table usually consists of rice, soup, kimchi,
and a number of side dishes. The soup and side dishes come
in a great variety, and the rice can be either plain or mixed with
other grains such as barley and beans. A typical household would have between three to five side dishes on the table, but the kings and the noble class of the Joseon Dynasty were served as many as 19 side dishes at one meal using the highest quality ingredients, sourced from all over Korea. It is possible to experience this meal fit for a king at any of the Hanjeongsik restaurants in Korea. Our recommendation for this taste experience is Gungjung Han-jeongsik and Bibimbap.




Gungjung Hanjeongsik
Gungjung Hanjeongsik (궁중 한정식) represents traditional Korean royal cuisine, in which the best chefs of the Joseon Dynasty used fresh and nutritious ingredients from around the country to prepare the king's meals. Royal cuisine was handed down to the noble class through the tradition of sharing food during royal banquets and marriages between the royal family and the aristocratic class, and it later found its way to the tables of the working class, greatly influencing Korean cuisine. In other words, Korean food common today is actually a less formal version of royal court cuisine. Han-jeongsik best represents royal court cuisine. The price range varies depending on the ingredients and number of dishes. If you want a genuine experience in Gungjung Han-jeongsik or a full-course Korean meal served in a style fit for a king, be ready to enjoy almost all of Korea's major traditional foods. With the exception of the appetizer porridge, and the dessert rice cake and beverage, all other dishes are served at the same time. More recently, however, some upscale restaurants serve the dishes one after the other, as in Western style.

☞ Related Article: Royal Cuisine

| | | |
| --- | --- | --- |
| | Experience It ! | |
Gungyeon (궁연)

Gungyeon offers royal court cuisine of the Joseon Dynasty (1392-1910), preserved by the lineage of Han Hui-sun, the last sanggung chef of the dynasty, who served under King Gojong and King Sunjong, Hwang Hae-seong and Han Bok-ryeo. The restaurant is managed by Han Bok-ryeo who was the food advisor for the Korean drama Daejanggeum. A meal at Gungyeon is truly the essence of Korean cuisine. Food is prepared with great care and served in the traditional way.


☞ Address: Seoul, Jongno-gu, Gahoe-dong 170-3
☞ To get there: Subway line 3, Anguk station, exit 2, walk 5 minutes in the direction of the Board of Audit and Inspection. The restaurant is next to Bukchon Art Museum.
☞ Tel: +82-2-3673-1104 (Reservation required)
☞ Hours: Lunch 12:00~15:00, Dinner 17:30~21:00
☞ Recommended menu: Gungyeon bansura (궁연반수라) lunch course 30,000 won, Janggeum dinner course (장금만찬) 76,000 won, Jineobyeol dinner course (진어별만찬) 130,000 won
☞ Official site: www.jihwajafood.co.kr (Korean)

Keungiwajip (큰기와집)

Keungiwajip is a special Han-jeongsik restaurant serving food of the aristocracy of the Joseon dynasty. They use a soy sauce recipe preserved from the time of King Seonjo, which imparts a rich flavor to every dish. They also serve the food on traditional onggi pottery, which retains the flavor and temperature of the food. The restaurant's ambience is enhanced by an antique interior, lighting, and wall paintings. Main menu specialties include a full course meal of Ganjang-gejang, a crab dish marinated in soy sauce, along with other course meals of Galbi-jjim, Bossam, or grilled–eel.


☞ Address: Seoul, Jongno-gu, Sogyeok-dong 122-3
☞ To get there: Subway line 3, Anguk station, exit 1, walk ahead for 50 meters and turn right à Walk 500 meters along the alley and turn left past Art Sonje Center à Cross the street and take the road to the left à The restaurant is on the right.
☞ Tel: +82-2-722-9024
☞ Hours: Lunch 12:00~15:30, dinner 17:00~21:30 (Closed on major holidays)
☞ Recommended menu: Ganjang-gejang course menu, Galbijjim course menu, Grilled eel course menu, Bossam course menu 20,000 won - 50,000 won



Bibimbap
One of Korea's signature foods, bibimbap (비빔밥) is a one-dish meal. A bowl of warm rice is topped with a variety of sautéed vegetables, stir-fried meat, eggs, and spiced up with a red pepper paste sauce. The mixing of various ingredients in a bowl expresses the essence of Korean food: to seek balanced nutrition. Nationwide, different styles of bibimbap evolved using local ingredients, but the most famous is Jeonju bibimbap (전주 비빔밥). The key to a delicious bibimbap is in mixing the ingredients well: chopsticks are more useful than a spoon because they help evenly distribute the sauce and thoroughly mix the vegetables together.

☞ How to Make Bibimbap at Home

Tip > Bibimbap in the sky!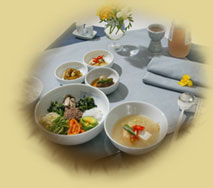 Bibimbap is now available in the sky and Korean Air is the first to serve it as an in-flight meal. In 1998, the airline was awarded the Mercury Award by IFCA for its in-flight bibimbap meal. Since then, the dish has become widely recognized as a delicious and nutritious well-being food. It has added to the pleasure of flying and is beloved as one of the most popular in-flight meals.
| | | |
| --- | --- | --- |
| | Experience It ! | |
Gogung (고궁)

Reputed to serve the best Jeonju bibimbap, Gogung replicates the dish prepared for kings. The rice is cooked with organic bean sprouts from Jeonju and topped with a variety of thing such as fresh, appetizing vegetables, stir-fried beef, and gochujang sauce. Nestled in a traditional brass bowl, you'll want to dig in right away, but don't forget to mix it all up well first!

☞ Address: Seoul, Jung-gu, Chungmuro 2-ga 12-14
☞ To get there: Subway line 4, Myeongdong station, exit 10, walk towards Migliore for 30 meters behind Sejong Hotel
☞ Tel: +82-2-776-3211
☞ Hours: 11:00~22:00
☞ Recommended menu: Jeonju bibimbap 10,000 won, bibimbap set menu 23,000 won
☞ Official site: www.gogung.co.kr (Korean)