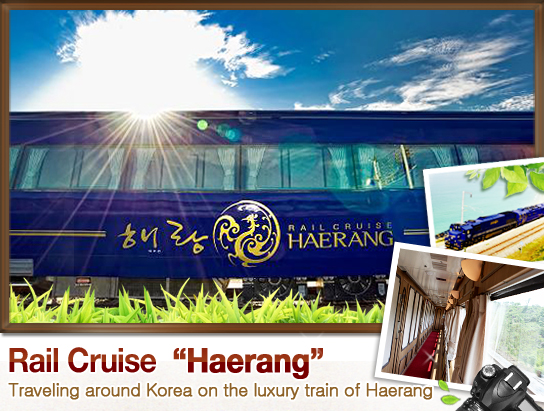 As always, hearing the puffing sound of a train somehow sets my
heart aflutter and I just want to leave…for anywhere. Traveling
by train always gives me that starry-eyed feeling.

At a time when everything is changing and moving as fast as the KTX (Korea Train eXpress), relaxing train trips where you can enjoy a varied, more leisurely pace, are making their comeback. These days, in addition to the mere pleasure of traveling by train, there are a number of train travel packages that offer such diverse themes as wine, ginseng, and sea (to name a few). At the top of the list is a package that allows passengers to travel on a luxury hotel train. On the train, you can sip wine or enjoy your meal while gazing out your window at the picture-perfect scenery. Or you can kick back and unwind by watching a movie or reading a book. When start feeling sleepy, just go to the sleeping car and take a rest. Just imagine: a train trip where you can enjoy your time and drink wine while having pleasant conversations with your friends while traveling under a star-lit sky. Isn't it perfect?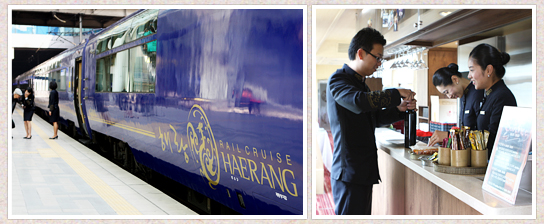 Many people dream of traveling and partying on a fantastic luxury cruise like Titanic: the trip of a lifetime. Now, here's a perfect travel package that can get you closer to realizing that dream. It is Haerang: a cruise on a rail, not on a sea. This luxury train, which is based on a smart combination of luxury cruise and railway, has been in service since November, 2008.

Haerang is often compared with other luxury hotel trains like Cassiopeia of Japan; Orient Express of Europe; and Blue Train of South Africa. But Haerang differentiates itself from the rest in that it offers passengers a true "travel experience" around Korea, not just a way to get from one place to another. The train departs from Seoul at 100km/h and maintains speed as it travels around southwestern Korea, southeastern Korea, or the entire country (depending on the package). The trip takes about 2 days, 1 night or 3 days, 2 nights until returning to its starting point in Seoul. The train station, just as at the airport, offers an exclusive lounge for Haerang passengers. Crew members greet passengers with a smile and assist them with any heavy baggages or personal belongings. All you have to do is to relax and enjoy!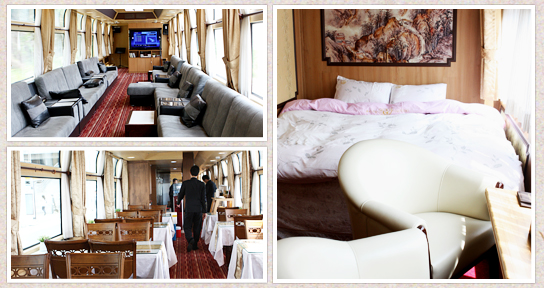 It's 10:30 am at Seoul Station. The train is pulling away from the station. We have just embarked upon a 72-hour-long journey that let us explore every nook and cranny of the Korea countryside. Before we start, let's take a tour of Haerang. Just like a hotel, Haerang's guest rooms range from Suites, Deluxe rooms, to Family rooms. All passenger rooms are equipped with a bed(s), an individual shower room/toilet, and a TV. Suites provide further conveniences like sofas, tables and an audio system. Aboard the Haerang there is also a restaurant named 'Sun Rise' and an observatory. Later after our tour we can relax in our stateroom with a cup of tea and watch the beautiful panoramic view slowly slide by.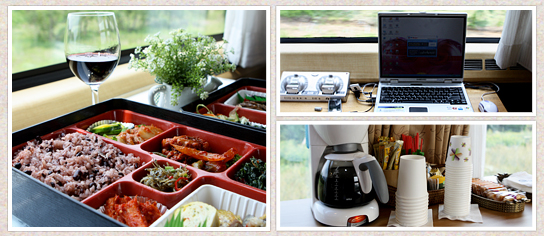 The call for lunch sounds over the intercom. The white-covered tables at 'Sun Rise' really add to the already soothing atmosphere in the train's restaurant. The restaurant serves a lunchbox of beef and fish, which is quite delicious! Ever friendly, the crew starts serving the wine. One of the beauties of traveling on Haerang is that you can drink and eat as much as you want without paying any extra fees. Meals and drinks are included in the ticket price so there are no hidden fees. After we finish lunch we can enjoy the performances by the crew in the observation area.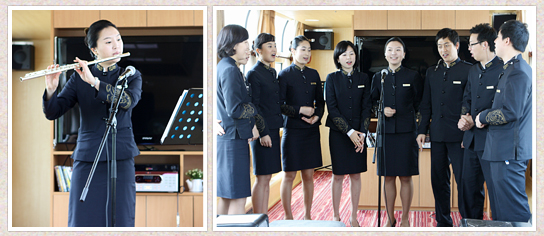 The Observatory car is popular among the passengers because, unlike the sleeping cars, it has windows on all sides and plenty of open-aired space. There is a wide selection of magazines and DVDs, and free Internet is available. Passengers seem to be enjoying their trips in their own different ways. One thing for sure is that they all look happy and relaxing traveling aboard the Haerang.



Performances by the crew consist of three parts. First, there is a cappella performance; second, a flute performance; and third, a magic show. Since the performers are not professional entertainers, the performances are not all always mistake-free. But this way, the show feels more friendly and fun. The performance of 'Fly Me to the Moon' played on the flute especially seems to go well with the clickety-clack of the train. But the most popular is the magic show where passengers can actually participate in the performance. The crew and passengers join each other on stage and work together to produce a magic show that's an entertaining experience for everyone involved. Later when you want to take a rest for a bit, just go to the sleeping car. Lie down on your bed and feel the gentle rocking movement of the train lulling you to sleep. The price of the Haerang trip may seem expensive, but it's well worth it. When you travel by Haerang, you don't have the hassle of booking a hotel. Not only will Haerang take you to a number of great tourist attractions, but you can also travel from one spot to another as you sleep. It's a great timesaver. Plus, there's no extra tour guiding fee since the crew members of Haerang give tours at each place of interest. The Haerang of Korea will take passengers to even the southernmost region of Korea while passengers aboard the train take a much-needed rest from the stresses of their ordinary lives.


Haerang's Travel Itinerary
Haerang offers two itinerary types: 3 days & 2 nights and 2 days & 1 night. 2 days & 1 night trips ("Haeoreum" and "Ssimille") start on Saturday mornings. The 3 days & 2 nights trip ("Aura Trip") departs every Tuesday morning.



"Aura (아우라)" Itinerary (southwestern, southeastern regions, and east coast)
Seoul Stn. – Gokseong Stn./Suncheon Stn. – Breakfast (gourmet breakfast set) - Gokseong train village ("railbike," steam locomotive) - Seomjingang River Culture School (exhibition of Dokdo Island photos, Gugak performance) – Dinner (euneo-hoe: raw sweet fish, euneo-gui: broiled sweet fish, and chamge ssogari-tang: king crab & mandarin fish stew) –Jinju Stn. (first night) – Tongyeong/Masan – Breakfast (jolbokguk: puffer fish soup)- Yi Sun-shin Park– Sebyeonggwan Building – Folk History Museum - Hallyeosudo Observatory Cable Car - Tongyeong Ottchil (Laquer) Art Museum – Lunch (a fixed sushi menu) - Gyeongju Stn. - Silla moonlight trip (second night) – The East Sea (East Coast) - Chuam Sunrise - Breakfast (ureok miyeok soup: seaweed soup with rockfish) – A spa – Viewing of the Donghae & Gangneung offshore – Taebaek Stn. - Lunch (Hanugalbi: Korean beef ribs) – Hwangji Pond – Chujeon Stn. – Back to Seoul


Seomjingang River Train Village (섬진강 기차마을)

Sebyeonggwan pavilion
(세병관)


"Ssimille (씨밀레)" Itinerary (southwestern region)
Seoul Stn. – Iksan Stn. – Mireuksa Temple Site Museum – Lunch (Mayakbap course) – Mokpo Stn. – Maritime Museum - Gatbawi Rock Bridge Walk – Dinner (a fixed sushi menu) – Mt. Yudalsan (Mokpo night view) – Stay for one night - Suncheon Stn. – Breakfast (a fixed menu of clams) – Naganeupseong Folk Village – Tobu Green tea field – Namwon Stn. – Lunch (fish stew course) – Chunhyang Theme Park – Gwanghallu Pavilion – Back to Seoul


Mireuksa Temple Site Museum
(미륵사지 유물전시관)

Chunhyang Theme Park
(춘향 테마파크)

Gwanghallu Pavilion
(광한루)



"Haeoreum (해오름)" Itinerary (southeastern region)
Seoul Stn. – Chupungnyeong Stn. – Jikjisa Temple – Lunch (Set Meal with Seasoned Wild Vegetables) – Gyeongju Stn. – Bulguksa Temple – Dinner (Korean traditional full course meal) – Anapji Pond (Gyeongju moonlight trip) - Stay for one night – Chuam/Donghae Stn. – Chuam Sunrise – A spa – Breakfast (ureok miyeok soup: seaweed soup with rockfish) – Mureung Valley & Samhwasa Temple – Viewing of from Donghae to Jeongdongjin offshore – Taebaek Stn. – Lunch (Korean beef broiled on briquette) - Hwangji Pond - Chujeon Stn. – Back to Seoul




[Train Rates]


Aura Trip (3 days & 2 nights):
Suite (sleeps 2) KRW 2,320,000; Deluxe (sleeps 2) KRW 1,950,000; Family (sleeps 3) KRW 2,390,000
<** Room fees and other travel costs are included. Solo passengers may subtract KRW 330,000 from prices quoted above.>


Haeoreum & Ssimille (2 days & 1 night):
Suite (sleeps 2) KRW 1,540,000; Deluxe (sleeps 2) KRW 1,280,000; Family (sleeps 3) KRW 1,550,000
<** Solo passengers may subtract KRW 180,000 from prices quoted above.>
[For information or booking contact]
KORAIL Tour Service for Haerang: +82-2-2084-7748, 7749