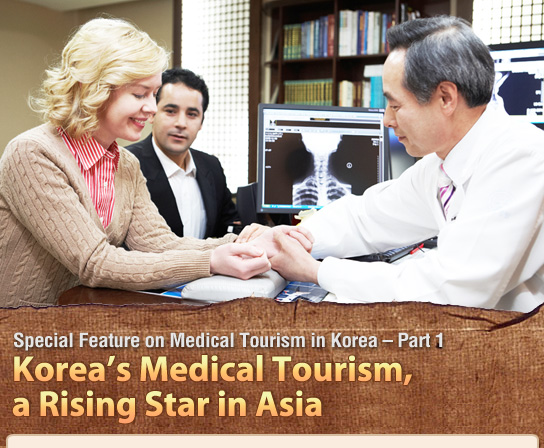 Traveling abroad for medical treatment is gaining popularity across the globe. Medical tourism is a booming trend, especially in Asian countries where medical technology is state of the art and practitioners are top-notch professionals. Tourists pay relatively affordable prices for their treatments, and reap the added benefits of relaxation and even sightseeing on their trips abroad.
Until recently, Thailand, Singapore, and India have been the number-one medical tourism destinations, but Korea is rising fast thanks to its state-of-the-art medical institutions, highly qualified medical practitioners, and advanced level of oriental medicine. Good news for medical tourists, the nation's medical system is completely systemized thanks to Korea's leading IT technology.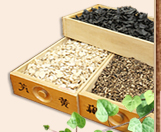 At the same time, its oriental medicine has also been systematically developed, enabling a cooperative system that combines both occidental and oriental treatments. International clients can rest assured that their medical treatment in Korea will be the best, satisfaction guaranteed.

Top medical technology, the backbone of Korea's medical tourism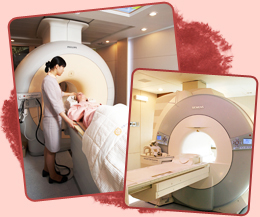 Korea's medical technology leads the field globally, and this is especially so in the fields of skin care, plastic surgery, oriental medicine, health examinations and external medicine. The level of treatment for cancer, infertility, plastic surgery, and dental medicine is considered to be equivalent to that in the U.S., or even slightly more advanced. A market-research survey of international patients who visited Korea for medical tourism last year revealed that 48.4% cited 'the quality of medical service and technology' as the reason for choosing Korea. In addition to the number one consideration, quality, Korea has many of the same advantages as Thailand and Singapore. Clients can opt for a relaxing environment close to nature as well as a business environment where they can attend international conferences and conventions.
Customer satisfaction is unsurpassed: Western/Oriental medical examinations, medical skin care, and plastic surgery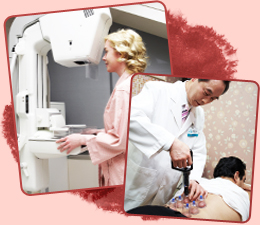 Of the various medical fields, Korea is especially recognized in the fields of skin care, oriental medicine, and surgical procedures, including plastic surgery, ophthalmic treatments, and spine-related surgery. News has spread through word-of-mouth across the globe, especially about Korean plastic surgery. Proof positive, major hospitals in Thailand are seeking cooperative partnerships in plastic surgery with hospitals in Korea. The nation's medical skin care institutions lead globally in terms of facilities and equipment, guaranteeing customer satisfaction. Meanwhile, people from the United States and European countries are particularly interested in Korea's oriental medicine, and are flocking to Korea for health examinations, either through oriental medicine or a combined occidental/oriental system. Elective treatments aside, medical services for serious illnesses are also on the rise. A study of foreign travelers who received medical services in Korea last year revealed that treatments ranged from plastic surgery and oriental medicine to spine, heart, and prostate treatments and surgery.
One-stop medical tourism service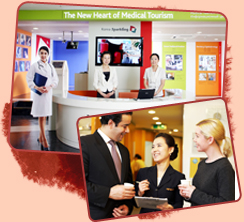 As an IT power, Korea offers one-stop medical tourism services with a wide range of medical tourism information available online. The online services are offered in three languages (English, Japanese, simplified Chinese) on the KTO website at www.visitkorea.or.kr. The site provides step-by-step guide on medical tourism in Korea, information on participating medical institutions, and online consultation.
If you want to receive medical tourism information as soon as you arrive in Korea, find the Medical Tourism Information Center at the Incheon International Airport. It offers a rest area, information on medical institutions and travel agencies, and free Internet access. In Seoul, visit the Medical Tourism Promotion Center on the first basement level of Korea Tourism Organization building for professional medical consultation. There, you can also use a BMI (body mass index) machine, a stress measurement device, and a blood pressure meter for free.
International travelers who plan to be hospitalized in Korea for medical treatment or recuperation or close family members who wish to enter Korea to take care of a patient are issued G-1 visas. With a view to further improve medical services, Korea is also making various efforts such as nurturing medical tourism professional coordinators at the national level.
☞ Written based on information provided by:
A&M marketing, Council for Korea Medicine Overseas Promotion

☞ Visit our Medical Tourism page and experience one-stop service

☞ Related Columns
- New Initiatives for Medical Tourism in Seoul
- Oriental medicine tours