There is so much to see and do on Jeju Island, a volcanic island that has been designated as a UNESCO world heritage site in 2007. You can spend the day exploring the impressive Geomunoreum Lava Tube System (거문오름용암동굴계), or cycling around Udo Island (우도), stopping to watch the famous women divers known as Haenyeo (해녀). Those who love the water can spend the day swimming or surfing at one of the many beaches on the island. Or if you are a movie affectionado, be sure to check out one of the many sites where Korean movies and dramas have been filmed.

If you are interested in exploring the natural beauty of Jeju Island, then you have a wide variety of places from which to choose. Scuba dive along coral reefs, traverse the plains on horseback, or paraglide through the clouds. Join us as we take you on a thrilling virtual tour of the leisure paradise island of Jeju.
Scuba Diving
The sea in Jeju maintains a water temperature of about 20 degrees Celsius throughout the year due to subtropical currents. It is home to a fascinating underwater world made up of many species of subtropical fish, corals and seaweed. As such, Jeju Island is recognized as a world-renowned diving destination. In particular, Munseom Island (문섬) in the Seogwipo (서귀포) region is among the world's top-10 diving locations because of its amazing underwater landscape.

The best time for scuba diving in Jeju is between the months of April and May and September and October when visibility is at its finest. Scuba diving is only permitted for those that have received certification. However, there are some places that offer a one-day program allowing beginners to experience diving without prior certification. After a 20-minute basic training course, you can explore the sea at a depth of 7 to 10 meters under the guidance of a professional diver. All the equipment is available for rental – so all you need to bring along with you is a bathing suit.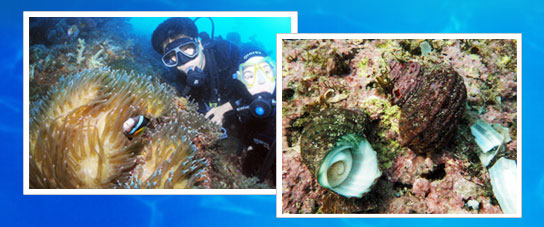 Experience Diving in Moseulpo Harbor(모슬포)
A beginner with no prior scuba diving experience receives training in the following three stages.
Stage 1 – Equalizing & Water Purging
The method of "equalizing" is the first thing you will learn. When descending, water pressure creates a pressure difference in the eardrum. Equalizing eliminates that pressure, making it possible to keep diving comfortably.
Next, you will learn how to purge a scuba mask of water. It is also important to learn how to breathe using an oxygen tank. Since you can only breathe through your mouth, you will need to ensure that the tank is securely attached and breathe slowly with the same length of inhalation and exhalation. Equalizing and water purging is as important as breathing because you will need to do it continuously underwater.
Stage 2 – Water Adaptation
After putting on a wetsuit, mask, and fins, you slide into the water. If you are wearing fins, move ahead using your legs and not your arms. It is important to acclimate yourself in shallow water until you feel comfortable enough to go deeper. This step is called skin diving.
Stage 3 – Diving
Once you are acclimated to the water, you will come back on the boat and put on a waist belt loaded with heavy lead and an air tank. Though a professional will help you, make sure to be careful as the equipment is very heavy. The total weight is approximately 25 kilograms. The air tank contains compressed dry air that can make your mouth dry while breathing, so drink two glasses of water before diving and more water after diving. Once you are all ready, you go into the water and learn about the basic signs for emergency situations. Then, your scuba diving exploration begins.
Tourist Information
☞ Price : 80,000 won (including equipment rental)
☞ Total required hours : Orientation 20 minutes, diving 20 minutes (hours can be extended based on physical strength and experience)
☞ Diving sites : Moseulpo, Yeonsanho below Mount Songaksan, Seogwipo Munseom Island point (site depends on weather conditions and currents)
☞ Address : Jeju-do, Namjeju-gun, Daejeong-eup, Sangmo-ri, 3967
☞ Tel : Jeju Scuba Academy Tour +82-64-794-1117 (Reservation must be made no later than three days before day of diving. English and Japanese available.)
☞ Korea Travel Phone : +82-64-1330 (Korean, English, Japanese, Chinese)
Deep-Sea Boat Fishing

Chagwido (차귀도), an uninhabited island off the west coast of Jeju, is known for its undisturbed ecosystem and wealth of fish. Surrounded by pristine ocean waters, virtually all of Jeju Island is ideal for fishing; however taking a 20-person boat to Chagwido is an especially great way to enjoy deep-sea fishing. Your knowledgeable captain will stop at the best fishing spots, where there are so many fish that some claim that "you will catch a fish every thirty seconds."

If you are a beginner with no prior experience in fishing, you will learn how to set a hook, drop the line, and wind or unwind the line. Just follow the instructions, and you will soon feel the weight of a fish at the tip of your fingers. The more difficult part of fishing is taking your catch off the hook. Fish are slippery and will wriggle around a lot, making it hard to keep hold of them. The trick is to press down on the inner side of the gills using your thumb and the fish won't move. Occasionally, you may even catch two or three fish at the same time – just like a pro. After two hours of fishing fun, the boat will return to the wharf. There you can find a restaurant that will cook your catch into a great meal for only 6,000 won. Boat fishing in Chagwido is available year-round, but the species of fish differs from season to season.
Tourist Information
☞ Price : 25,000 won per person (includes fishing equipment and bait)
☞ Departure : 10:00, 12:00, 14:00, 16:00 (Departure times are subject to change. A prior reservation is required.)
☞ Meal preparation : 6,000 won per person (sliced raw fish + fritters + spicy fish stew + rice)
☞ Address : Jeju-do, Hangyeong-myeon, Gosan-ri, 3593-6
☞ Tel : Chagwido Dallae restaurant (차귀도 달래식당) deep-sea boat fishing +82-64-773-2244
☞ Korea Travel Phone : +82-64-1330 (Korean, English, Japanese, Chinese)
Horse Riding

There is a Korean proverb that says, "A human should be sent to Seoul, a horse to Jeju." Jeju Island is an ideal place for raising horses. Throughout the year, there is little change in the temperature and rainfall. This creates a more favorable condition for grasslands than on the mainland and feed crops can be grown even in winter. Throughout the island, you can easily find places that offer horse riding. With the help of a horse trainer, novices can take the beginner lesson of trotting inside a designated area. Some of the many horse-riding stables even offer horse shows that continue to draw larger crowds.

Opened in 2008, The Ma Park (더마파크) not only offers horse riding services but also a permanent horse performance that highlights the birth, growth, friendship, love, war, and peace of Genghis Khan. The highlight of the show is The Black Flag of Genghis Khan, starring the descendants of the Mongolian hero who have come to Jeju from Mongolia. The 50 performers show off their horse riding skills in an outdoor amphitheater. The show has four acts and lasts 50 minutes. In The Ma Park, you can also find a Mongolian village, the Jeju miniature park, a rare horse area, and even a buffet restaurant.
Tourist Information
☞ Horse riding price :
A course (short distance) 12,000 won; B course (long distance) 30,000 won
☞ Horse show :
The Black Flag of Genghis Khan
☞ Admission :
Adults 15,000 won, teenagers 12,000 won, children 10,000 won
☞ Address :
Jeju-do, Jeju-si, Hallim-eup, Wollim-ri, San 8
☞ Tel :
The Ma Park +82-64-795-8080
☞ The Ma Park official site :
www.mapark.co.kr
(Korean)
☞ Korea Travel Phone :
+82-64-1330 (Korean, English, Japanese, Chinese)
Clay Shooting

Before learning to fire the shotgun, you will first wear a shooting vest and learn about safety regulations from a security staff member. Load the ammunition into the barrel and place it firmly against your shoulder so that it doesn't move. Then, focus on the target by matching the sight of your gun with your eyes. When you push the button next to you, an orange clay target will fly into the air.

Track the moving target with your sight and pull the trigger. It is not easy to hit a flying clay target, but the sport is great for improving your concentration and mental power. Clay shooting is also closely associated with hunting so many future hunters learn clay shooting first. Daeyoo Land in Seogwipo offers pheasant hunting on an expansive plain from November to February. Also available is pistol shooting, rifle shooting, and all terrain vehicle rentals.
Tourist Information
☞ Price :
Clay shooting 16 shots 35,000 won. Rifle shooting 15 shots 35,000 won. ATV 30,000~70,000 won. Hunting 155,000 won (per person; hunting available for 2-persons groups only, price inclusive of clay shooting training, admission to hunting site, equipment rental, and guide)
☞ Address :
Jeju-do, Seogwipo-si, Sangye-dong 144
☞ Tel :
Daeyoo Land +82-64-738-0500
☞ Daeyoo Land official site :
www.daeyooland.net
(Korean)
☞ Korea Travel Phone :
+82-64-1330 (Korean, English, Japanese, Chinese)
Paragliding

How does it feel to fly? Paragliding will give you the sensation of flying freely as you jump into the air using only the wind to support you. Beginners only need a little bit of courage, as they will be flying with a professional guide. During the ride, the guide will steer so all you need to do is enjoy the landscape below. When landing, follow the instructions of the guide. With favorable winds and beautiful scenery like the oreum (small volcanic cones), Jeju Island is the ideal place for paragliding. Why not accomplish your childhood dream of flying through the air in Jeju?
Tourist Information
☞ Price : 100,000 won per person
☞ Tel : Jeju Paragliding School +82-17-691-2633
☞ Korea Travel Phone : +82-64-1330 (Korean, English, Japanese, Chinese)
☞ Weather permitting
Related Columns